Cancer Genetics and Genomics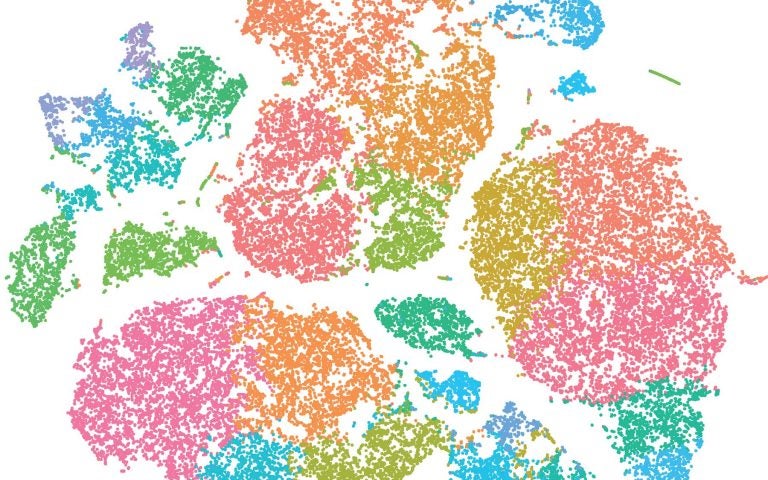 The Cancer Genetics and Genomics (CGG) Program seeks to better understand the cancer genome and leverage novel insights into cancer genomics to improve outcomes for cancer patients. The three main research themes of the CGG Program include: (1) invention of cancer genome and transcriptome profiling technology; (2) development of computational tools and resources for interpreting cancer genomes and transcriptomes; and (3) implementation of high-throughput genetic-screening technologies to comprehensively map cancer dependencies.
Program Co-leaders

The Cancer Genetics and Genomics Program seeks to advance our understanding of the cancer genome through genetic, technological, and computational innovations. In fitting with the mission of the Cold Spring Harbor Laboratory (CSHL) Cancer Center as an NCI-designated Basic Laboratory Cancer Center, the Program focuses on fundamental research to better understand the genetic alterations that drive cancer development and progression. The research themes in the CGG Program are built on the premise that a deeper characterization of the cancer genome will improve the survival and quality of life for patients with cancer, and Program members are translating insights made about the cancer genome into novel diagnostic and prognostic biomarkers. In addition, the Program maintains a focus on the development of new genomic technologies and computational tools, which are being used to analyze the cancer genome, aid in cancer diagnosis, and discover novel cancer dependencies.
Over the last five years, several Program investigators have developed technologies for profiling cancer genomes and transcriptomes. These include diverse methods for in situ sequencing of RNA in tumors, methods to find structural variants, and single-cell analysis methods. Members are also developing computational tools for genome and transcriptome analysis, which reflects the interdisciplinary approach of members with expertise in both traditional bench research and computational biology. In addition, Program members are using high-throughput genetic-screening approaches for therapeutic target discovery and validation. This theme makes use of multiplexed screening technologies, pioneered by Program members, for high-throughput assessment of gene functions. To support these efforts, Program members are developing computational algorithms for interpreting the complex datasets generated through these studies. Several Cancer Center Shared Resources are pivotal for the discovery research in this Program, including the Flow Cytometry, Microscopy, and Sequencing Technologies & Analysis Shared Resources.

Building publication list.