The Corporate Advisory Board is composed of local business leaders with a primary goal of raising funds through our annual golf tournament and raising awareness for the Laboratory throughout the business community.
Edward A. Chernoff, MARS, Chairman
For additional information, please contact Tara Ruocco at 516-367-6885 or ruocco@cshl.edu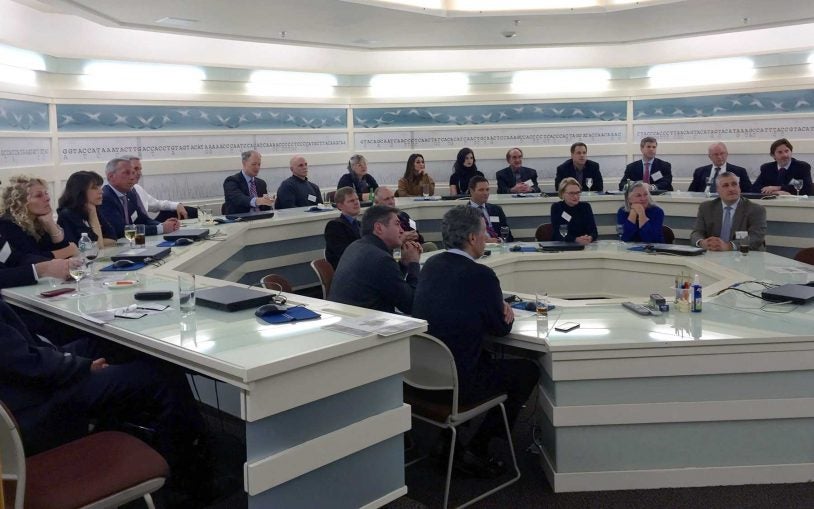 Membership
Michael Aboff, Aboff's Inc.
David Altman, Brown & Altman, L.L.P.
Paul Amoruso, Oxford & Simpson Realty
Todd Andrews, Centerbrook Architects and Planners
Rocco S. Barrese, Dilworth & Barrese
Edward J. Blaskey, Sterling National Bank
Thomas J. Calabrese, Daniel Gale Sotheby's International Realty
Christopher Callaghan
John D. Catalano, Catalano Enterprises, LLC
Richard A. Catalano, KPMG, L.L.P.
Jonathan Connors, Wells Fargo
Marian Conway, Ph.D., New York Community Bank Foundation
Denis Cullen
Philip D'Avanzo, Cushman & Wakefield
Gregory DeRosa, Roanoke Holdings
Jim Ford, Eppendorf North America
Brian Fox, McKinsey & Company
Amit Gandhi, M&R Hotel Group
Tom Giarraputo, Executive Cleaning Services, LLC
Lawrence Goodman, Curtis, Mallet-Prevost, Colt & Mosle L.L.P.
Thomas Gsell, Ph.D., R2DConsulting, LLC
Mary Jane Helenek
Richard W. Humann, H2M architects + engineers
Robert Isaksen, Bank of America
Alan L. Jakimo, Sidley Austin LLP
Patricia Janco-Tupper, Capital Group
John C. Kean III, Kean Development Company
Michael Keenan, Wells Fargo Bank, N.A.
Norman Kelker, Enzo Life Sciences
Errol Kitt, GEI Consultants
Amy Koreen, M.D.
Laurie J. Landeau, V.M.D.
Brian D. Lee, Newmark Grubb Knight Frank
David Lessing, Lessing's
Kyle Markland, Bethpage Federal Credit Union
Jeffrey L. Martin, M.D., Sight MD
Mark McAteer, The Laurel Group
Victoria Sagona Meagher
Stephen F. Melore, Farrell Fritz, P.C.
Richard Nattis, M.D.
Robert Palatnick, DTTC
John G. Passarelli, M.D.
David Peikon
Joseph Roberto, BankUnited, N.A.
Stephen Ross, Ph.D., Nikon Instruments
Don Saladino, Drive 495
Raju Sarwal, M.D.
Lonnie Shoff
Edward Strohm, Three Strohm Sisters Family Foundation
John Topolovec, TD Bank
Craig A. Weiss, T. Weiss Realty Corp.