Cellular Communication in Cancer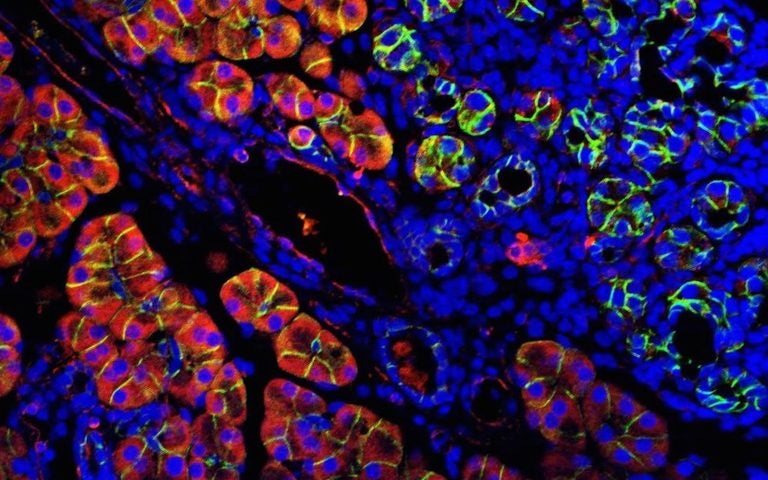 The Cellular Communication in Cancer Program explores the molecular signals within and between cells that drive cancer. Researchers in this Program are developing innovative new models for human tumors and advanced imaging technology with a goal of identifying potential "druggable" targets and mechanisms of drug resistance in cancer. Current research is focused on identifying and targeting the intracellular signal transduction mechanisms in cell communication; cell-cell and cell-extracellular matrix (ECM) communication in the microenvironment; and communication at the whole-body level between tumor and host.
Program Co-leaders

The Cellular Communication in Cancer Program has three overarching themes: (I) identifying and targeting signaling in cancer using advanced model systems; (II) elucidating and targeting tumor-host interactions, and (III) understanding cancer in the context of the whole-body. Members of the Program include experts with an in-depth understanding of different families of signaling proteins, integrated with investigators who are leaders in the fields of cancer biology and metastasis, and complemented by investigators who innovate technologies for studying molecular and cellular functions. As such, the Program generates basic discoveries that can drive new areas for cancer therapy. Work of the Program members is heavily dependent on the support from the CSHL Cancer Center Shared Resources, in particular the Animal, Animal & Tissue Imaging, Antibody & Phage Display, Mass Spectrometry, Flow Cytometry, and Sequencing Technologies & Analysis Shared Resources.

Building publication list.