Established in 1990, Partners for the Future provides an opportunity for talented Long Island high school students to have hands-on experience in biomedical research at Cold Spring Harbor Laboratory.
The program is open to high school students entering their senior year who are nominated by their school science chairperson. Each science chairperson may nominate two students during their junior year.
Semi-finalists are interviewed by Laboratory scientists and winners go on to spend a minimum of 10 hours per week, September through March of their senior year, doing original research under the watchful eye of a scientist mentor.
At the conclusion of the program, students give oral presentations of their research projects to an enthusiastic audience of the students' scientific mentors, Lab administrators, parents and teachers.
While the students learn a great deal about molecular biology and state-of-the-art research techniques, the main advantage of the program is in exposing the students to day-to-day life in a working lab. Debunking the mythical scientist-in-a-labcoat image, the students are introduced to a world of relatively young scientists and their interactive support staff in a relaxed, problem-solving atmosphere.
Application Process
The 2022-2023 Partners for the Future application is currently closed.
Quick Facts
WHO: High school seniors with a passion for science
WHAT: Intensive, hands-on biological research experience mentored by CSHL scientists
WHEN: September through March of high school senior year
WHERE: Cold Spring Harbor Laboratory, the #1 ranked research institution in the world in molecular biology and genetics
WHY: Learn first hand what it takes to do cutting edge research in state-of-the-art facilities and understand what working in a lab is like
HOW: Talk to your high school science chair who can nominate up to two high school juniors per school. Be prepared to submit an essay and come to CSHL for interviews if you are selected as a candidate
Partners for the Future news
It's a really cool experience that I can actually use the technology. I'm not treated like an intern who can only be in certain places and do small stuff. I'm treated like a full-on scientist.
Right now, I'm trying to figure out the types of CHD5, proteins that protect from cancer, that exist in the body. I'm also trying to see which if these proteins are most abundant in different tissues. So, I am using a whole bunch of methods to extract DNA from different tissues. We're using a technology called PCR, which I'd never heard of before. With this approach I can make versions of CHD5 that have the specific part of the DNA that I'm interested in. With PCR, I can replicate a single molecule of DNA many times so that it is easier to see. Once we find out what version of CHD5 is most abundant in the body, we can then target that version to see if it has any effect on cancer.
—Tamanna Bhatia, 2015-2016 class, during her PFF project
I thought I knew science—but then I participated in the Partners for the Future Program. Each day, my pre-existing notions about science were undermined. Working in the Lab granted me an opportunity to peer into the fascinating, innovative, and cutting-edge realm of research. My mentor, Dr. Melody Wu, has not only taught me fascinating methods and statistical analysis skills that will permeate in my mind throughout my life as a scientist, but has also exposed me to the reality of scientific research. When I wasn't busy vigorously pipetting into petri dishes or meticulously assaying model organisms, I was going to lab parties with my P.I., eating delicious chocolate cakes and strudels, complaining about the smell of mice, and taking in the scenic Hillside campus. I was experiencing the daily life of a scientist at CSHL. I am so grateful to have been offered this incredible opportunity, and would recommend for any high school student intrigued by research to apply for it. Your experience here at the lab will stay with you for a lifetime, and you truly wouldn't want to be spending your days after school doing anything else!
—Kevin Chen, 2016-2017 class
I absolutely loved the Partners for the Future Program. I spent each day like a "real" scientist, conducting my own hands-on scientific research. No other program would offer high school students the same amount of intensive science research, and that is what makes this experience so unique and invaluable. For me, this program opened doors to many future career possibilities in science, and I will always cherish this program for serving as my stepping stone in launching my career in science forward at such a young age…In this program, not only do you learn so much about the laboratory, machines, protocols and research in general, but you find about what makes you curious and excited—your passion.
—Ariana Farahani, 2012-2013 PFF Class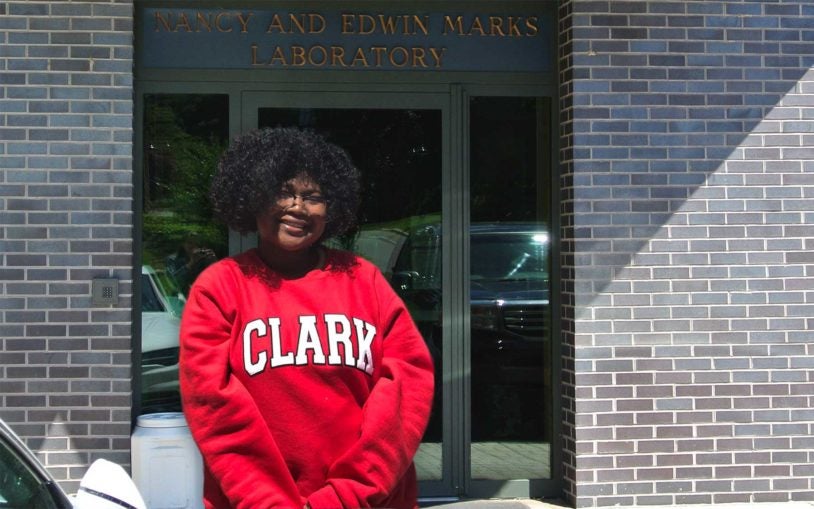 As a high schooler, being immersed in this research setting taught me that it was possible to participate in something important, even at my age. Working with a graduate student made me realize just how much teamwork is put into making great things. In April, I will leave this program with a strong sense of fulfillment and will have grown tremendously, both intellectually and emotionally. This fall, I will be following my passion for Psychology and Neuroscience at Clark University. I am confident that I will go far in my endeavors and will always remember the guidance that my team at CSHL provided.
—Jerinna Solages, 2017-2018 PFF Class