Established in 1990, Partners for the Future provides an opportunity for talented Long Island high school students to have hands-on experience in biomedical research at Cold Spring Harbor Laboratory.
The program is open to high school students entering their senior year who are nominated by their school science chairperson. Each science chairperson may nominate two students during their junior year.
Semi-finalists are interviewed by Laboratory scientists and winners go on to spend a minimum of 10 hours per week, September through March of their senior year, doing original research under the watchful eye of a scientist mentor.
At the conclusion of the program, students give oral presentations of their research projects to an enthusiastic audience of the students' scientific mentors, Lab administrators, parents and teachers.
While the students learn a great deal about molecular biology and state-of-the-art research techniques, the main advantage of the program is in exposing the students to day-to-day life in a working lab. Debunking the mythical scientist-in-a-labcoat image, the students are introduced to a world of relatively young scientists and their interactive support staff in a relaxed, problem-solving atmosphere.
Application Process
The 2023-2024 Partners for the Future application is closed.
Quick Facts
WHO: High school seniors with a passion for science
WHAT: Intensive, hands-on biological research experience mentored by CSHL scientists
WHEN: September through March of high school senior year
WHERE: Cold Spring Harbor Laboratory, the #1 ranked research institution in the world in molecular biology and genetics
WHY: Learn first hand what it takes to do cutting edge research in state-of-the-art facilities and understand what working in a lab is like
HOW: Talk to your high school science chair who can nominate up to two high school juniors per school. Be prepared to submit an essay and come to CSHL for interviews if you are selected as a candidate
Partners for the Future news
I cannot express enough how grateful I am to have had the opportunity to participate in Cold Spring Harbor's Partners for the Future Program. As a high school student with a passion for science, I was honored to have the ability to use cutting-edge technology to research a topic I am deeply passionate about. I conducted research to elucidate the interactions between neurons and cancer cells and how these interactions may contribute to cancer metastasis. The hands-on laboratory experiences and exposure to leading scientists have given me a unique and invaluable learning experience that I will carry with me throughout my academic and professional career.
—Chelsea Russo, 2021-2022 PFF Class
To watch microglia dance in a silent disco stimulated by visual experience is a sight like no other. PFF gave me a chance to do what I could only dream of doing and working in Dr. Lucas Cheadle's burgeoning lab made that dream come true.
Under the direct mentorship of Dr. Austin Ferro and all lab members I grew from being just "the intern" to a volunteer lab technician after PFF ended and before I went to university. From studying from The Principles of Neuroscience to sectioning, staining, imaging, and then analyzing mouse brains, the wonders of work in the Cheadle Glial Neuroscience lab to uncover the roles of dynamic glial cells in synaptic refinement within the visual cortex endlessly fascinate(d) me. During lab meetings, my mentors always verified my understanding of all experiments and of course indulged my curiosity whenever a new technique was implemented.
PFF was my starting gate—my first step into a cellular world only visible under a microscope. It was the platform from which my PI and postdoctoral mentor encouraged me to jump into more research, which I am currently pursuing as a laboratory technician in the Hill Glial Neuroscience Lab at Dartmouth College. PFF is a time for which I am extremely thankful for. My time at CSHL would not have been possible without the guidance of my wonderful mentors, lab-mates, and PI in the Cheadle laboratory.
—Anne-Sarah Nichitiu, 2021-2022 PFF Class
Through my experience as a Remote Research Fellow in the PFF Program (during the COVID-19 Pandemic), I was able to establish career-building relationships with my mentor Dr. Bruno Gegenhuber and Dr. Jessica Tollkuhn, as I determined my place in scientific research. I studied sex-related neurosteroidogenic pathways with mouse and human scRNA-Sequencing datasets. I was introduced to R programming, conducted differential expression analysis, and mapped de novo neurosteroid gene pathways. In my mentorship, I felt empowered to research and write independently. During lab meetings, my mentor was open to any questions about our research topic and the techniques being implemented. Now, as a second-year Behavioral Neurobiology major at the Macaulay Honors College, I am enthusiastic about pursuing new undergraduate research opportunities as I work to become a Physician-Scientist and learn to apply the latest research findings to health care and disease prevention.
—Raheem S. Sheikh, PFF Class 2020-2021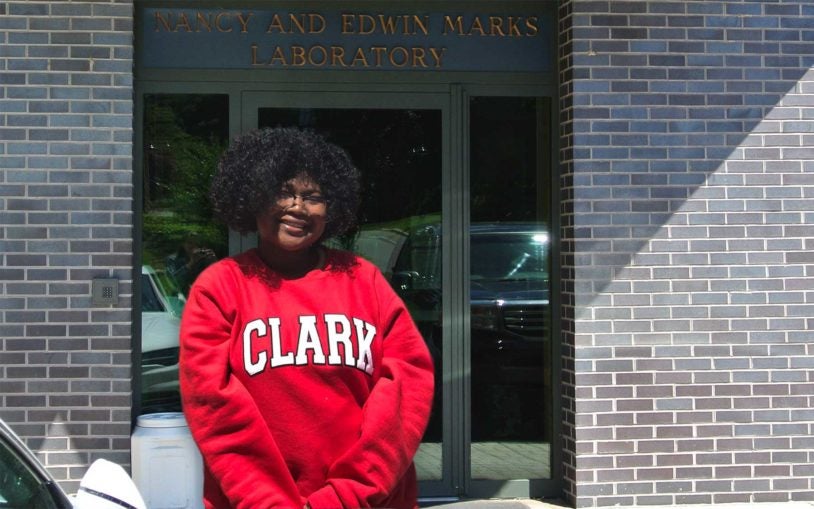 As a high schooler, being immersed in this research setting taught me that it was possible to participate in something important, even at my age. Working with a graduate student made me realize just how much teamwork is put into making great things. In April, I will leave this program with a strong sense of fulfillment and will have grown tremendously, both intellectually and emotionally. This fall, I will be following my passion for Psychology and Neuroscience at Clark University. I am confident that I will go far in my endeavors and will always remember the guidance that my team at CSHL provided.
—Jerinna Solages, 2017-2018 PFF Class