The Simons Center for Quantitative Biology is dedicated to the development of new mathematical tools and techniques for the analysis of biological data. Researchers at the Center work on a wide variety of applications, including autism, cancer, neuroscience, plant biology, gene regulation and evolution.
Research at the Simons Center for Quantitative Biology is funded by a major donation from the Simons Foundation as well as gifts from the Starr Foundation and Lavinia and Landon Clay.
External Advisory Committee
Quantitative Biology Fellows Program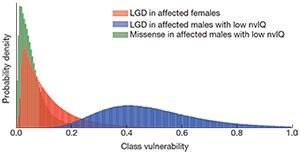 As technologies for data generation have become steadily more efficient and inexpensive, the interpretation of vast quantities of biological data has emerged as a rate-limiting step in advances in the biological sciences. This challenge cuts across research areas, from genomics, neuroscience, and human diseases to the plant sciences. Making sense of the "big data" that is now ubiquitous in biology requires the development of innovative new quantitative tools and techniques, grounded in classical theory yet adapted for powerful modern technologies. The central idea behind the Simons Center for Quantitative Biology is to place researchers trained in mathematics, physics, computer science, and other quantitative fields on the front lines in biology, working shoulder to shoulder with experimentalists. In addition to collaborative work, SCQB researchers pursue independent research in algorithms, machine learning, statistical genetics, evolution, and other areas. The ultimate goal of the Center is to promote interdisciplinary approaches that can break new ground on problems of central importance in both fundamental biology and applications in human health, agriculture, and the environment.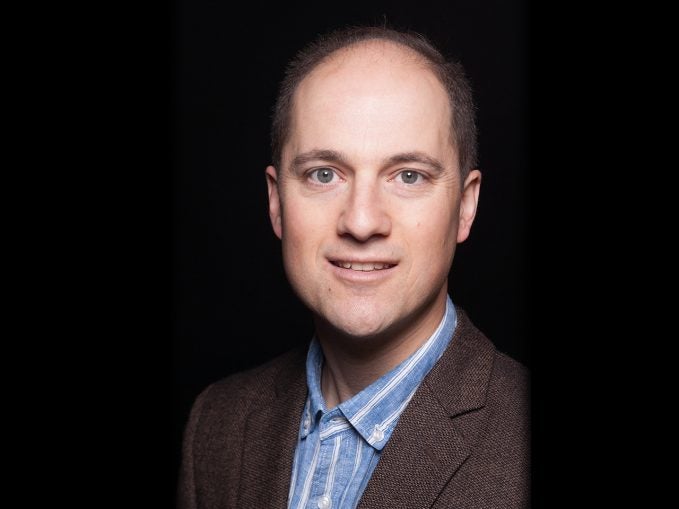 I'd like to welcome you warmly to the Simons Center for Quantitative Biology (SCQB), Cold Spring Harbor Laboratory's home for mathematical, computational, and theoretical research in biology. The SCQB is a blend of old and new: it extends a long history of quantitative research at CSHL, yet leverages new technologies and ideas from the quantitative sciences to enable groundbreaking research across a wide variety of biological domains, including human genetics, cancer, plant biology, and neuroscience. Members of the SCQB maintain close collaborative ties across CSHL as well as with many other groups in the New York area, including Computer Science and Applied Mathematics at Stony Brook University and the New York Genome Center. Enabled by generous donations from the Simons Foundation and other sources, the SCQB is currently undergoing a major expansion, with several new hires of faculty and staff. I am deeply honored by the opportunity to lead this unique center of excellence in quantitative biology, embedded in the world-class research environment of Cold Spring Harbor Laboratory.
–Adam Siepel, Chair
February, 2015
Researchers at Cold Spring Harbor Laboratory have long been interested in the use of quantitative methods in genetics, biophysics, neuroscience and other areas, but for most of the history of the Laboratory, quantitative biology was not considered a distinct area of focus. These circumstances changed with the creation of a Center for Quantitative Biology in 2008. Not long afterward, the Center was renamed the Simons Center for Quantitative Biology in recognition of generous donations from the Simons Foundation. The Simons Foundation made additional donations in 2014, enabling further growth of the Center.
During the long history of the Laboratory, a number of prominent quantitative biologists have been associated with CSHL, either as permanent staff members or as summer visitors. Examples include Charles Davenport, Sewall Wright, Max Delbruck, Bruce Wallace, and Claude Shannon. Additional details can be found in this Short History of Quantitative Biology at Cold Spring Harbor Laboratory.

(left to right) Sewall Wright, Claude Shannon, Max Delbruck and Salvador Luria, and the modern Hillside Campus at CSHL, which is home to the Simons Center for Quantitative Biology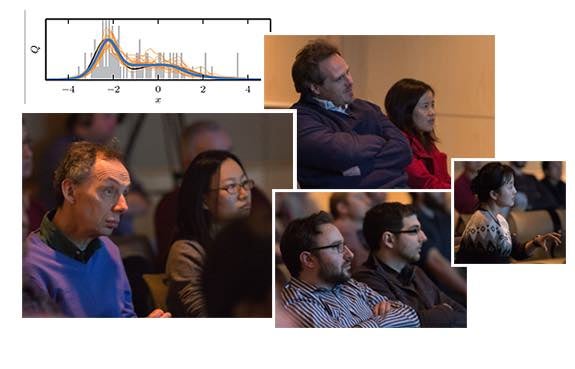 Alexander J, Kendall J, McIndoo J, Rodgers L, Aboukhalil R, Levy D, Stepansky A, Sun G, Chobardjiev L, Riggs M, Cox H, Hakker I, Nowak DG, Laze J, Llukani E, Srivastava A, Gruschow S, Yadav SS, Robinson B, Atwal G, Trotman L, Lepor H, Hicks J, Wigler M, Krasnitz A. Utility of single-cell genomics in diagnostic evaluation of prostate cancer. Cancer Res. 78(2):348-358, 2018.
Buja A, Volfovsky N, Krieger AM, Lord C, Lash AE, Wigler M, Iossifov I. Damaging de novo mutations diminish motor skills in children on the autism spectrum. Proc. Natl. Acad. Sci. U.S.A., 115(8):E1859-E1866, 2018.
Danko CG, Choate LA, Marks BA, Rice EJ, Zhong W, Chu T, Martins AL, Dukler N, Coonrod SA, Wojno EDT, Lis JT, Kraus WL, Siepel A. Dynamic evolution of regulatory element ensembles in primate CD4+ T-cells. Nat. Ecol. Evol., 2(3):537-548, 2018.
Bienvenu F, Akcay E, Legendre S, and McCandlish DM. The genealogical decomposition of a matrix population model with applications to the aggregation of stages. Theor. Popul. Biol., 115:69–80, 2017.
Huang Y-F, Gulko B, Siepel A. Fast, scalable prediction of deleterious noncoding variants from functional and population genomic data. Nat. Genet. 49(4):618–624, 2017.
Kato M, Vasco DA, Sugino R, Narushima D, Krasnitz A. Sweepstake evolution revealed by population-genetic analysis of copy-number alterations in single genomes of breast cancer. R. Soc. Open Sci., 4(9):171060, 2017.
Kumar V, Rosenbaum J, Zihua W, Forcier T, Ronemus M, Wigler M, Levy D. Partial bisulfite conversion for unique template sequencing. Nucleic Acids Res., 46(2):e10, 2017.
Stoltzfus A and McCandlish DM. Mutational Biases Influence Parallel Adaptation. Mol. Biol. Evol., 34(9):2163–2172, 2017.
Adams RM, Mora T*, Walczak AM*, Kinney JB*. Measuring the sequence-affinity landscape of antibodies with massively parallel titration curves. eLife 5:e23156, 2016.
Atwal GS, Kinney JB. Learning quantitative sequence–function relationships from massively parallel experiments. J Stat Phys. 162(5):1203–1243, 2016.
Kuhlwilm M, Gronau I, Hubisz MJ, de Filippo C, Prado J, Kircher M, Fu Q, Burbano HA, Lalueza-Fox C, de la Rasilla M, Rosas A, Rudan P, Brajkovic D, Kucan Z, Gusic I, Marques-Bonet T, Andres AM, Viola B, Paabo S, Meyer M, Siepel A, and Castellano S. Ancient gene flow from early modern humans into Eastern Neanderthals. Nature, 530(7591):429–433, 2016.
Wang Z, Andrews P, Kendall J, Ma B, Hakker I, Rodgers L, Ronemus M, Wigler M, Levy D. SMASH, a fragmentation and sequencing method for genomic copy number analysis. Genome Res. 26(6):844–851, 2016.
Faculty Positions
CSHL is searching at the Assistant Professor level for highly talented individuals to join its Simons Center for Quantitative Biology (SCQB). Specific research areas of interest include, but are not limited to, modeling and analysis of transcriptional regulation and epigenomics, sequence assembly and variant calling for emerging technologies, evolutionary and population genomics, single-cell analysis, and cancer genomics. Successful candidates will have an outstanding record of research achievement and the ability to attract significant extramural research support. This position is for candidates focused on dry-lab research (experimental space is limited).
Send a Cover Letter, CV, Description of Research Accomplishments and Future Research Plans; and Three Letters of Reference in PDF format to QBjobs2018@cshl.edu with subject line QB Faculty Search. Applications will be accepted until November 1, 2018 and reviewed on a rolling basis.
---
Postdoctoral positions
Computational Postdoc (Atwal Lab). The Atwal Lab is looking for quantitative/computational postdoctoral fellows to work at the exciting interface of cancer genomics, immunology, and mathematics. Our lab blends computation and theory in close collaboration with experimentalists and clinicians, developing machine learning approaches and statistical models of next-generation sequencing data. Current projects include quantitative models of the tumor microenvironment, the adaptive immune repertoire, and tumor evolution. For more information email Dr. Atwal: atwal@cshl.edu. Apply Now
---
CSHL is an EO/AA Employer. All qualified applicants will receive consideration for employment and will not be discriminated against on the basis of race, color, religion, sex, sexual orientation, national origin, age, disability or protected veteran status.