Cold Spring Harbor, NY — On Monday, July 20, 2015, the Joni Gladowsky Breast Cancer Foundation held its 11th annual Play for the Cure Golf Outing at The Cold Spring Harbor Country Club in Huntington, NY. Surrounded by family and friends, Alison Gladowsky-Deblinger, Jason Gladowsky and Elliot Gladowsky presented a check for $80,000 to Cold Spring Harbor Laboratory (CSHL).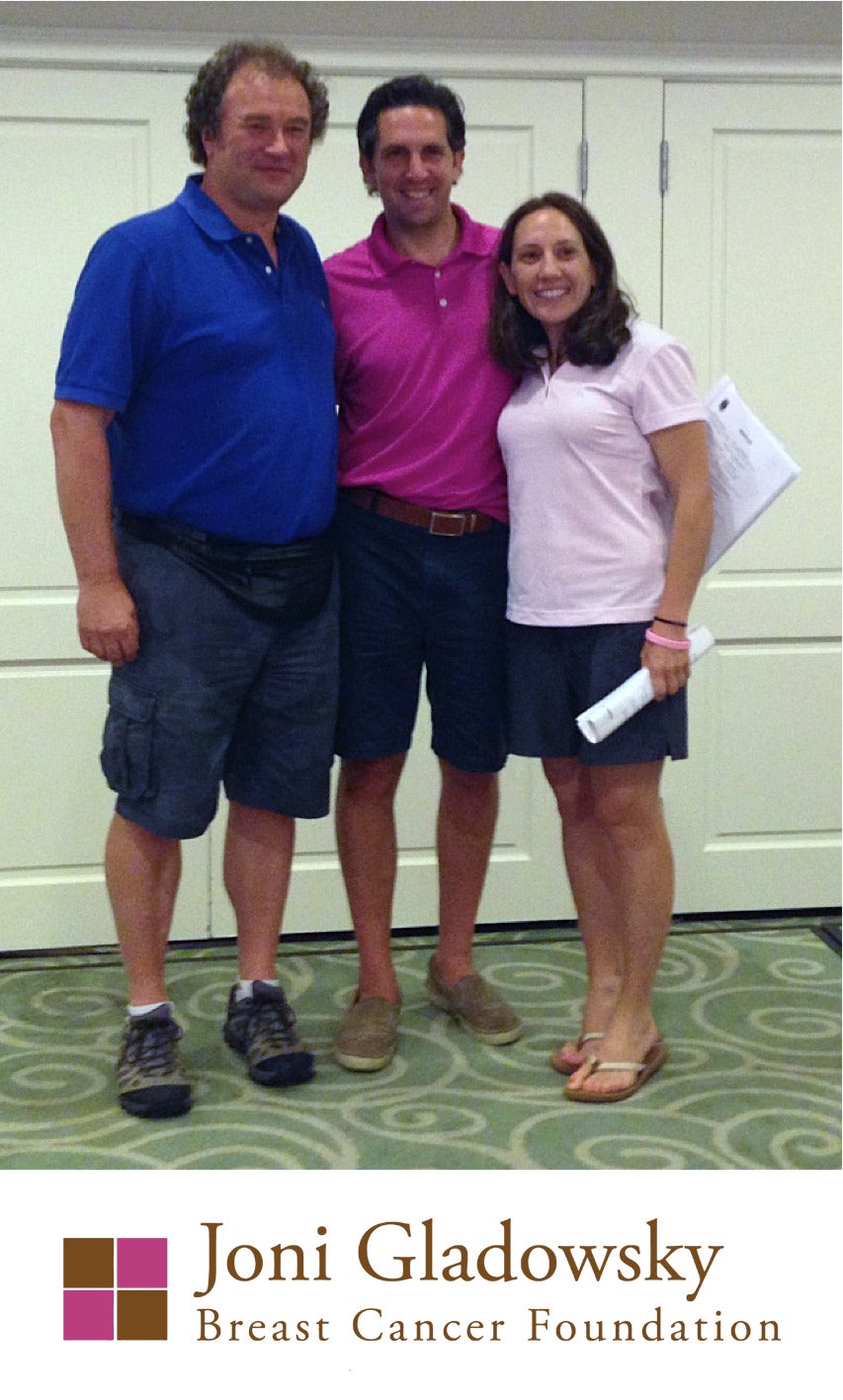 This gift represents proceeds from the Gladowsky Foundation's 4th Annual Winter Classic Hockey fundraiser held on March 6, 2015 and its 2014 Golf Tournament. These proceeds will support breast cancer research in the laboratory of CSHL Professor Nicholas Tonks. To date, CSHL has received donations totalling almost $400,000 from the Gladowsky Foundation.
Foundation funding has had a great impact on Tonks' research, which has been largely focused on the protein tyrosine phosphatase (PTP) family of enzymes. Tonks is obtaining very promising results aimed at designing new therapeutic strategies targeting these enzymes, and is working closely with breast cancer clinicians to move forward on a clinical trial. Gladowsky Foundation support has expedited his efforts and Tonks is hopeful that his research will soon be effectively treating those suffering from this devastating disease.
During a recent visit to CSHL, Alison and Jason Gladowsky met with Tonks and CSHL President and CEO Dr. Bruce Stillman. Stillman thanked them for their tireless work on behalf of the Laboratory, and emphasized the importance of local support, saying, "Contributions from the Gladowsky Foundation are vital to furthering our efforts in understanding, treating and preventing breast cancer."
About Joni Gladowsky Breast Cancer Foundation
The Joni Gladowsky Breast Cancer Foundation is a philanthropic organization established in 2002 in memory of Joni Gladowsky. Joni was a wife, a mother, a daughter, a colleague and a friend who was diagnosed with breast cancer at the age of 37. She fought the disease for almost two decades with high spirits and dignity. The Foundation is known for supporting state-of-the-art patient care and the kind of revolutionary research that brings us closer to a cure. www.jonisfund.org