Poem by Richard O. Roblin III, who was a student of James D. Watson at Harvard University in the mid to late 1960s.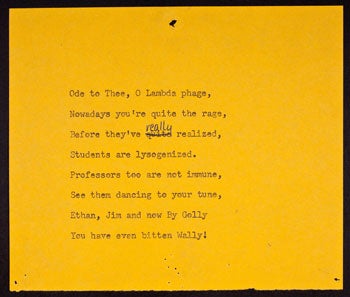 Ode to Thee, O Lambda phage,
Nowadays you're quite the rage,
Before they've really realised,
Students are lysogenized.
Professors too are not immune,
See them dancing to your tune,
Ethan, Jim and now By Golly,
You have even bitten Wally!
Digitized as part of the "Codebreakers: Makers of Modern Genetics" project.