The Cold Spring Harbor Laboratory Audio Visual Collection consists of Hi-8s, Mini DVs, Audio Cassettes, DVDs and Analog Video Formats (Betacam, Betacam SP, D-3 ½ Digital, Professional Broadcast Video, Telecine), Video Cassettes and 1 inch Type C Helical Video Reels. The recordings are of lab scientists and events at both internal and external locations.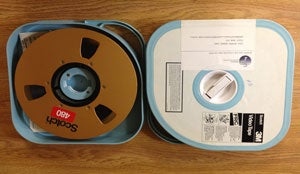 CSHL Audio Visual Collection
Availability of Material
For specific information on the availability of materials or to arrange an appointment to use the Archives, please contact 516-367-8414 or archives@cshl.edu. Please consult our Permissions & Copyright Policies for any materials you wish to use.

This collection was processed under the grant History and Development of Molecular Biology: New Sources through the Hidden Cold Spring Harbor Laboratory Archives Collections (1890-1910), (NAS11-RB-50178-11). Funding provided by the National Historical Publications and Records Commission.