Brooklyn Institute of Arts and Sciences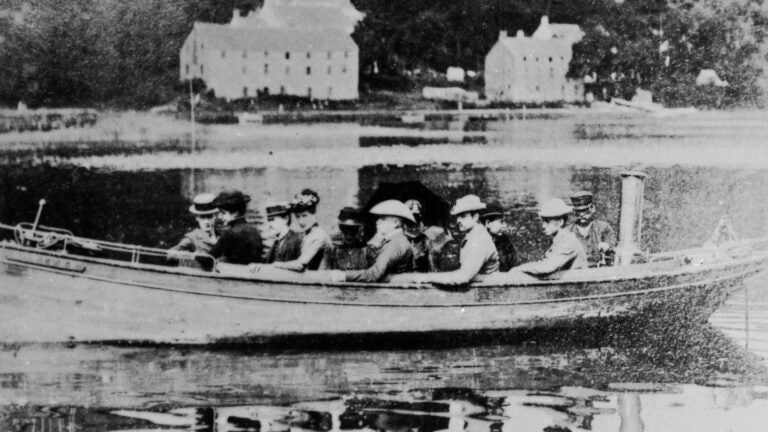 At the end of the 19th century, the Brooklyn Institute of Arts and Sciences (BIAS) founded a laboratory for training high school and college teachers in marine biology. As biologists and naturalists of that time worked out the consequences of Darwin's theory of evolution, they often established their laboratories at the seashore, where there was an abundance of animals and plants for study. In 1889, John D. Jones gave land and buildings (formerly part of the Cold Spring Whaling Company) on the southwestern shore of Cold Spring Harbor to the Brooklyn Institute for Arts and Science (BIAS). BIAS used the Jones gift to established its presence in Cold Spring Harbor as the Biological Laboratory (Bio Lab) engaged in science research and training of secondary school teachers. In 1917 the Bio Lab officially became one of the four departments of the BIAS (along with the Brooklyn Art Museum, Brooklyn Botanical Garden and Brooklyn Zoo) and an endowment was raised from contributions of interested Cold Spring Harbor neighbors. In 1924 BIAS turned over the administration and ownership of the Biological Lab to the Cold Spring Harbor community and it incorporated as the Long Biological Association (LIBA). LIBA was initially administered by Director Reginald Harris, and continued as a scientific research and educational institution, funded by local residents and a far reaching list of private donors.
The collection represents material generated, accumulated, and maintained by the Brooklyn Institute of Arts and Sciences (BIAS) Biological Laboratory founded in 1890 for training high school and college teachers in marine biology in Cold Spring Harbor, New York. The BIAS Biological Laboratory Collection ends in 1924 when the Biological Lab and its functions were transferred to the Long Island Biological Association.
These records have been stored on site since their creation, originally in administrative offices under various Laboratory Directors until their removal to the Cold Spring Harbor Laboratory Library and Archives. Documents within the collection identify these records as those belonging to the Brooklyn Institute of Arts and Sciences—The Biological Laboratory. During most of its existence the organization shared directors, certain staff and buildings, with three related peer institutions: 1) Carnegie Institute of Washington 2) Eugenics Record Office (established as a separate entity in 1910, but whose building, files and records were donated to Carnegie Institution of Washington in 1918); and 3) The Long Island Biological Association. This shared leadership created an intermingling of these institutions' administrative files. Where folders were clearly identifiable as belonging to another institution as determined by date, person, or subject, the processing archivists removed the folders for placement in the relevant Related Collections. Where folders contained material which overlapped multiple collections, the folder was kept in this collection and reference notes added. It is recommended that this collection be researched in conjunction with Related Collections. This collection was processed in June 2012.
The Collection is composed of material accrued in the administration of the Bio Lab by director Dr. Charles B. Davenport with the close guidance and funding by the Bio Lab trustees. These materials have been moved several times through various lab administrations and research projects and were not in original order. These documents include the Bio Lab Trustee series, consisting of one box of minutes of 1898–1922 reflecting fiscal, administrative and curriculum issues. Nine boxes of documents from the administration of the summer and year-round biological study programs 1898–1922 comprise the Bio Lab Administrative series. These two series reflect historically interesting facets of a scientific institution that survived privatization, World War I and fiscal challenges of a tuition-financed educational institution. The BIAS Trustee series is one box of material documenting the oversight by BIAS, the parent organization. These minutes reflect the arts and science entities within BIAS that were competing for resources and the eventual 1924 launch of the independent successor institution, the Long Island Biological Association. The fourth series, Bio Lab Account Ledgers consists of 4 boxes of ledgers with detailed handwritten entries of students' information, finances, and sundry items. These ledgers provide an overall depiction of life during the beginning of the twentieth century in Cold Spring Harbor. Documents found in this collection reflect the interaction and interrelationship of this Biological Laboratory with the Village and citizens of Laurel Hollow, the Brooklyn Institute of Arts and Sciences and the neighboring institution the Carnegie Institute of Washington Station for Experimental Evolution.
The Collection is organized into four series:
Series 1: Biological Laboratory Trustees (1898–1922)
Series 2: Bio Lab Administrative (1890–1922)
Series 3: BIAS Trustees (1915–1924)
Series 4: Bio Lab Account Ledgers (1902–1941)
Digitized volumes of the Brooklyn Institute of Arts and Sciences Year Books are available via Google Books and Internet Archive.