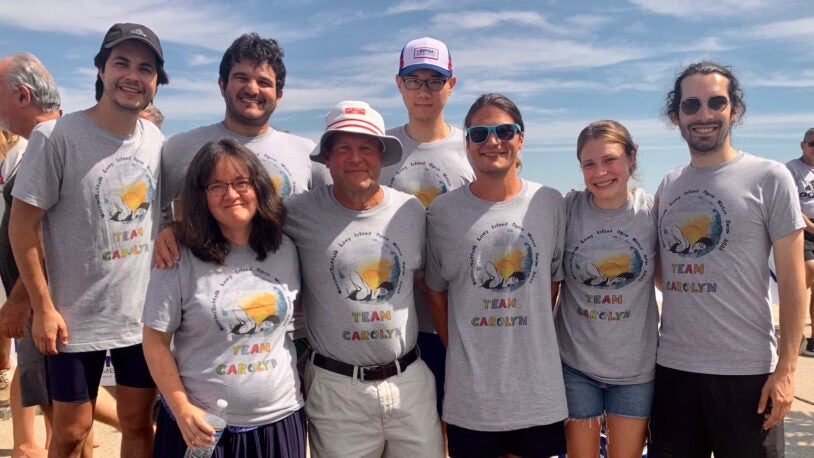 On a beautiful summer morning in late July over 200 swimmers took to the open waters off Prybil Beach in Glen Cove as part of the fundraising efforts of Swim Across America. This year, Cold Spring Harbor Laboratory swimmers and volunteers joined with Team Carolyn led by CSHL Association Director Steve Chestler and his children Gregory and Caitlin. Propelled by the memory of their wife and mother, Carolyn, whose passion was swimming, Team Carolyn had an incredibly successful first year.
CSHL Professor Mikala Egeblad spoke on behalf of the CSHL research community in thanking all of the swimmers, volunteers and their families for their fundraising efforts to fight cancer. Mikala and her lab members study the microenvironments of breast, lung & pancreatic cancer – with a particular area of focus on metastasis.
SAA is a national organization that funds cancer research, clinical trials, and patient programs by hosting annual charity swims. The SAA charity swims partner with beneficiaries in their local communities. Beneficiaries volunteer at the swims, share stories of impact, and join swims. Thousands of swimmers participate in more than 20 swims around the nation each year. Since their start in 2001, SAA – Nassau/Suffolk events have raised over $10.5 million in support of their beneficiaries including Cold Spring Harbor Laboratory.