Corporate Leadership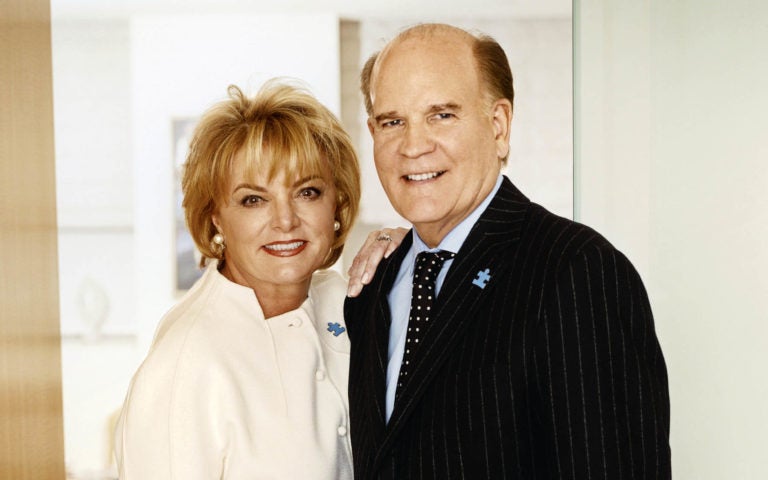 Suzanne and Bob Wright are co-founders of Autism Speaks, the largest organization devoted to autism in the nation. Inspired by the challenges facing their grandson, who suffers from autism, they launched the foundation in February 2005 to help find a cure by raising funds to facilitate and quicken the pace of research, to raise public awareness of autism and to give hope to all those who suffer from this disorder.
The nation's fastest-growing serious developmental disorder, autism now affects 1 in 150 children in the United States. There are almost 1.5 million cases of autism in this country alone, with 3 children being diagnosed per hour. Despite these alarming statistics, autism remains severely underfunded. The Wrights are working to combat this trend through Autism Speaks, which aims to give a voice to the entire community, and to every family dealing with the hardships of autism.
Bob Wright is vice chairman of the board, executive officer, and a member of the Corporate Executive Office of the General Electric Company. Bob joined NBC as president and chief executive officer on September 1, 1986, and was made chairman and CEO of the network in June 2001. He then served as chairman and chief executive officer of NBC Universal from May 2004 February 6, 2007, and continued to serve as chairman of the NBC Universal board of directors until May 1, 2007. Bob had one of the longest and most successful tenures of any media company chief executive, with more than two decades at the helm of one of the world's leading media and entertainment companies.  He has a strong history of philanthropy and community service, for which he has received numerous awards and accolades. He is a member of the board of directors of the Damon Runyon Cancer Research Foundation, board of governors of New York-Presbyterian Hospital and is a member of the Society of New York Hospital Inc.
Suzanne Wright has an extensive history of active involvement in community and philanthropic endeavors, mostly directed toward helping children. She has teamed up with the Make-A-Wish Foundation of Metro New York, the YMCA, and other local organizations to provide children with once-in-a-lifetime opportunities such as attending the Winter Olympic Games in Salt Lake City. Suzanne serves on the board of directors for several organizations, including the New York Center for Autism, the Make-A-Wish Foundation of Metro New York, the Laura Pels Foundation, the Inner-City Foundation for Charity and Education, the Philadelphia-based Champions of Caring Project, and her alma mater, Sarah Lawrence College.