Cold Spring Harbor, NY — Swim Across America (SAA) has pledged $50,000 to Cold Spring Harbor Laboratory (CSHL) to support the work of cancer researcher Rafaella Sordella, Ph.D. SAA raised part of the money during its 2009 "Sound to the Cove Swim" held on Saturday, August 15, during which more than 200 swimmers took the plunge into Long Island Sound to raise money for, and increase awareness of, cancer research.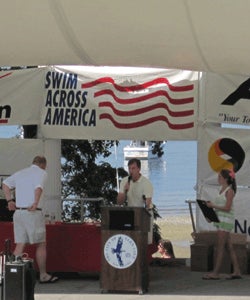 Dr. Sordella, who is an assistant professor at CSHL, thanked SAA for the generous donation. "Lung cancer causes one in every three cancer deaths in the U.S., but federal funding for lung cancer research is only 5% of the total cancer research budget, which is not at all proportionate to the magnitude of the problem," said Dr. Sordella. "That's why the generous support that I have received from SAA is so important and has made an enormous difference to my research." The donation will go toward Dr. Sordella's research into mechanisms of resistance to targeted therapy in non-small cell lung cancer.
"With the help of hundreds of volunteers nationwide, including past and current Olympians, SAA is helping find a cure for cancer through athleticism, community outreach and direct service," said Gerry Oakes, V.P and Director of SAA, Inc., and chair of the SAA-Nassau Suffolk Committee. "Teaming up with a world renowned organization like Cold Spring Harbor Laboratory validates our efforts here on Long Island and nationwide."
Among the swimmers at this year's event was Mikel Zaratiegui, Ph.D., a post-doctoral researcher who studies genetics at CSHL. "This event is an opportunity for researchers like me to put their shoulders to the wheel to raise funds for research," said Dr. Zaratiegui. "It reminds us that it's not just about spending money on research, but also about raising awareness and supporting the community."
Written by: Public Affairs | publicaffairs@cshl.edu | 516-367-8455
Swim Across America
Swim Across America (SAA) is a non-profit 501(c)(3) organization making a difference in the fight against cancer. Established over 20 years ago with the mission of raising money and awareness for cancer research, prevention and treatment, SAA conducts aquatics-based events across the country, including swims in Boston, Chicago, San Francisco and New York. To date, they have raised over $25 million for some of the top cancer institutions in the nation, including Cold Spring Harbor Laboratory, Memorial Sloan Kettering, Dana Farber Cancer Institute, UCSF Children's Hospital and the Loyola Cancer Center. For more information, please visit www.swimacrossamerica.org.
About Cold Spring Harbor Laboratory
Founded in 1890, Cold Spring Harbor Laboratory has shaped contemporary biomedical research and education with programs in cancer, neuroscience, plant biology and quantitative biology. Home to eight Nobel Prize winners, the private, not-for-profit Laboratory employs 1,100 people including 600 scientists, students and technicians. The Meetings & Courses Program annually hosts more than 12,000 scientists. The Laboratory's education arm also includes an academic publishing house, a graduate school and the DNA Learning Center with programs for middle and high school students and teachers. For more information, visit www.cshl.edu
---
---