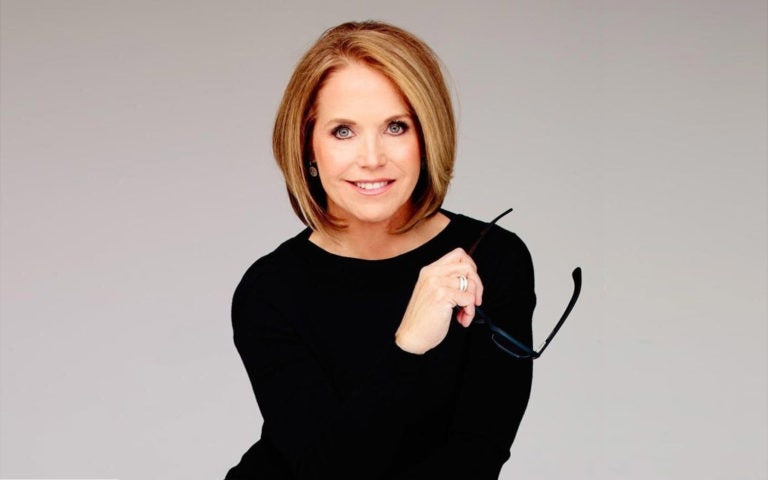 Katie Couric is the Global Anchor of Yahoo News, the number one online news source in the world. Katie is an award-winning journalist and TV personality, cancer advocate, and New York Times best-selling author of The Best Advice I Ever Got: Lessons From Extraordinary Lives. In November 2013, Katie joined Yahoo where she reports on live world events, anchors groundbreaking interviews with major newsmakers and is the host of the digital series World 3.0 and Now I Get It.
Couric is an executive producer and narrator of the critically acclaimed documentary, Fed Up, which focuses on the alarming spread of childhood obesity, released in spring 2014.
Her steady rise in television news was affirmed over her unprecedented 15-year run as Co-Anchor of NBC News' Today (1991-2006) and by becoming the first solo female anchor of a national nightly news broadcast, as Anchor and Managing Editor of the CBS Evening News with Katie Couric (2006-2011). At CBS News, Couric was also a contributor to 60 Minutes, CBS Sunday Morning, and CBS News primetime specials.
Couric joined the Disney/ABC Television Group in August 2011. 2012 saw the premiere of her eponymous syndicated daytime talk show, Katie. The show ran for two acclaimed seasons, during which time she also served as a special correspondent for ABC News, contributing to ABC World News, Nightline, 20/20, Good Morning America, This Week, and primetime news specials from August 2011 to December 2013.
In addition to her career as an anchor and broadcast news reporter, Couric is the author of the New York Times bestseller, The Best Advice I Ever Got: Lessons From Extraordinary Lives and the co-author of two successful children's books, The Brand New Kid and The Blue Ribbon Day. She also wrote a monthly column for Glamour magazine, featuring interviews with dynamic female role models, including First Lady Michelle Obama, former Secretary of State Condoleezza Rice, and Her Royal Highness Queen Rania of Jordan.
While at CBS, Couric developed several online content initiatives, including @KatieCouric, an original, weekly web show featuring interviews with top newsmakers, authors, and cultural figures. She also expanded CBS News' primetime 2008 election year coverage by creating and anchoring post-primetime webcasts from the Democratic and Republican National Conventions, the Presidential and Vice Presidential debates, and President Obama's 100th day in office.
Over the past two decades, she has covered the most important news stories around the world, including the bombing in Oklahoma City, The Clarence Thomas Supreme Court hearings, the terrorist attacks of September 11, 2001, the Columbine High School shooting, the earthquake in Haiti, wars in Iraq and Afghanistan, and the shooting in Tucson that wounded Rep. Gabrielle Giffords and killed six others.  She has also covered eight Olympic Games, the funeral of Princess Diana and the Royal Wedding of Prince William and Kate Middleton in April 2011.  Her 2008 interview with Republican vice presidential candidate Sarah Palin is considered one of the most impactful political interviews in recent memory.
Couric's interviewing and reporting skills have won her many awards through the years: The CBS Evening News with Katie Couric received the prestigious Edward R. Murrow Award for Best Newscast in 2008 and 2009. The University of Southern California's Annenberg School for Communication & Journalism awarded Couric the Walter Cronkite Award for Special Achievement in 2009 for "National Impact on the 2008 Campaign," and in 2009, the University of South Dakota and Freedom Forum awarded her the Al Neuharth Award for Excellence in the Media.
In 2010, Couric was awarded an Alfred I. duPont Award for her interview with Republican vice presidential candidate Sarah Palin. The CBS Evening News with Katie Couric was awarded a second duPont for a series she conceived on the impact of the recession on children in America. She also received an Emmy for Outstanding Interview for her profile of Captain Chesley "Sully" Sullenberger, entitled "Saving Flight 1549."
After losing her husband, Jay Monahan, to colon cancer in 1998, Couric became a public leader in the fight against the country's second largest cancer killer. In March 2000, she launched the National Colorectal Cancer Research Alliance (NCCRA) with the Entertainment Industry Foundation (EIF) and cancer activist Lilly Tartikoff to fund cutting-edge research in colorectal cancer and generate awareness about the life-saving value of screening. She is also a co-founder of Stand Up To Cancer (SU2C), an organization that has raised nearly $200 million in funds to accelerate research that can get new therapies to patients quickly. In May 2008, she and several other network news anchors participated in the first SU2C broadcast, an unprecedented effort that culminated in a one-hour, commercial-free, primetime program on ABC, CBS, and NBC in September 2008.
Following her on-air colonoscopy in 2000, a scientifically documented 20% increase in the number of colonoscopies performed across the country was dubbed "The Couric Effect" by researchers at the University of Michigan. Her series on colon cancer received the George Foster Peabody Award and led to a 2001 RTNDA-Edward R. Murrow Award for Overall Excellence for NBC News.
Couric helped co-found The Jay Monahan Center for Gastrointestinal Health at NewYork-Presbyterian Hospital/Weill Cornell Medical Center. The Monahan Center, which opened in March 2004, provides a comprehensive, fully integrated multi-disciplinary program, stressing education and prevention in addition to diagnosis and treatment of gastrointestinal cancers. The Monahan Center's mission focuses on the seamless coordination of all needed care for patients and their families facing the difficult diagnosis of gastrointestinal cancer. As part of her work to generate funds for both the Center and the nine scientists whose research the NCCRA supports, Katie has hosted three extremely successful benefits.
Couric began her broadcast journalism career as a desk assistant at ABC News in Washington, D.C. in 1979. Over the next 10 years, she worked as an assignment editor, associate producer, producer, and political correspondent for CNN, and reported for WTVJ in Miami, Florida and WRC-TV in Washington, D.C., before joining NBC News in 1989 as deputy Pentagon reporter. In June 1990, she was named NBC's first national correspondent.
Born in Arlington, Virginia, Katie graduated with honors from the University of Virginia in 1979 with a bachelor's degree in English and a focus on American Studies. She lives in New York with her husband, John Molner.