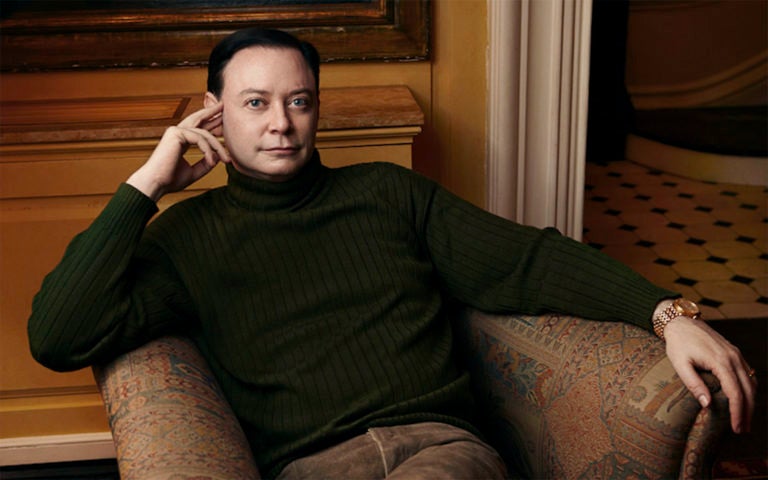 Andrew Solomon is a writer and lecturer on politics, culture and psychology.
Solomon's newest book, Far From the Tree: Parents, Children, and the Search for Identity, published on November 13, 2012, won the National Book Critics Circle award for nonfiction; the J. Anthony Lukas award; the Anisfield-Wolf Award; the Wellcome Book Prize; Books for a Better Life Award; Yale University's Research Advocacy Award; the GRASP Friend and Benefactor award; the Fountain House Humanitarian Award; the Mike Wallace Award of the University of Michigan; the Columbia Gray Matters Award; the Green Carnation Prize; and the Distinguished Achievement Award in Nonfiction of the National Council on Crime and Delinquency.
It was chosen as one of the New York Times Ten Best Books of 2012 and has been a New York Times bestseller.  Additionally, it has been a New York Times daily (Dwight Garner) Best Book of 2012; a Publishers Weekly Best Book of 2012; a Boston Globe Best Book of 2012; a San Francisco Chronicle Best Book of 2012; a Salon.com / Laura Miller Best Book of 2012; a Kirkus Best Nonfiction Book of 2012; a Time magazine Best Book of 2012; an Amazon.com Best Nonfiction Book of 2012; a New York Times Book Review Notable Book of 2012; a BuzzFeed Book of the Year; an Economist Book of the Year; and a Cleveland Plain-Dealer Book of the Year.
It tells the stories of parents who not only learn to deal with their exceptional children, but also find profound meaning in doing so.  Solomon's startling proposition is that diversity is what unites us. He writes about families coping with deafness, dwarfism, Down syndrome, autism, schizophrenia, multiple severe disabilities, with children who are prodigies, who are conceived in rape, who become criminals, who are transgender. While each of these characteristics is potentially isolating, the experience of difference within families is universal, as are the struggles toward compassion and the triumphs of love Solomon documents in every chapter.  Woven into these courageous and affirming stories is Solomon's journey to accepting his own identity, which culminated in his midlife decision, influenced by this research, to become a parent.
The New York Times hailed the book, writing, "It's a book everyone should read… there's no one who wouldn't be a more imaginative and understanding parent — or human being — for having done so… a wise and beautiful book."  People described it as "abrave, beautiful book that will expand your humanity."
Solomon's previous book, The Noonday Demon: An Atlas of Depression (Scribner, 2001), won the 2001 National Book Award for Nonfiction, was a finalist for the 2002 Pulitzer Prize, and was included in The Times of London's list of one hundred best books of the decade. A New York Times bestseller in both hardcover and paperback editions, The Noonday Demon has also been a bestseller in seven foreign countries, and has been published in twenty-four languages.  The New York Times described it as "All-encompassing, brave, deeply humane… a book of remarkable depth, breadth and vitality… open-minded, critically informed and poetic all at the same time… fearless, and full of compassion."
The Noonday Demon was named a Notable Book by both the New York Times and the American Library Association, and received the Books for a Better Life Award from the National Multiple Sclerosis Society; the 2002 Ken Book Award from the National Alliance on Mental Illness of New York City; Mind Book of the Year; the Lambda Literary Award for Autobiography/Memoir; and Quality Paperback Book Club's New Visions Award. Following publication of The Noonday Demon, Solomon was honored with the Dr. Albert J. Solnit Memorial Award from Fellowship Place; the Voice of Mental Health Award from the Jed Foundation and the National Mental Health Association (now Mental Health America); the Prism Award from the National Depressive and Manic-Depressive Association; the Erasing the Stigma Leadership Award from Didi Hirsch Mental Health Services; the Charles T. Rubey L.O.S.S. Award from the Karla Smith Foundation; and the Silvano Arieti Award from the William Alanson White Institute.
A native New Yorker, Andrew Solomon attended the Horace Mann School, graduating cum laude in 1981.  He received a Bachelor of Arts degree in English from Yale University in 1985, graduating magna cum laude, and later earned a Master's degree in English at Jesus College, Cambridge. While at Cambridge, he received the top first-class degree in English in his year, the only foreign student ever to be so-honored, as well as the University writing prize. In August 2013, he was awarded a Ph.D. in psychology at Jesus College, Cambridge, Faculty of Politics, Psychology, Sociology and International Studies, working on maternal identity under the supervision of Prof. Juliet Mitchell.
In 1988, Solomon began his study of Russian artists, which culminated with the publication of The Irony Tower: Soviet Artists in a Time of Glasnost (Knopf, 1991).  He was asked in 1993 to consult with members of the National Security Council on Russian affairs.  His recently reissued first novel, A Stone Boat (Faber, 1994), the story of a man's shifting identity as he watches his mother battle cancer, was a national bestseller and runner up for the Los Angeles Times First Fiction prize; it has since been published in five languages.
From 1993 to 2001, Solomon was a contributing writer for the New York Times Magazine, writing on a wide range of subjects; he has also written periodically for The New Yorker.  Such journalism has spanned many topics, including depression, Soviet artists, the cultural rebirth of Afghanistan, and Libyan politics.
In 2003, Solomon's article, "The Amazing Life of Laura," a profile of diarist Laura Rothenberg, received the Clarion Award for Health Care Journalism, and the Angel of Awareness Award from the Cystic Fibrosis Foundation. In April 2009, his article, "Cancer & Creativity: One Chef's True Story," received the Bert Greene Award for Food Journalism by the International Association of Culinary Professionals; the story was also a finalist for the 11th Annual Henry R. Luce Award. Solomon's reminiscence on a friend who committed suicide won the Folio Eddie Gold Award in 2011.
He has authored essays for many anthologies and books of criticism, and his work has been featured on National Public Radio's Moth Radio Hour.
Solomon is an activist and philanthropist in LGBT rights, mental health, education and the arts. He is founder of the Solomon Research Fellowships in LGBT Studies at Yale University, and a member of the boards of directors of the National Gay and Lesbian Task Force and Trans Youth Family Allies.  A frequent writer on gay marriage, his articles on the subject have appeared in Newsweek, The Advocate, and Anderson Cooper 360. His July 2007 marriage to John Habich was reported in the New York Times, The London Sunday Times, Tatler, Newsweek, and numerous other publications. The wedding ceremony that he wrote for that occasion has been used as a sample text in a University of Pennsylvania Law School course on privacy and civil rights law.
He has lectured widely on a range of topics. He is a lecturer in Psychiatry at Weill-Cornell Medical College; a director of the University of Michigan Depression Center and Columbia Psychiatry; a member of the Board of Visitors of Columbia Medical School, and the Advisory Boards of the Mental Health Policy Forum at Columbia Mailman School of Public Health and the Depression and Bipolar Support Alliance. In 2008, Solomon received the Society of Biological Psychiatry's Humanitarian Award for his contributions to the field of mental health, and in 2010, the Brain and Behavior Research Foundation's Productive Lives Award.  In 2011, he was appointed Special Advisor on Lesbian, Gay, Bisexual, and Transgender Mental Health at the Yale School of Psychiatry.
Additionally, Solomon serves on the boards of the Metropolitan Museum of Art; the World Monuments Fund; Yaddo; and The Alex Fund, which supports the education of Romani children.  He is a member of the Library Council Steering Committee at the New York Public Library.  He is also a fellow of Berkeley College at Yale University, and a member of the New York Institute for the Humanities and the Council on Foreign Relations.
He lives with his husband and son in New York and London and is a dual national. He also has a daughter with a close friend; mother and daughter live in Fort Worth, but visit often.