In early August, Susan Schultz and her daughters, Lauren and Marla visited Cold Spring Harbor Laboratory (CSHL) after not having been on campus for 9 years. Susan, who now lives in North Carolina, worked at the Laboratory for 28 years, beginning in 1979 as a bookkeeper and retiring in 2008 as Director of Grants in what is now the Office of Sponsored Programs.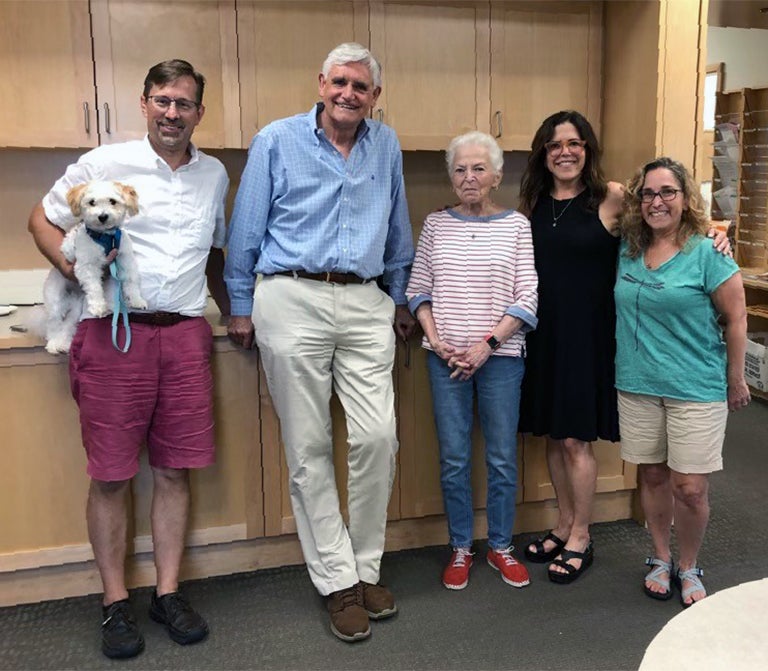 Lauren worked for the
Meetings & Courses
department for 10 years before moving to North Carolina. She and her brother also worked at CSHL while in high school holding various jobs between them including lifeguard, dishwasher and housekeeper. Their cousin worked here too, at Uplands Farm while he was in college and later one summer as a teaching assistant for the
Drosophila
Course. He is now a Neurobiology Professor at Mount Holyoke. Topping off the family's connection to CSHL is Lauren's son Josh, now in college, who grew up in the Mary D. Lindsay Childcare Center from the age of 8 months until he was five years old.
The excitement of "coming home" to the Laboratory was monumental, and not just for nostalgia's sake. Susan, Lauren and Marla were visiting to say "thank you" in person to our exceptional pancreatic cancer researchers led by David Tuveson, M.D., Ph.D., Director of CSHL's Cancer Center, and also to President Bruce Stillman.
Four years ago Susan received crushing news: she had pancreatic cancer and could expect to live for six weeks, six months, or perhaps up to a year. Anyone who worked with Susan may recall how determined she can be. She and her daughters quickly found a team of more optimistic specialists who recognized that she was a candidate for life-saving Whipple surgery. During Susan's recovery, Lauren reached out to Bruce and to her former boss David Stewart who, as Executive Director of CSHL's Meetings & Courses has far-reaching connections in the world of cancer research and care.
"It goes without saying that in times of crisis, you want the best of the best.Within the hour I received a reply from Bruce, who coincidentally was at a Pancreatic Cancer meeting at the Banbury Conference Center and immediately connected us with Dr. Dave Tuveson, who in turn put us in touch with Susan's current oncologist at Duke University. The time Dr. Tuveson spent with my sister, offering advice, answering questions about recommended treatments and connecting us with other physicians to review treatments was invaluable. Our genuine affection for CSHL and what the scientists do has only deepened our commitment to the Lab," said Lauren.
With "heartfelt gratitude" the Schultz family has made a $25,000 donation to the Tuveson Laboratory. This funding will be used to buy a new protein detection and quantification system called Western Blotting. The term "blotting" refers to the transfer of biological samples from a gel to a membrane and their subsequent detection on the membrane's surface. A western blot experiment enables researchers to gather exquisitely detailed data about a potential drug target protein of interest from a complex protein mixture.
Speaking for Susan and Marla as well, Lauren added, "From the moment of reconnecting with former colleagues, driving around the campus, to meeting with Dave Tuveson and Bruce Stillman, our level of excitement could not be contained. After spending time with both, we reaffirmed our commitment to CSHL and the amazing work that everyone does."