Celia and Wally Gilbert Artist-in-Residence Program
The Center for Humanities and History of Modern Biology at Cold Spring Harbor Laboratory (CSHL) is pleased to announce the Celia and Wally Gilbert Artist-in-Residence Award for artists, composers, writers, and designers. The Artist-in-Residence will reside at Cold Spring Harbor Laboratory from one to three weeks, with room and board fully covered. An honorarium of $1,000, $1,200 or $1,500 will be given, based upon the length of stay.
Initiated with a gift by famed Nobel Prize laureate Wally Gilbert and his wife, poet and artist Celia, the annual Award will enable exceptionally creative individuals to stay on CSHL's idyllic campus, explore the scientific process and interact with international scientific staff and visitors. Gilbert Residents may arrive with projects already in mind or come seeking inspiration for new ideas. Full access will be granted to CSHL's archives invaluable resources, including historical papers, correspondence, photographs, and rare books in anthropology, experimental biology, eugenics, embryology, plant and animal genetics and related disciplines. The 117 acre CSHL campus is a registered botanical garden which features outdoor sculptures. Many of the buildings are on the National Register of Historic Places and the interiors feature original artwork.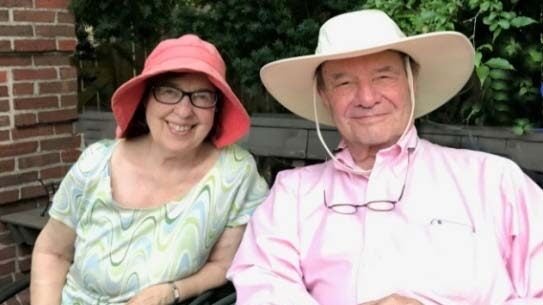 The Gilbert Artist-in-Residency Program is accepting applications for the Fall of 2023 and year of 2024.

Wally and Celia understand how creativity fuels scientific exploration, just as biological experimentation parallels an artist's approach toward expression. They have created the Gilbert Residency Program to inspire creative thinking that will energize innovation in both culture and science. Learn more about Celia & Wally Gilbert.
One-week to three-week residency at Cold Spring Harbor Laboratory for selected participants—artists, filmmakers, poets, composers, illustrators, or designers.
Opportunity to interact with our Library and Archives staff, CSHL scientists, and attendees at CSHL scientific meetings.
Discussion, collaboration, and exchange of ideas between visiting participants and our resident scientists.
Exploration of new areas of artistic inspiration, using our diverse resources to conceive new ideas for projects and assemble the requisite information for planned projects.
The artist-in-residence will create at least one work that will be displayed or presented at a public event at CSHL and on CSHL's website within a year of receiving the award.
Artists who can interpret scientific research elements into accessible works of art—paintings, novels, poetry, and more— will connect with CSHL scientists who can explain the significance of their research, lessening the prevailing distance between the public and science.
Full access to, and a personal guided tour of, the CSHL Archives, which features a rich collection of photographs, letters, videos, manuscripts, maps, and memorabilia pertaining to groundbreaking research spanning the most revolutionary century in modern science
The opportunity for inspiration and insight through one-on-one meetings with CSHL scientists to discuss the nature of their work in the field of cancer, plant genetics, neuroscience, quantitative biology, as well as to attend international scientific meetings on campus
A generous stipend for the duration of the program
The regular presence of an Artist-in-Residence on campus—whether a poet, sculptor, musician, painter, caricaturist, or others—will bring culture and other vibrant elements of life outside the laboratory bench
Artist-in-Residence can advise the Archives staff in creating and curating The Center for Humanities and History of Modern Biology's public events, exhibits, and activities
Awarded Applicants will present a talk or a seminar about the work supported by the CSHL award for the general public and CSHL scientific community within a year of residencies start dates
How to Apply
Applicants should supply
CV or résumé
Sample of your work no more than ten pages with a brief explanation of its aims and significance or Digital portfolio (submitted in a single PDF, if possible)
Description (up to 2000 words) of how the work they would do during the Residency engages with the interplay of art and science. This description may also indicate the scientific research at the Laboratory (https://www.cshl.edu/) that is of interests and/or the archival collections (https://www.cshl.edu/archives/) that plan to be used during the residency
Preferred residency dates and length of stay
Application materials should be sent to loria@cshl.edu with the subject line "Celia & Wally Gilbert Art and Science Residency."
Length of Residency
One to three weeks.
Honorarium
The program offers honorarium of $1,000, $1,200 or $1,500 USD, depending on length of stay.
Housing and transportation
Artist-in-Residents will stay on campus in CSHL housing, with room and board fully covered. (Off-campus accommodations may be made if CSHL housing is not available during preferred residency dates). The CSHL campus is accessible from New York City via the Long Island Railroad to the Syosset train station, then a quick ride on the campus shuttle.
Questions
If you have any questions about applying, please contact Ms. Tricia Loria: (516) 367-5020 or loria@cshl.edu.