Written by Jerinna Solages, Senior at Amityville Memorial High School and Partners for the Future program participant. An avid writer, she penned her first novel, Hinder, before graduating middle school.
I
was sitting in my 6th-period AP Physics class and the buzzing of my phone briefly removed me from what was happening around me. As I grasped my phone and scanned the first words of the email, my heart seemed to thrash around my chest. I was selected to interview for the opportunity to do research with a team of scientists as part of Cold Spring Harbor Laboratory's
Partners for the Future Program
!
Ever since I was little, I have constantly searched for new things to fawn over, whether by staying late to ask my teacher questions after school or watching educational YouTube videos in my free time. There I was, about to step out of high school and into the captivating world that scientists live in every day, a world filled with discoveries and exploration. An endless array of thoughts flooded my mind, ranging from elation to bouts of nervousness.
For the next eight months, I would be part of Associate Professor Anne Churchland's lab, which studies how the brain makes decisions. Promptly after school three days a week, I would take a 40-minute Uber ride to Cold Spring Harbor, scribbling homework notes in the back of the car.
My perception of the roles of research scientists had been completely different from the reality of their everyday lives. Before, I thought that scientists were anti-social beings who were cooped up in a cubicle setting. But I learned that being a Partner for the Future—and being a scientist—means being a part of a team.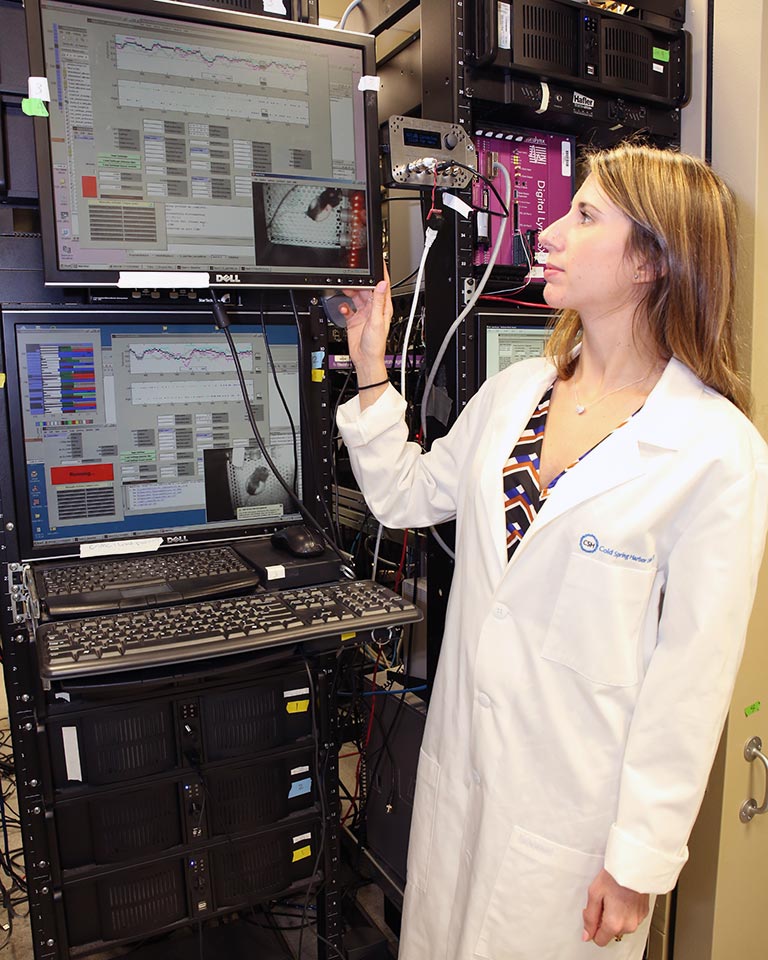 From day one, I worked closely with my mentor, Watson School graduate student Lital Chartarifsky, on a project she had started. Her goal was to better understand the brain circuitry involved in the decision-making process by studying the brains and behavior of rats.
Like humans, rodents are able to combine information across time to make decisions uniquely tailored to each circumstance. It was amazing to see how Lital broke down this complex idea into simple tasks that rodents could perform in the lab. Each trial consisted of visual events such as flashes of light, which signaled to the rodent which choice would get a reward, and tracked the animal's correct and incorrect choices.
Gathering the data is crucial, but scientists then have to figure out what it all means. Working with Lital in the lab helped me understand why computer coding is so important to this part of science. She introduced me to a coding program called Matlab, which we used to transfer the data of each daily trial into the computer. I had never done any coding before, so learning some of the itty-bitty details involved was exciting. It equipped me with new ways to interpret data and propelled my knowledge of computers to new levels.
As a high schooler, being immersed in this research setting taught me that it was possible to participate in something important, even at my age. Working with a graduate student made me realize just how much teamwork is put into making great things.
In April, I will leave this program with a strong sense of fulfillment and will have grown tremendously, both intellectually and emotionally. This fall, I will be following my passion for Psychology and Neuroscience at Clark University. I am confident that I will go far in my endeavors and will always remember the guidance that my team at CSHL provided.