Science, Technology, and Research Scholars (STARS) Program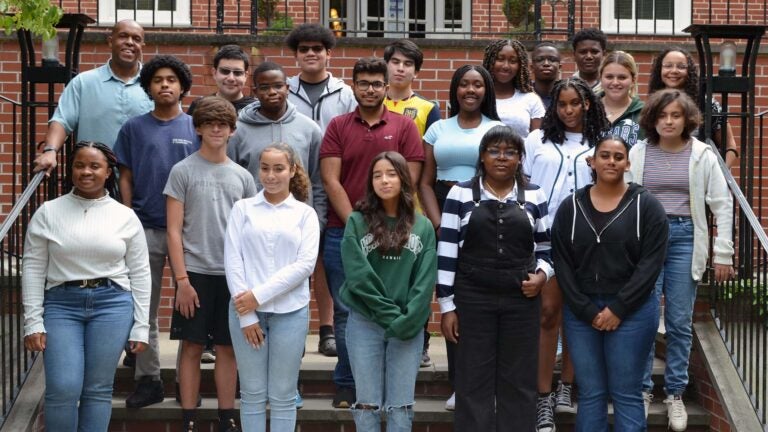 The Science, Technology, and Research Scholars (STARS) program aims to cultivate and diversify the next generation of Science, Technology, Engineering, Mathematics, and Medicine (STEMM) leaders. STARS is specifically designed for high school students from Long Island and the NY metro area entering grade 10 and above who are members of groups that have been historically underrepresented in the sciences. Led by CSHL in partnership with Stony Brook University and Hofstra University/Northwell Health, STARS provides hands-on summer research experiences, ongoing mentorship, and opportunities for additional research internships (including Partners for the Future). The program also offers college guidance and support within a network of alumni. Ultimately, STARS aims to support students throughout their entire career trajectory and hopes to welcome them back to CSHL, Stony Brook, Hofstra, and other institutions as researchers, faculty, doctors, and other health professionals.
Applications open annually, each January, decisions by May.
First summer of STARS enrollment
Summer research introduction:
Family welcome program and alumni meetup (Saturday before start of STARS STEMM)
Week 1: Molecular biology experiments, intended to give students an initial grounding in basic laboratory techniques.
Week 2: Coding skills and bioinformatics expose students to data science and computing in biology. We also include an off-site field trip to Stony Brook University.
Ongoing High School research experiences
After the summer of enrollment STARS students are supported with:
Participation in DNA Learning Center DNA Barcoding research programs.
Application and placement in other summer research, internships, and shadowing opportunities (e.g., Partners for the Future, other local and national programs).
College prep and application help (priority given to 11th and 12th graders).
Assistance with research experiences as well as graduate and medical school guidance and job placement (college students)
Assistance in tutoring as needed.
Ongoing mentoring and alumni activities
Regularly discussion and advice on career topics, academic success, and study/work/life balance:
Monthly virtual and in-person meetups for all STARS high school alumni.
Quarterly meetups for STARS college alumni.
| Student | High school | Grade at enrollment |
| --- | --- | --- |
| Kiangelo Arce | Kellenberg | 12 |
| Kaydee Bonilla | Copiague | 10 |
| Grant Creedon | Locust Valley | 9 |
| Ayomide Ewumi | Freeport | 12 |
| Christian Fils-Aime | Stony Brook School | 10 |
| Carina Garcia | Baldwin | 11 |
| Sofia Garnier | Valley Stream North | 11 |
| Erin Garnier | Valley Stream North | 10 |
| Steven Hernandez | Central Islip | 12 |
| Christopher Hidalgo | Central Islip | 11 |
| Kadiann Hudson | The Academy Charter School | 10 |
| Madison Jairala | North Shore | 10 |
| Glorianni Pena Feliz | Copiague | 10 |
| Gianluca Pillaga | Central Islip | 11 |
| Daniel Sanwo | Half Hollow Hills East | 10 |
| David Sanwo | Half Hollow Hills East | 11 |
| Siera Smith | Long Island Lutheran | 10 |
| Isabella Stefanopoulos Ramirez | Commack | 10 |
| Aidan Vera | Baldwin | 12 |
| Gabriella Williams | Elmont Memorial | 11 |
| Eran Ximines-Colon | Brentwood | 10 |
| Student | High school | Grade at enrollment |
| --- | --- | --- |
| Gentiva Abrahams | Freeport | Graduate |
| Jordan Blake | District 1 | 10 |
| Camille Crumpton | West Hempstead | 10 |
| Chrysnell Destina | Central Islip | 11 |
| Carlos Diaz | Wyandanch | 10 |
| Kelly Gaussaint | Central Islip | 10 |
| Jayden Hoff Isabell | Huntington | 10 |
| Nile Jean | Westbury | 10 |
| Madison Krug | Farmingdale | 11 |
| Kenly Moran | Freeport | 11 |
| Osaretinmwen Oriakhi | Central Islip | 12 |
| Joshua Paz | District 28 | 10 |
| Julia Rodriguez | Farmingdale | 10 |
| Evan Spagnoletti | Huntington | 11 |
| Lucas Spagnoletti | Huntington | 10 |
| Student | High school | Grade at enrollment |
| --- | --- | --- |
| Jaime Abreu | Freeport | 11 |
| Donal Akerele | Half Hollow Hills | 10 |
| Madelynd Argueta | Brentwood | 11 |
| Harrison Banks | Tenafly, NJ | 10 |
| Skyler Basco | Bellmore-Merrick | 12 |
| Matthew Beal | Half Hollow Hills | 10 |
| Khameira Bradshaw | Bedford Stuyvesant | 12 |
| Jordan Brown | Manhasset | 11 |
| Anna Carvajal | Copiague | 12 |
| Stephanie Dyer | Half Hollow Hills West | 12 |
| Ellis Eisenberg | Half Hollow Hills | 10 |
| Ashley Ferreira | Mineola | 10 |
| Brianna Francis | The Scholars' Academy | 12 |
| Samantha Gonzalez | Copiague | 12 |
| Isabel Louie | Sacred Heart Academy | 10 |
| Gabriel Morales-Flores | Huntington | 12 |
| Leann Nicholas | Farmingdale | 12 |
| Rachael Peterkin | Radnor | 12 |
| Catalina Ramirez | Hempstead/Rockville Centre | 10 |
| Edinelly Rosario | Copiague | 12 |
| Gianna Russell-Irace | New York District 30 | 12 |
| Logan Saenz | Broward County | 12 |
| Jenna Schetty | Cold Spring Harbor | 10 |
| Bianca Stith | Bronx 8 | 11 |
| Olivia Taylor | Watkinson School | 11 |
| Sofía Valdebenito | East Rockaway | 11 |
| Angelique Wheeler | Chappaqua Central | 11 |
| Student | High school | Grade at enrollment |
| --- | --- | --- |
| Joelle Ade | Brentwood | 10 |
| Q'irah Ali | Brentwood | 10 |
| Damani Aristilde | Freeport | 11 |
| Diana Benedicto-Jimenez | Port Washington | 10 |
| Joshua Cabrera | St. Anthony's | 11 |
| Janelle Cabrera | St. Anthony's | 11 |
| Amir Cambridge | Farmingdale | 12 |
| Derek Cortavarria | Brentwood | 10 |
| Jaden Davis | District 27 | 10 |
| Valentina Flores | Middle Country | 10 |
| Joanna Flores | Locust Valley | 11 |
| Lidia Flores | South Huntington | 11 |
| Zen Ho Sang | Central Islip | 11 |
| Elijah Johnson | Copiague | 12 |
| Jason Lazo | Central Islip | 11 |
| Jennifer Martinez | Diocese of Rockville Centre | 12 |
| Elsy Martinez | Hempstead | 11 |
| Justin McCoy | North Babylon | 10 |
| Oscar Murga | Central Islip | 12 |
| Jose Quito | Central Islip | 11 |
| Deyby Rodriguez | Central Islip | 11 |
| DenMark Simon | North Babylon | 11 |
| Anthony Valle | Hempstead | 11 |
| Natalie Villalba | Central Islip | 11 |
| Nigel Williams | Sewanhaka | 11 |
| Z'Dhanne Williams | Amityville | 12 |
| Olivia Wright | Amityville | 10 |