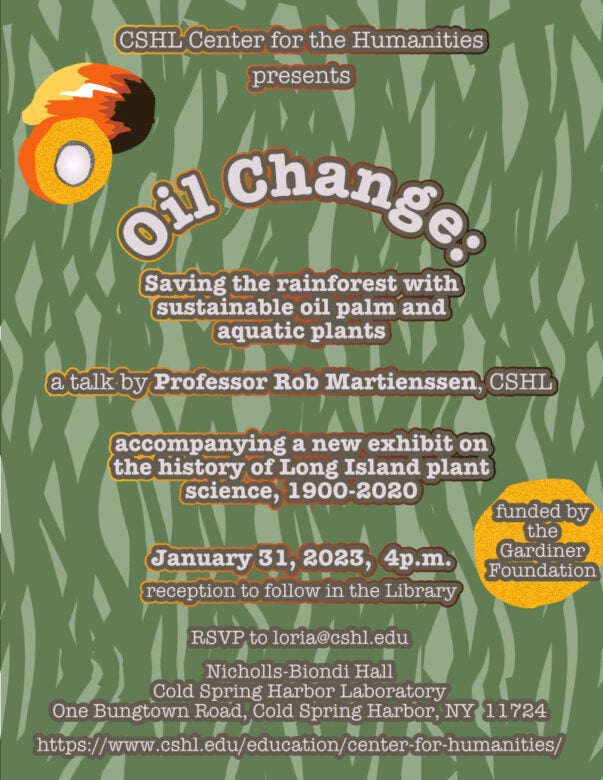 About the Speaker
Rob Martienssen studies epigenetic mechanisms that shape and regulate the genome, and their impact on transposable elements, first discovered by Barbara McClintock at Cold Spring Harbor Laboratory. These mechanisms underlie clonal propagation of oil palm, with implications for rain forest conservation, and of aquatic plants, including the humble duckweed, that are being engineered in the Martienssen lab for biofuel production and carbon sequestration. The link between epigenetics and RNA interference was named "Breakthrough of the Year" by Science magazine. Dr Martienssen obtained his PhD in Genetics at the Plant Breeding Institute at Cambridge University. After postdoctoral training at the University of California, Berkeley, he joined the faculty at Cold Spring Harbor in 1989. Dr. Martienssen is a Fellow of the Royal Society, and a Howard Hughes Medical Institute Investigator. He was awarded the McClintock Prize in 2018, and the Darwin Medal in 2020. Dr. Martienssen is a co-founder of Orion Genomics LLC and Orion Biosains.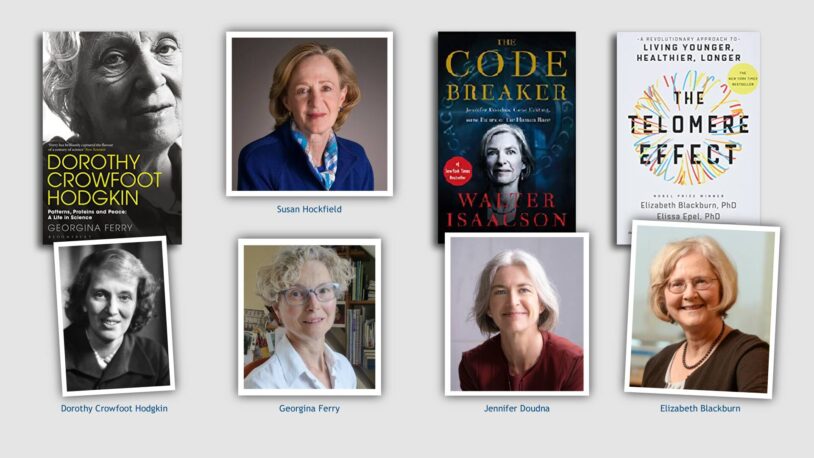 Life, Hope & Science: Three Journeys in Research
Monday, October 18, 2021 @ 12PM
Over 800 virtual attendees joined us for a discussion about the life in science of three prominent Nobel Prize laureates, Dorothy Crowfoot Hodgkin, Jennifer Doudna and Elizabeth Blackburn.
Susan Hockfield, president emerita of MIT, will moderated a discussion with Elizabeth Blackburn, Jennifer Doudna and Georgina Ferry, biographer of Dorothy Crowfoot Hodgkin.
Susan Hockfield, President Emerita MIT, author of The Age of Living Machines: How Biology Will Build the Next Technology Revolution. (W. W. Norton & Company, 2019).
Georgina Ferry, biographer, author of Dorothy Crowfoot Hodgkin: Patterns, Proteins and Peace, a life in science (Bloomsbury 2019)
Jennifer Doudna, subject of The Code Breaker: Jennifer Doudna, Gene Editing, and the Future of the Human Race by Walter Isaacson (Simon & Schuster 2021)
Elizabeth Blackburn, co-author of The Telomere Effect: A Revolutionary Approach to Living Younger, Healthier, Longer (Grand Central Publishing, 2017)
Presented by the Center for Humanities and the History of Modern Biology at Cold Spring Harbor Laboratory. Organizers:
Nancy Hopkins, Amgen Inc. Professor of Biology Emerita, Massachusetts Institute of Technology
Mila Pollock, Executive Director, CSHL Library & Archives, The Center for Humanities and the History of Modern Biology
Jan Witkowski, Professor, CSHL School of Biological Sciences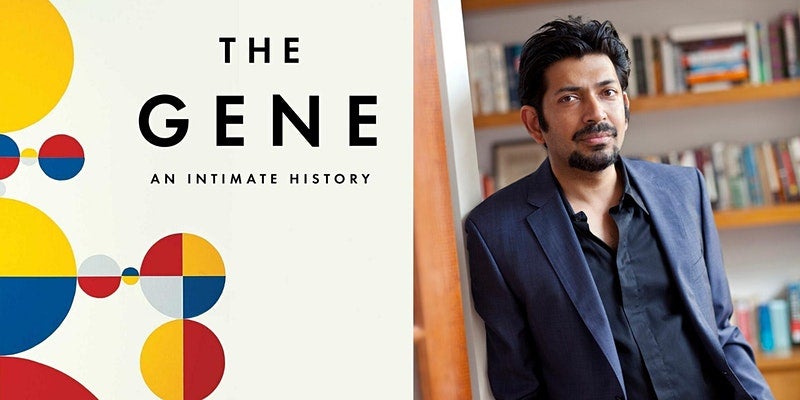 Siddhartha Mukherjee discusses THE GENE: An Intimate History
May 27, 2020 @ 5:30 PM – 6:30 PM EDT
Acclaimed author and oncologist Dr. Siddhartha Mukherjee spoke from his home via video conference to over 400 virtual attendees at the Cold Spring Harbor Laboratory (CSHL) Library. Mukherjee discussed his book The Gene, and the recent PBS documentary of the same name by Ken Burns and Barak Goodman that featured CSHL scientists. Dr. Matthew Cobb, University of Manchester professor and author of Life's Greatest Secret and Richard Sever, co-founder of bioRxiv and medRxiv, also participated.
The hour-long conversation covered the history of genetics as a field, how current technology is shaping the ways we use DNA, and what the future might hold. Mukherjee, Cobb, and Sever delved into hot topics, including privacy, CRISPR, and even the nuances of what people mean when they talk about genes.
"It is actually quite clear that many people have different definitions of the word gene. People have tried to define this word, understand this word," said Mukherjee. "I wanted to use in the book every definition or cover every definition. A gene is a unit of heredity. A gene specifies a trait. A gene is the code that carries the code or the material. A gene carries information from parents to offspring. I felt that we needed to embrace all of them, and different aspects of the book and the film emphasize, or go into, the idea."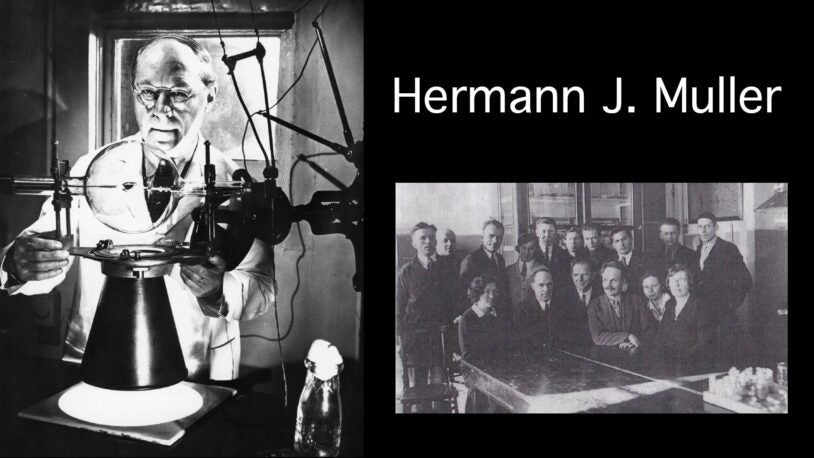 Revisiting H. J. Muller In Russia
Muller, Nicolai Vavilov, science in 1930s USSR, and the Lysenko affair
Thursday, December 9, 2021 @ 10:30AM
by Helen Juliette Muller, PhD, MPH, Professor Emerita, University of New Mexico, and Sydney Brenner Research Fellow (2019-2020), CSHL
My father first traveled to the Soviet Union in summer 1922 – almost one hundred years ago. Excited to meet geneticists working in Leningrad (Nicolai Vavilov) and in Moscow – Ainakova (Serebrosky), he took his experimental flies – Drosophilia Melanogaster – across the Atlantic Ocean and through several European countries before leaving them with scientists there. His socialist political views and insatiable curiosity drew him there coupled with his world view that science knows no borders. The CSHL Archives holds remarkable letters from this period that reveal his fascination with Europe and wife Jessie Jacobs, one of the first PhD American woman mathematicians. Later letters include her lover's who travelled with them in the 1930s.
My father's passionate stories about the Soviet Union to my mother and me when I was a young girl never left my mind and emotions. He would cry when he talked about his colleagues whom he risked his own career to protect. Vavilov was arrested and starved to death in a Soviet Prison in Saratov in 1943. Vavilov was the most remarkable and brilliant scientist he had ever met. His stories compelled me to know more about these times and people and drew me to a research project that will culminate in my memoir and subsequent articles. I am fortunate that my father was an older man when I was born. I have lived part of his history and found there is much to be learned about his extraordinary life beyond his science.
In 1931 two Russian geneticists (Agol and Levit) on Rockefeller fellowships worked with him in Austin, Texas. Vavilov visited and invited him to work at the Soviet Union Academy of Sciences with a full laboratory and staff. Following his Guggenheim Fellowship in Berlin, my father fled the Nazi government who invaded his Institute, and took his family to the Soviet Union in fall 1933. There he set up an extensive research program and mentored Soviet scientists including Alexandra Prokoveyva-Belgovsky and Raisa Berg. My father was an adamant Mendelian geneticist who in 1927 discovered that radiation causes mutations in genes. In the Soviet Union, he formed a close bond with other Mendelian geneticists while the pseudo-scientist Trofkim Lysenko was gaining power with the support of Joseph Stalin. The debate over the fundamentals of genetics came to a head in 1936 in a public forum. Many of my father's cherished colleagues were subsequently arrested and even murdered.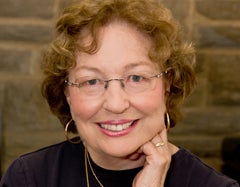 Anna Marie Skalka: Meet the Author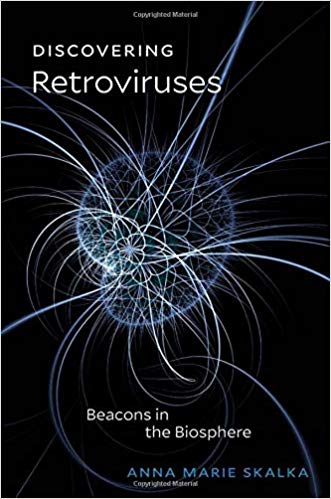 Thursday, May 23, 2019
Library Event in the Szybalski Reading Room:
Anna Marie Skalka will discuss her book, Discovering Retroviruses: Beacons in the Biosphere
Program: book discussion 5:30-6:30 pm,
book signing and reception 6:30-7:30 pm
Copies of Discovering Retroviruses are available for purchase at the CSHL Bookstore and at the event.
Dr. Anna Marie Skalka is Professor Emerita and former Sr. VP for Basic Science and W.W. Smith Chair in Cancer Research at the Institute for Cancer Research at the Fox Chase Cancer Center in Philadelphia. Dr. Skalka is internationally recognized for her research on viral oncogenesis, especially the mechanisms of retroviral replication and insertion. Anna received her Ph.D. in Microbiology from NYU Medical School in 1964, and is an alumna of Cold Spring Harbor and a member of the Phage Group, conducting her postdoctoral work with Al Hershey until his retirement in 1968.
Dr. Skalka has published more than 240 papers and edited several books. She is the author of Discovering Retroviruses: Beacons in the Biosphere and co-author of the widely acclaimed textbook Principles of Virology.
Dr. Skalka has been elected to the American Academy of Arts and Sciences, the American Association for the Advancement of Science, the American Academy of Microbiology; and has received the 2018 Sigma Xi William Procter Prize for Scientific Achievement and Communication, among other awards.
This lecture is now available on YouTube: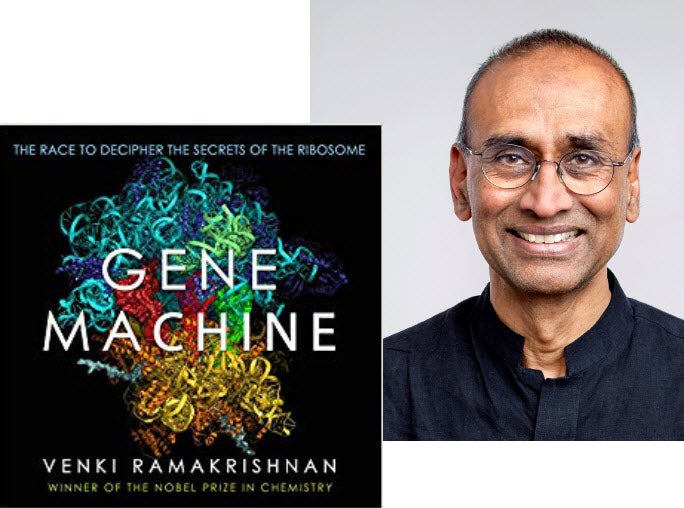 Gene Machine
Library Event at Hershey East: MEET THE AUTHOR
Venki Ramakrishnan, Nobel Laureate, will discuss his book,
Gene Machine: The Race to Discover the Secrets of the Ribosome
FRIDAY, MAY 10th, 2019 @ 3:00 PM
Gene Machine: The Race to Discover the Secrets of the Ribosome recounts Ramakrishnan's quest to solve the structure of the ribosome, and in the process, paints a clear picture of the actual process of scientific inquiry, including successes and failures, collaborators and competitors, insights and frustrations.
Venki currently serves as the President of the Royal Society and maintains a laboratory at the MRC's Laboratory of Molecular Biology in Cambridge. He shared the 2009 Nobel Prize in Chemistry with Ada Yonath and the late Tom Steitz for "studies of the structure and function of the ribosome." In 2001, he gave the Dorcas Cummings lecture at the Cold Spring Harbor Laboratory Symposium on Quantitative Biology, speaking on "Protein Factories and Antibiotics." He has also been awarded the Louis-Jeantet Prize for Medicine, the Datta Lectureship and Medal, the Sir Hans Krebs Medal, the Jiménez-Díaz Prize, the Heatley Medal, and was knighted in 2012.
Copies of Gene Machine: The Race to Discover the Secrets of the Ribosome are available for purchase at the CSHL Bookstore (employee discount 10%).
Wine and cheese will be served.
This lecture is now available on YouTube: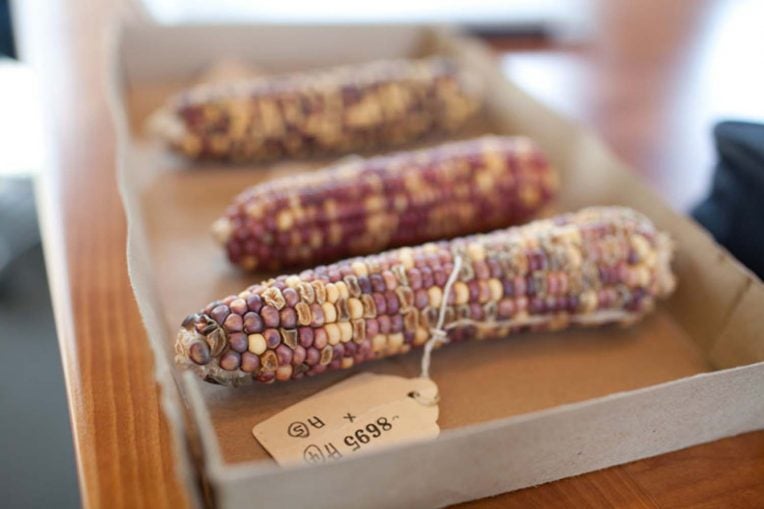 Barbara McClintock's Controlling Elements, Then and Now
In the 1940s, Barbara McClintock famously discovered transposable elements, sometimes called jumping genes, for which she was awarded the Nobel Prize in Physiology or Medicine in 1983. But the called them "controlling elements" and devoted much of her career to the regulation of gene expression, making parallels with bacterial gene regulation, and what we now call the epigenetic control of genome organization.
Rob Martienssen will discuss examples of Barbara McClintock's early work, along with its relevance today.
Video of the lecture is now on YouTube:
The Message: A play about the discovery of messenger RNA
Friday, October 5, 2018 – 7:00pm play followed by panel discussion and reception.
PANEL
Wally Gilbert, Ph.D.
Matthew Meselson, Ph.D.
James D. Watson, Ph.D.
Keith Burridge, Ph.D.
After the discovery of the structure of DNA by Watson and Crick, the race was on to discover how the information encoded in the sequence of DNA is converted into the sequence of amino acids that make up proteins. The race to find the "messenger" culminated in two back-to-back papers describing the discovery of messenger RNA in Nature in 1961. One was from Sydney Brenner's group (coauthored with Francois Jacob and Matt Meselson) and the other from Jim Watson's group, with several co-authors, including Wally Gilbert.
The Message uses two fictional characters, one from Brenner's group and one from Watson's group, who participated in the discovery. They are meeting in the present time and reminiscing about the race. They are friends but old tensions and rivalries that have simmered for years come back to the surface, including their relationship with a student of one who married the other. The play illustrates the role played by ambition and competition in scientific breakthroughs, and the desire for recognition and credit.
The Panel Discussion after the play is now available on YouTube: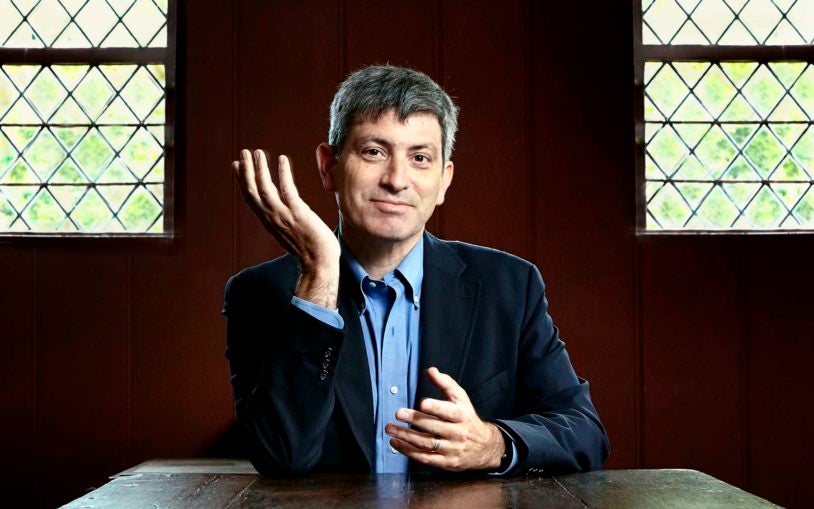 Carl Zimmer 2018 Talk
Tuesday, August 21, 2018
Meet the Author: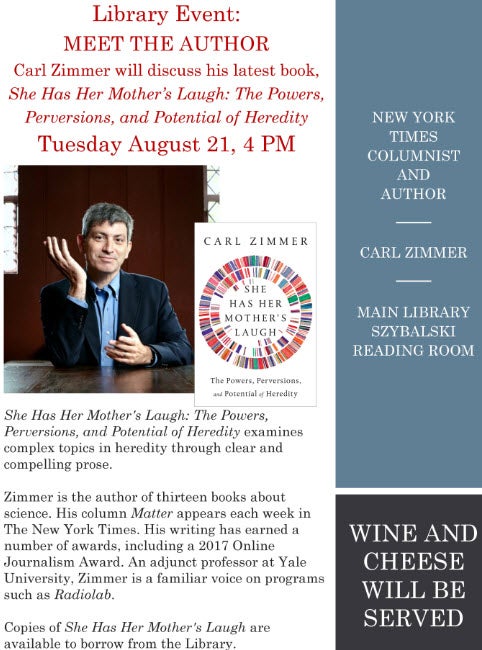 Carl Zimmer will discuss his latest book, She Has Her Mother's Laugh: The Powers, Perversions, and Potential of Heredity
She Has Her Mother's Laugh: The Powers, Perversions, and Potential of Heredity examines complex topics in heredity through clear and compelling prose.
Zimmer is the author of thirteen books about science. His column Matter appears each week in The New York Times. His writing has earned a number of awards, including a 2017 Online Journalism Award. An adjunct professor at Yale University, Zimmer is a familiar voice on programs such as Radiolab.
Copies of She Has Her Mother's Laugh are available to borrow from the Library.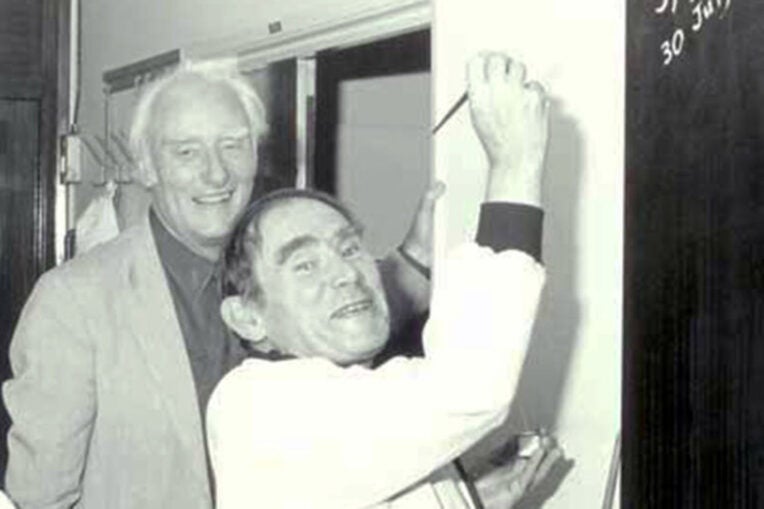 Mad Sessions, Preprints and a Blackboard: How Francis Crick and Sydney Brenner Collaborated in the 1950s and 1960s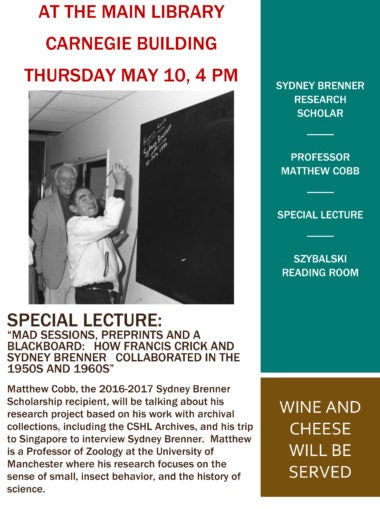 Matthew Cobb, the 2016-2017 Sydney Brenner Research Scholarship recipient, will be presenting a special lecture on the research project for which he received the award. Matthew is a Professor of Zoology at the University of Manchester where his research focuses on the sense of smell, insect behavior, and the history of science. A contributor to The Guardian and frequent guest expert on BBC Radio, he is a terrific writer. His most recent book is Life's Greatest Secret: The Race to Crack the Genetic Code, and he is also the author of The Egg & Sperm Race and Generation: The Seventeenth-Century Scientists Who Unraveled the Secrets of Sex, Life, and Growth, and acclaimed accounts of the French Resistance during the Second World War and the liberation of Paris in 1944. He has translated several books from French into English.
The lecture was present at Cold Spring Harbor on May 10, 2018.