About 49.1 million people across the country suffer from food insecurity, according to the United States Department of Agriculture Economic Research Service. This number includes both those individuals who lack access to fresh and unprocessed foods as well as those who lack access to food in general, and thus cannot live a healthy and active life.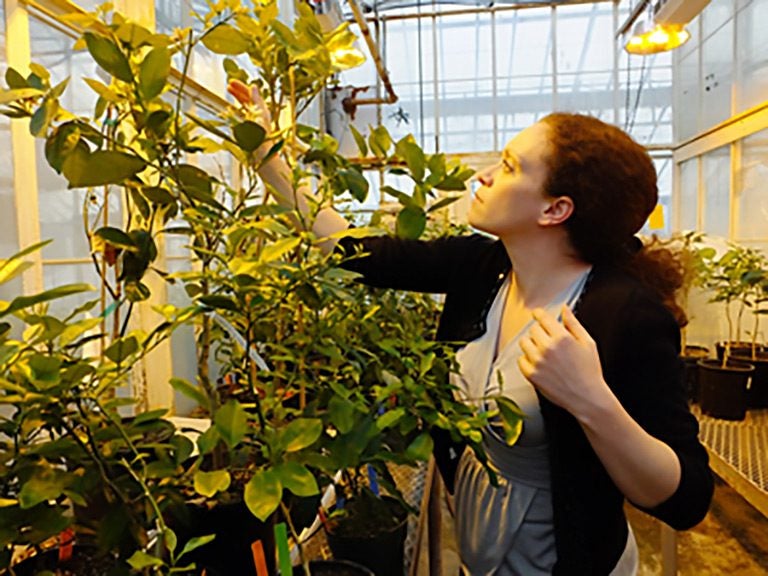 The nation's food security is in danger. The biggest risks include climate change, population growth, natural disasters and land development. But, it's also become apparent that the U.S. food supply faces another emerging threat: plant diseases. Such diseases have the potential to spread from isolated farms within agricultural producing states to crop-growing areas all over the country, and also to invade the U.S. from abroad.
While most disease researchers study pathogens that infect people, Watson School of Biological Sciences '05 alumna Dr. Michelle Cilia has made it her mission to understand the bacteria and viruses that strike plants—and how to stop them. In early June, Michelle and several fellow plant researchers received a five-year, $10 million United States Department of Agriculture (USDA) Specialty Crop Research Initiative grant to find a solution to citrus greening disease, an especially threatening plant ailment that has the potential to wipe out U.S.—and global—citrus crops.
First detected on citrus farms in subtropical Asia, citrus greening disease, also called "huanglongbing" (HLB) causes infected citrus trees to produce small and unpalatable bitter green fruit, and ultimately causes the tree to die. The disease is caused by three strains of C. liberibacter bacteria, spread mainly by two species of Asian citrus psyllids—microscopic insect vectors that spread the deadly bacteria to trees as they feed on trees' sap. The disease is now affecting trees not only in Asia, but in Africa and the Americas as well.
"In the U.S., the invasive Asian citrus pysillid was first identified on a tree in Florida in 1998," said Michelle, a plant pathologist working a joint appointment with the Boyce Thompson Institute for Plant Research (BTI), USDA Agricultural Research Service (USDA ARS) and Cornell University. "In 2009, the disease was found to have spread across that state. In 2012, an infected California tree was found. With the potential to destroy the U.S. citrus industry, growers are on high alert. Our research is crucial for finding a solution to stop its spread."
Researchers are using a multifaceted strategy to fight citrus greening that involves taking inventory of every gene, protein and metabolite involved in HLB. Michelle's role in the project is to identify major protein interactions that occur when the bacteria passes from the insects to the citrus trees.
HLB, like other plant diseases, has no cure and its mechanisms of transmission are not completely understood. Thus, the primary goal of Michelle's HLB research is to develop treatments that would block C. liberibacter from invading the plant.
"You can think of the disease as interactions among at least three organisms, the insect, the bacteria, and the tree," said Michelle. For this project, we are developing new approaches to block interactions between the pathogen and the insect that may ultimately prevent transmission of the bacteria into the tree."
Michelle's professional career in molecular biology began in earnest while an undergraduate student at Boston University.  After graduating in 1999 with a biology degree, she decided to pursue her Ph.D. in biology at WSBS, where she studied plant molecular biology in David Jackson's lab.   She pursued training in insect vector biology working with Dr. Stewart Gray at Cornell University for her postdoctoral work.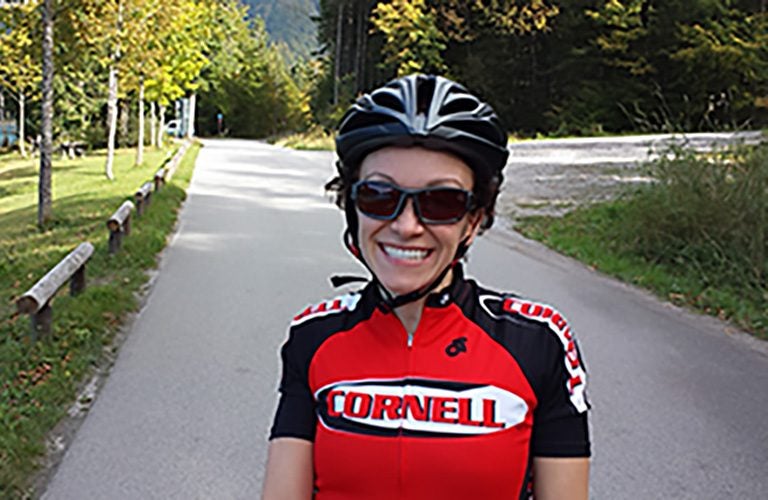 As a Research Molecular Biologist in the USDA Agricultural Research Service, she began her career as an independent Principal Investigator in 2013 and opened her lab in the Boyce Thompson Institute for Plant Research on the campus of Cornell University.  She also leads a two-week National Institutes of Health-funded intensive course on mass spectrometry-based proteomics at Cold Spring Harbor Laboratory. She was recently invited to serve as an editor for mSystems, a new open access journal from the American Society for Microbiology focused on applying high throughput and computational technologies to study the biology of microbes.
Michelle has received several awards for her research. Most recently, she earned the prestigious title of USDA ARS Herbert L. Rothbart Outstanding Early Career Scientist of the Year for her vector biology research, an honor she received in September 2014.
"All the fundamental plant and molecular biology knowledge I gained as a graduate student [at WSBS] I still use every day in my work," said Michelle. "Understanding the basic, yet critical, science of plants helps me better understand the behaviors of pathogens inside of plants."
---
---