J.C. Flowers Foundation grant gives practitioners in malaria-endemic areas access to a critical resource
Cold Spring Harbor, NY — Cold Spring Harbor Laboratory Press (CSHLP) today announced a grant from the J.C. Flowers Foundation (JCFF) to support the free eBook distribution of the research monograph, Malaria: Biology in the Era of Eradication. JCFF funding enables this newly published title to reach scientists, clinicians, and care-givers throughout malaria-endemic areas such as Africa, Southeast Asia, and South America.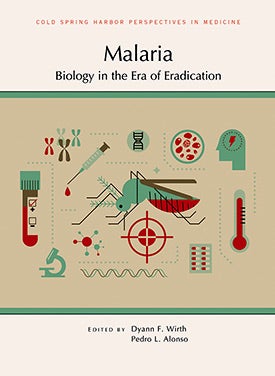 "As malaria is a global health priority that continues to affect millions of people worldwide, there is an urgent need for readily accessible research on the disease, especially when working with 'last mile' communities where it is often logistically or financially difficult to apply current research," says Chris Flowers, founder of JCFF. "We are pleased to join with Cold Spring Harbor's publishing initiatives to further the efforts to eliminate this disease."
Malaria: Biology in the Era of Eradication is a new, critically important collection of papers edited by Dyann Wirth, Harvard School of Public Health, and Pedro Alonso, Director of the WHO Global Malaria Programme in Geneva, Switzerland. With contributions from more than two dozen scientists worldwide, the book brings together in a single volume the latest advances and emerging strategies in the fight against malaria.
The eBook is available at no charge for download and unrestricted sharing via the CSHLP website in an interactive PDF format, which includes links to cited research and additional online resources.
"The JCFF's invaluable support is making this important collection available to researchers and clinicians who are most in need of it," says Dr. John Inglis, Executive Director and Publisher of CSHL Press. "Cold Spring Harbor Laboratory is grateful to partners such as JCFF for their help in advancing both biological research and the sharing of new knowledge with scientific and medical communities worldwide."
Written by: Robert Redmond | rredmond@cshl.edu | 516-422-4101
About J.C. Flowers Foundation – Partners for the Last Mile
The J.C. Flowers Foundation addresses critical health and social problems affecting vulnerable and hard to reach populations often overlooked by traditional donors. The Foundation works closely with other funding organizations, governments and local grassroots organizations in "last mile" communities to eliminate malaria in sub-Saharan Africa and support recent parolees in Harlem, New York with returning to their communities. Sponsorship for distribution of Malaria: Biology in the Era of Eradication is a part of the Isdell:Flowers Cross Border Malaria Initiative.
The J.C. Flowers Foundation provides these last-mile communities with the financial, technical and operational support needed to achieve their own locally determined solutions. The Foundation brings to the table access to partnerships and advocacy at national and international levels.
About Cold Spring Harbor Laboratory Press
Cold Spring Harbor Laboratory Press is an internationally renowned publisher of books, journals, and electronic media, located on Long Island, New York. Since 1933, it has furthered the advance and spread of scientific knowledge in all areas of genetics and molecular biology, including cancer biology, plant science, bioinformatics, and neurobiology. It is a division of Cold Spring Harbor Laboratory, an innovator in life science research and the education of scientists, students, and the public.
---
---