Cold Spring Harbor, NY — At a recent luncheon, Cold Spring Harbor Laboratory (CSHL) and 17 other breast cancer beneficiary groups received over $525,000 in funding raised at the 11th annual Long Island 2 Day Walk to Fight Breast Cancer, which took place on June 7, 2014. The event supports breast cancer research and essential outreach services and education programs for women and their families affected by breast cancer on Long Island.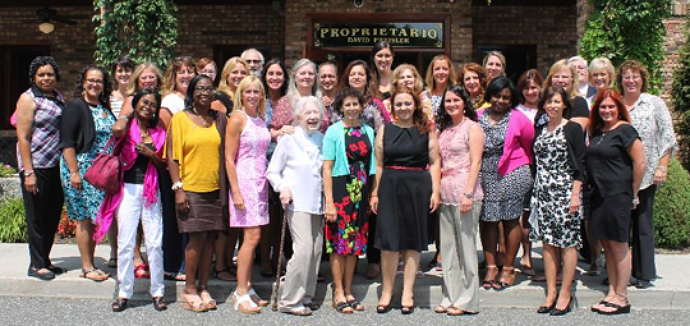 For the first time this year, the LI2DAY Walk was modified from a 35-mile walk to a one-day 13.1-mile walk—a change that boosted the number of participants about 50% to over 600 walkers. In addition, LI2DAY's mission was changed this year to include gynecological cancers. In total, the 2014 Walk raised over $22,800 for breast cancer research at CSHL.
Accepting the check for CSHL was Paula Smith, Ph.D., Director of Foundation and Government Relations, who also walked in the event for the first time this year. The donation that CSHL received will support the research of Associate Professor Mikala Egeblad, Ph.D., whose research is aimed at developing new strategies to treat breast cancer. Rather than attacking tumor cells directly, Dr. Egeblad's group at CSHL is investigating whether it is possible to target immune cells in the tumor microenvironment that act to promote cancer metastasis and suppress the response to chemotherapy.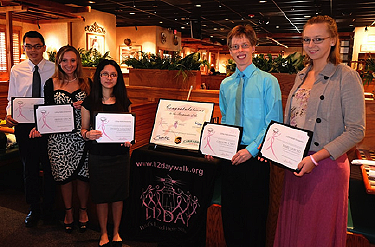 The LI2DAY Walk also awards six $2,500 scholarships to Long Island high school seniors who have a parent or guardian with breast or other women's cancer. Gregory Caso and Mary Liebold, both of Locust Valley High School; Arielle Gelosi of North Babylon High School; Jamie Grigonis of Southold High School; Julio Ramirez of Bay Shore High School; and Evelyn Sanchez of Roosevelt High School were the 2014 LI2DAY scholarship recipients. Dr. Smith, who serves on the LI2DAY scholarship committee with several CSHL colleagues, said of this year's winners: "We were so inspired by stories of these amazing young men and women, who supported their families through a very difficult experience, yet still managed to succeed in school and to give back to their communities."
For more information on LI2DAY visit www.li2daywalk.org
Written by: Public Affairs | publicaffairs@cshl.edu | 516-367-8455
About Cold Spring Harbor Laboratory
Founded in 1890, Cold Spring Harbor Laboratory has shaped contemporary biomedical research and education with programs in cancer, neuroscience, plant biology and quantitative biology. Home to eight Nobel Prize winners, the private, not-for-profit Laboratory employs 1,100 people including 600 scientists, students and technicians. The Meetings & Courses Program annually hosts more than 12,000 scientists. The Laboratory's education arm also includes an academic publishing house, a graduate school and the DNA Learning Center with programs for middle and high school students and teachers. For more information, visit www.cshl.edu
---
---