Each year, malaria infects 300 to 500 million people and causes over 1 million deaths worldwide, mostly in children under the age of five, according to the World Health Organization. Though scientists have spent decades pursuing of an effective inoculation against this parasitic infectious disease, no comprehensive malaria vaccine exists today.
Watson School of Biological Sciences '04 alumnus Niraj Tolia, Ph.D.—with the help of a $500,000, five-year Investigators in the Pathogenesis of Infectious Disease Burroughs Wellcome Fund grant—hopes to change that fact.
"The [Burroughs Wellcome Fund] awards are intended to give recipients the freedom and flexibility [necessary] to pursue new avenues of inquiry and higher-risk research projects," said Niraj. "The freedom to pursue high-risk projects allows me to tackle difficult problems."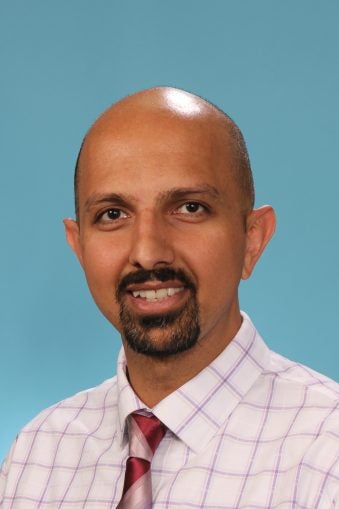 Niraj works at the Washington University School of Medicine and was recently promoted to the position of associate professor in the Departments of Molecular Microbiology & Microbial Pathogenesis and Biochemistry and Molecular Biophysics. Serving as principal investigator, Niraj applied for the Burroughs Wellcome Fund grant in November 2013 to study the "Molecular basis for and inhibition of red blood cell invasion by Plasmodium parasites." He was awarded the grant for his study in July 2014. Niraj's work is also supported by multiple grants from the National Institutes of Health.
"The goal of this project is to define the molecular basis of malaria host-pathogen interactions, as well as to establish how neutralizing antibodies target interactions," said Niraj, whose lab at Washington University largely focuses on studying malaria using structural and biochemical approaches in order to develop more effective vaccines and therapeutic treatments for the disease.
Malaria is caused by five species of Plasmodium parasites (P. falciparum, P. vivax, P. knowlesi, P. ovale and P. malarie, which are carried by mosquitoes. Malaria is transmitted to humans by the female Anopheles mosquito.
The reason why an effective vaccine—a method of infectious disease prevention that protects humans from infection by triggering a "safe" immune reaction—for malaria has so long eluded scientists is due to the fact that the disease does not readily trigger such a biological response in the human body. Plasmodia's increasing resistance to anti-malaria drugs has also hastened the development of an effective treatment, particularly in the past few decades.
Born and raised in Nairobi, Kenya, Niraj grew up in a country where three out of four individuals are at risk of contracting malaria. As a child, he contracted malaria but survived, because at that time Plasmodium parasites had not yet developed anti-malaria drug resistance. Niraj said he considers malaria to be a "devastating" illness, one that can infect people multiple times and is a leading cause of death in many developing countries.
What's more, said Niraj, is that malaria wields an often-overlooked social and economic burden.
"Children with repeated infections are unable to attend school for large parts of their upbringing," said Niraj. "This has large effects on their competitiveness. When the disease affects adults, parents or caregivers the burden not only falls on the infected individual, but the entire family."
Interested in malaria and its impacts—medical and otherwise—from a young age, Niraj first began studying the disease in earnest at WSBS. His doctoral studies at WSBS culminated with the defense of his thesis, in which he investigated a particular P. falciparum protein that allows the parasite to enter red blood cells. P. falciparum is the parasite that causes 100 percent of malaria cases in Kenya.
"I only had the real opportunity to start studying malaria as a graduate student in Leemor Joshua-Tor's lab at the Watson School," said Niraj. "My thesis work conducted in her lab at WSBS formed the foundation for my [current] independent faculty position."