Cold Spring Harbor, NY — Cold Spring Harbor Laboratory Press (CSHLP) announces the release of Heart Development and Disease, available on our website in hardcover and eBook formats.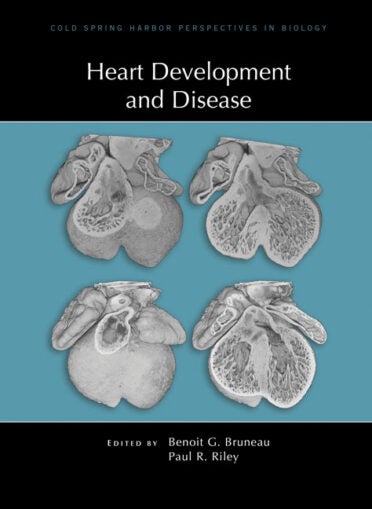 During embryonic development, amorphous cardiac precursor cells are organized into a rhythmically contracting, multi-chambered muscular structure, complete with valves, vessels, and a conduction system. This structure–the heart–is the first organ to form in vertebrate embryos, and all subsequent life processes depend on its proper function. But a range of genetic and environmental factors can disrupt proper heart development and lead to congenital heart disease, the most common birth defect.
Written and edited by experts in the field, Heart Development and Disease from Cold Spring Harbor Perspectives in Biology describes recent progress in our understanding of early heart development and the various cell lineages involved, as well as mechanisms and models of congenital heart disease. The contributors discuss early cardiac morphogenesis and anatomy, the origins of contractile activity, the control of cardiac growth and size, and the signaling pathways and transcription programs that underpin these processes. Specific chapters are devoted to various muscle and non-muscle cell lineages involved in heart development, including those of the neural crest, endo- and epicardium, fibroblasts, coronary vessels, and cardiac conduction and lymphatic systems. Insights from chickens, frogs, and reptiles–model organisms that support research in this area–are also covered.
In addition, the authors examine congenital heart disease, genetic variants and environmental risk factors (e.g., teratogens and nutritional deficiencies) that disrupt normal heart development and cause various malformations, and the use of cell and animal model systems to study disease pathogenesis and test therapeutic interventions. This volume is therefore a valuable reference for all cell and developmental biologists, geneticists, and cardiologists who are interested in the early development and abnormalities of this complex, vital organ.
###
Please visit our website at cshlpress.org to access free sample material and for further information on this title.
Media/Press Contact(s)
Robert Redmond
rredmond@cshl.edu
516-422-4101