Cold Spring Harbor Laboratory (CSHL) Assistant Professor and Cancer Center Member Tobias Janowitz M.D., Ph.D. has received a $25 million grant from Cancer Grand Challenges. He is leading an international, multi-disciplinary team to develop new treatments for cachexia. The debilitating disease causes severe weight loss, weakness, and immune suppression in cancer patients. Currently, there are no effective therapies for cachexia.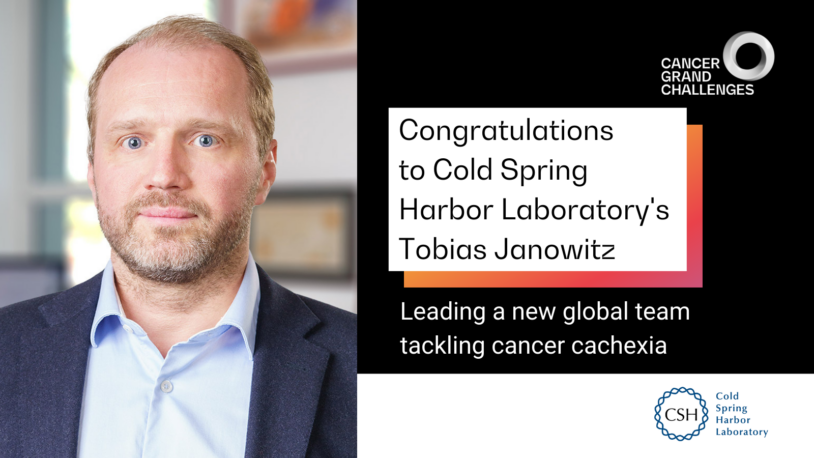 Cancer Grand Challenges is a global funding initiative founded by the National Cancer Institute, part of the US National Institutes of Health, and Cancer Research UK. They support diverse, international teams taking on some of cancer's toughest challenges. Janowitz co-leads this new cachexia effort with researchers from the Rutgers Cancer Institute of New Jersey and Weill Cornell Medicine.
"This award provides an amazing opportunity to build and enable a highly motivated team," Janowitz says. "Together we will take on the complex challenge of understanding cachexia with the view to develop new treatment strategies for patients."
CSHL Professor and Cancer Center Director David Tuveson, M.D., Ph.D. says Janowitz's experience and knowledge will be essential to his new endeavors. "The Cancer Center applauds Professor Janowitz," Tuveson says. "His deep training in clinical and experimental medicine will be key in combatting this serious condition."
Together with CSHL Professor Douglas Fearon, Janowitz discovered how tumors affect the body's response to cachexia. Alongside CSHL Fellow and Cancer Center Member Hannah Meyer, Janowitz also developed a new way to test kidney function in cancer patients.
The Janowitz laboratory at CSHL is focused on understanding cancer as a disease that affects not just a type of tissue or organ, but the entire organism. The lab studies conditions, like cachexia, that develop as a result of cancer.
Written by: Nick Wurm, Communications Specialist | wurm@cshl.edu | 516-367-5940