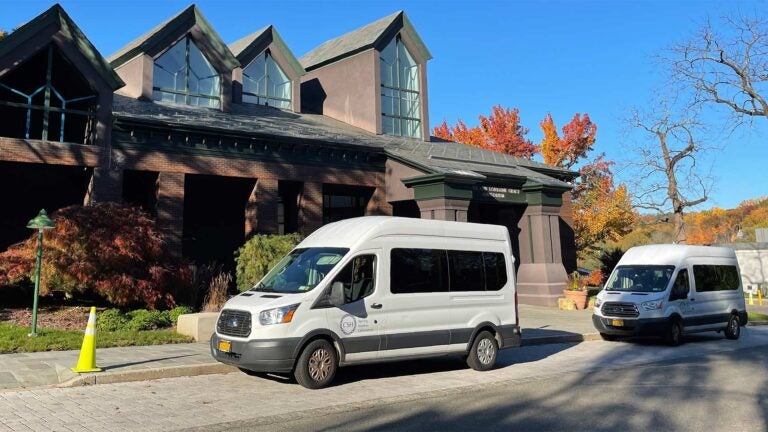 Cold Spring Harbor Laboratory (CSHL) provides complimentary shuttle service transportation for employees, students, and visitors to and from Main Campus and the Syosset Long Island Railroad station, Uplands Farm, Woodbury Genome Center, and neighboring town of Huntington. The CSHL Shuttle Service is run by the Facilities Department, which is located in the Richards Building. We serve the entire campus community and our scheduled routes are based on average ridership levels. This CSHL shuttle service runs year-round except on observed holidays, Sundays, and or when there are hazardous road conditions due to inclement weather.
The schedule is based on the Long Island Railroad (LIRR) train schedule, and is subject to change.
For inquiries about this shuttle service, or to be added to the notifications mailing list, please email shuttle@cshl.edu.
Monday – Friday, 8:30 a.m. – 8 p.m. ("On-call" times 10:45 a.m. – 3 p.m.)
Saturday (Huntington Town shuttle only) 11 a.m. – 3 p.m.
Requests for local destinations are available Monday through Friday from 10:45 p.m. – 3 p.m., and are subject to driver availability.
Requests should be made in advance by contacting shuttle@cshl.edu at least 45 minutes prior to requested ride time.Confirmation will be sent via email.
If you have time constraints, please use a ride service (Uber/Lyft) or a local taxi service. Syosset Taxi 516-921-2141
On scheduled Arrival days, the CSHL Shuttle will be running continuous shuttles between Syosset LIRR station and Main Campus from 1 p.m. and 8 p.m.
On scheduled Departure days, the CSHL shuttle will run continuous shuttles between 9 a.m. and 2 p.m., and will follow the hourly LIRR train schedule.
Shuttle Vans will pickup and drop off on the north side (CVS, Fire Station) of the station at the bottom of the track overpass.
The CSHL Shuttle does not provide service between CSHL and off-site hotels. Please contact the Meetings & Courses office at 516-367-8346 with any questions or concerns regarding transportation to and from these locations.
---
**Masks are strongly encouraged, and wearing them is at the driver's discretion**
Drivers reserve the right to refuse service to anyone interfering with the safety operation of the vehicle.
Small children must ride in age appropriate car seats/boosters provided by the rider. Drivers do not provide or install child seats. Please call ahead to let us know that a child will be in the vehicle so adequate time can be provided to install the car seat/booster.