Tending a global garden: Zachary Lippman shares his vision for a diverse, interdisciplinary learning environment.
There's an energy at Cold Spring Harbor Laboratory (CSHL) not found in many other places. It fosters a sense of community among the institution's students, faculty, and visiting scientists. It nurtures their mutual growth. It is also absorbed by them, inspiring cutting-edge research and innovations.
…this is an opportunity that's once in a lifetime."
It is that energy that drew Zachary Lippman to one of the first classes of CSHL's graduate program, the School of Biological Sciences (SBS). After completing his Ph.D. in 2005, Lippman did postdoctoral research in Israel. He then returned to Cold Spring Harbor three years later as an assistant professor, becoming the first SBS alum to join the CSHL faculty.
Now, Lippman is the first alum to become the School's director of graduate studies. And he has a vision for reinvigorating the program.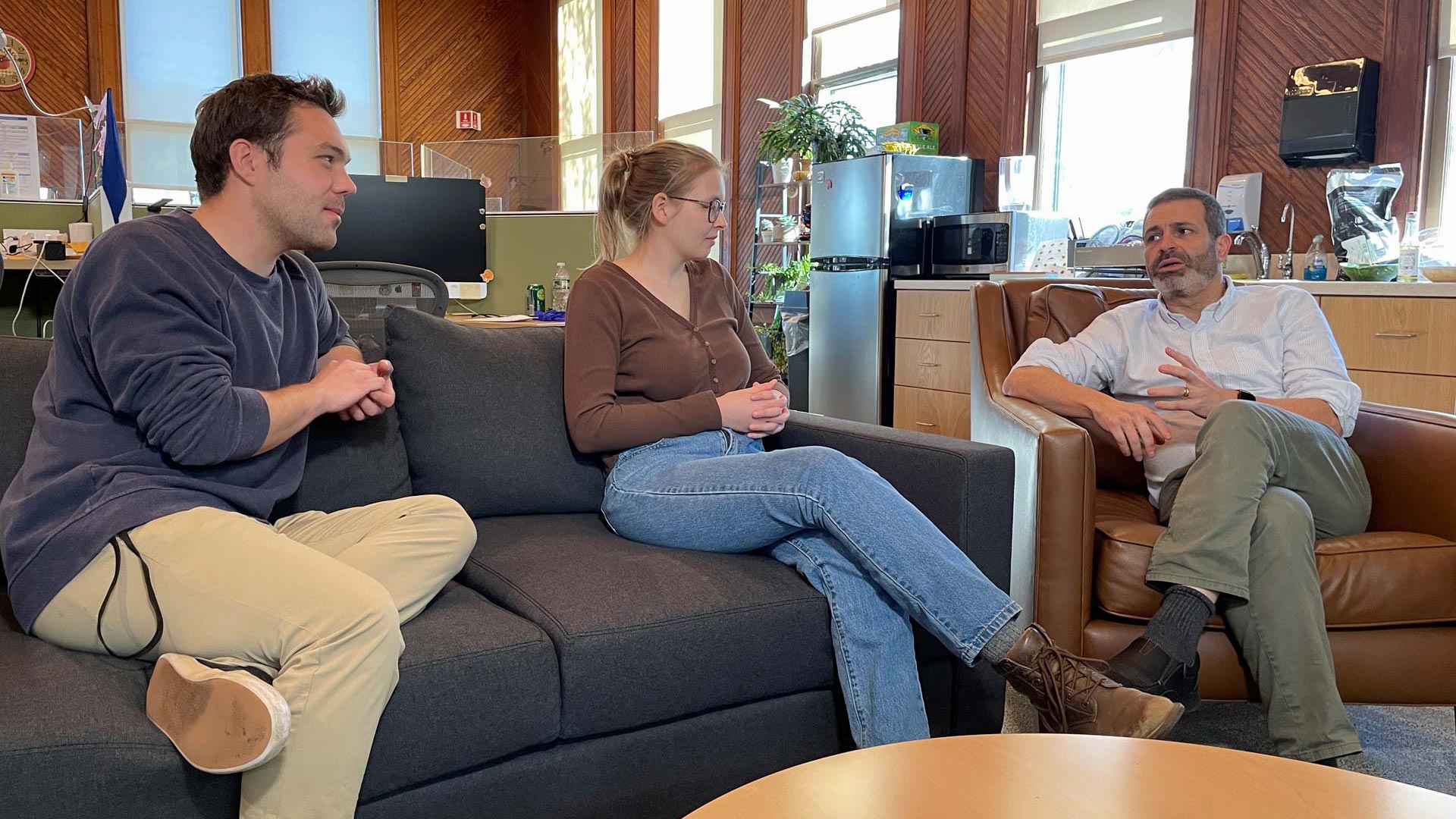 Organic synergy
The CSHL SBS is different than traditional Ph.D. programs. Integrated science is structured into the institution. This drives the School's course curricula as well as its culture and community. The SBS attracts students with diverse biological interests, skill sets, and personal backgrounds. Here, they commingle and share their unique perspectives with one another. Lippman considers this cross-pollination and exposure to be some of the most valuable training he received during his graduate studies. He says:
"There's a synergy here. I'd had general courses but coming to graduate school like this opened my eyes to biology I never would have considered. People understood each other's science in ways that I had never seen before."
As director of the SBS, Lippman now wants to help students and faculty get even more out of this synergy by pushing their interdisciplinary thinking and learning even further. In working toward this goal, he is reimagining some of the core principles in doctoral biology studies.
But it's not as if he has to start from scratch. CSHL's village-like atmosphere fosters crossover between areas that don't ordinarily interact. Students regularly hear faculty members exchanging ideas about each other's research. It happens during lunchtime conversations at Blackford Hall and in year-round global gatherings that take place through the CSHL Meetings & Courses Program. Lippman says:
"That sort of passive appreciation of that intersection of disciplines was something that I benefited from tremendously, and I think many students who have come through this very successful program have benefited from."
A space for growth
Lippman believes one of the most important things for a graduate program is not the grind—the papers and experiments. Rather, it's about elevating each student's intellectual maturity to help them achieve their personal best. "You do that by tailoring training to each individual student, and CSHL can provide that level of personal attention, whereas many other programs can't," he says. The SBS has a near one-to-one student-to-faculty ratio. This allows for mentorship. And it encourages students to connect with faculty members considered thought leaders in their fields.
The relationship between faculty and students appealed to Lippman when he first came to the Laboratory for graduate school interviews. So did the multidisciplinary nature of the grad program and the Laboratory. It all made clear that this was the right environment to nurture his scientific interests and expertise.
"I immediately wanted to come here after that interview visit because I recognized this is an opportunity that's once in a lifetime," says Lippman. "And now we're sitting here having this conversation." For the School's new director, that proves his instincts were correct.
The fruits of discovery
Of course, such growth doesn't happen overnight. Over the past two decades, Lippman has made numerous discoveries in plant genetics. He has studied the genes that control stem cells, flowering, and the productivity of important nightshade family crops. He has also pioneered the use of CRISPR genome-editing technology to modify gene activity, understand the nuances of gene control, and fine-tune traits important in agriculture.
Lippman's scientific achievements have earned him many awards and honors. He is a Howard Hughes Medical Institute (HHMI) Investigator and a MacArthur Fellow. He was elected to the National Academy of Sciences (NAS) in 2021 and has won the Fred Hutchinson Cancer Center Harold M. Weintraub Graduate Student Award, the American Society for Plant Biology Charles Albert Shull Award, and the NAS Prize in Food and Agriculture Sciences.
…coming to graduate school like this opened my eyes to biology I never would have considered."
But Lippman says his proudest achievement is the success of his students and the postdoctoral fellows in his lab. Many have gone on to successful careers in academia and industry. Like a dedicated gardener, Lippman invests his time in his students to make sure they grow as scientists and push their research to new heights of discovery. "It's very hard," he says, "but I'm fortunate to have a wonderful family life, and I'm always thinking how I can be the best person to them and bring that to the lab."
Seeds for the future
Likewise, the graduate school at CSHL offers its students more than education. It positions them for success as the world's leading scientists. To date, the SBS has enrolled 203 students and conferred doctoral degrees upon 134 graduates. Their scientific achievements are represented by more than 475 publications as well as many prestigious fellowships and awards. Alumni have moved on to influential positions in industry, government, and academia.
CSHL's focus on fundamental biology has helped propel the SBS to the forefront of scientific research and education.
Looking forward, Lippman hopes to usher into the graduate program even more of the cross-pollination that is native to CSHL. He has a vision to reinvigorate the SBS curriculum by enhancing mentorship opportunities and emphasizing core principles that are shared across diverse biological disciplines.
He hopes his vision and work as director of graduate studies will not only attract more top talent to the School, but will also help cultivate the next generation of pioneers in the "global garden" that is the scientific community. At the root of this vision is a pursuit that has been central to CSHL since its founding in 1890.
"The reason we're all at Cold Spring Harbor Laboratory is to do science—great science."
Written by: Luis Sandoval, Communications Specialist | sandova@cshl.edu | 516-367-6826