L
ike many academic institutions with long, storied histories, Cold Spring Harbor Laboratory (CSHL) boasts many beloved traditions. One of the most dear is the official CSHL choir that fills the Lab with the sweet sounds of harmony at campus ceremonies and celebrations.
The choir first began in 2004, when the need arose for a school song befitting the first graduation ceremony of the Lab's graduate school. Charlie Prizzi, the Vice President of Development, Government & Community Relations, had already written the words along with Doug Soreff and Jan Eisenman, and sought out Lesley Inglis to write the melody.
At that time, Lesley was running music groups for children in the local community and participating in other musical organizations in the Huntington area. She was and remains passionate about music, having studied the subject in high school, playing piano and guitar as well as singing in various choirs and groups. It was through her husband John, who is the Executive Director of CSHL Press, that she learned about the new school song, and agreed to help.
"I sat at the piano and came up with something. It's very simple. It's like a traditional British school song. I wrote it in four parts and we sang it that first year," said Inglis. "We thought it was a one-off thing. But then, we started a tradition."
Every graduation since has featured the song and the choir of CSHL. At first, the choral group was comprised of Inglis, her husband John, and just a handful of others. Then it started to grow, as Inglis got to know more people in her new job teaching the English as a 2nd Language program at the Lab. She's been organizing the group since 2004, adding more members but capping membership at a decided sixteen singers, with a balance of altos, sopranos, and basses.
Members are added into the group by personal invitation. Inglis hears of potential new recruits from existing choir members and colleagues. The primary requirement is that the person enjoys singing. Members are chosen by Inglis for their ability to gel with the other members of the group—harmony is important on multiple levels.
Singers come from every corner of CSHL's 1100 faculty, student and employee population—from principal investigators, technicians, administrators to employees in departments ranging from Facilities to Finance. Students of the English as a 2nd Language program or their partners often join the choir. As newcomers to CSHL, the choir helps people at the Lab, including many non-native English speakers, create community as they share their talents and passion. For Inglis, this remains an important purpose of the choir.
"We just get together and sing," Inglis explains. "It takes a little while for people to feel confident and sing out. But we do have a core that have done it for many, many years, and they help the newcomers come into the group."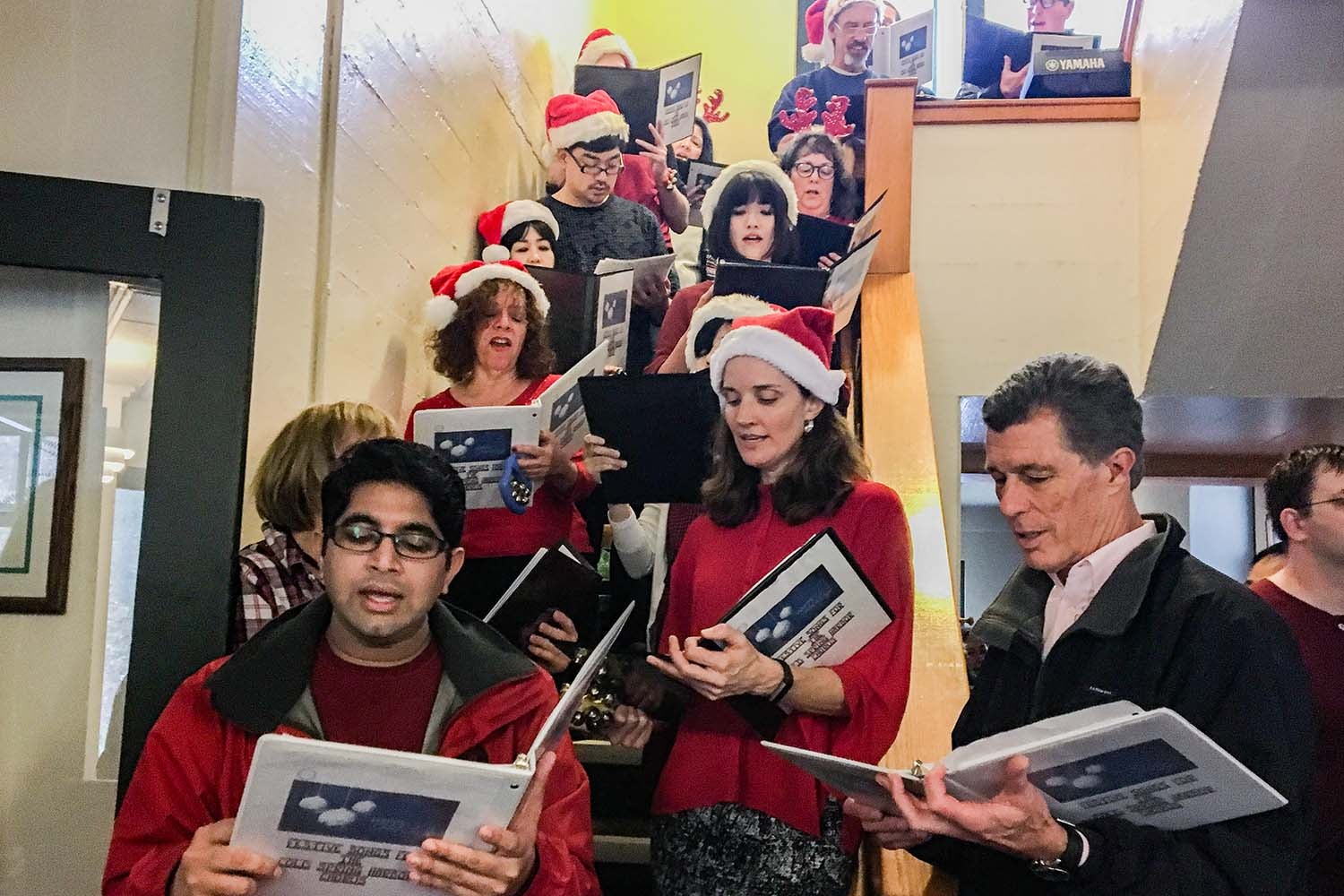 Members of the choir cherish the time they get to spend singing with and for their colleagues. So much so, the group decided several years back to sing holiday songs at the annual CSHL holiday party.
"I think singing is just part the human condition. People have always come together with the universal language of music," said Inglis. "It's a wonderful bonding and joyous activity."
And members of the choir wholeheartedly agree with their choir director on this:
"I see people from all over the lab who I do not get to interact with much usually. It was a nice way to be introduced to people who also enjoyed singing," said Sara Ballouz, a computational postdoc in Associate Professor Jesse Gillis' lab.
"Some folks think it's silly but I like singing with everybody, and we do have some wonderful singers," said John Schindler, Carpentry Supervisor.
"Lesley and John are wonderfully creative and patient and have given us some fun musical opportunities here at CSHL," said Idee Mallardi, Senior Scientific Administrator in Professor Adam Siepel's lab.
"No matter what is going on in my life, I'm not thinking about any of it when I sing," said Diane Esposito, Director of Research Compliance.
The choir recently sang at the 2019 Watson School for Biological Sciences graduation, which this year celebrated the graduate school's 20th anniversary. The group sent off seven new doctorate graduates with the song that started with the school's first graduation sixteen years ago; the inaugural song of this still vibrant and beloved community group:
"Winds of knowledge blow us on
As we venture farther
But our hearts will ne'er forget
Our days at Cold Spring Harbor"