Dr. Richard Burgess is awarded an honorary degree
Cold Spring Harbor, NY — On Sunday, May 4, proud friends and family mingled with distinguished scientists at the 11th commencement ceremony of the Watson School of Biological Sciences at Cold Spring Harbor Laboratory (CSHL). The occasion, on which 11 outstanding young scientists were awarded the degree of Doctor of Philosophy, also served to commemorate the 15th anniversary of the Watson School's founding.
Jamie C. Nicholls, Chairman of the Laboratory's Board of Trustees, addressed the graduating class, saying, "We are extremely proud of the Watson School's many accomplishments, including its innovative curriculum, which is now emulated by many other institutions and its impressive faculty of leading researchers."
Attendees who gathered in CSHL's Grace Auditorium to celebrate the day's milestones were welcomed by Dr. Bruce Stillman, CSHL President and CEO, and by Dr. Alexander Gann, Dean of the Watson School. Associate Professor Zachary Lippman, Ph.D., was honored with the Winship Herr Award for Excellence in Teaching. Named for the founding dean of the Watson School, the award is annually given to a teacher singled out by the school's first-year students.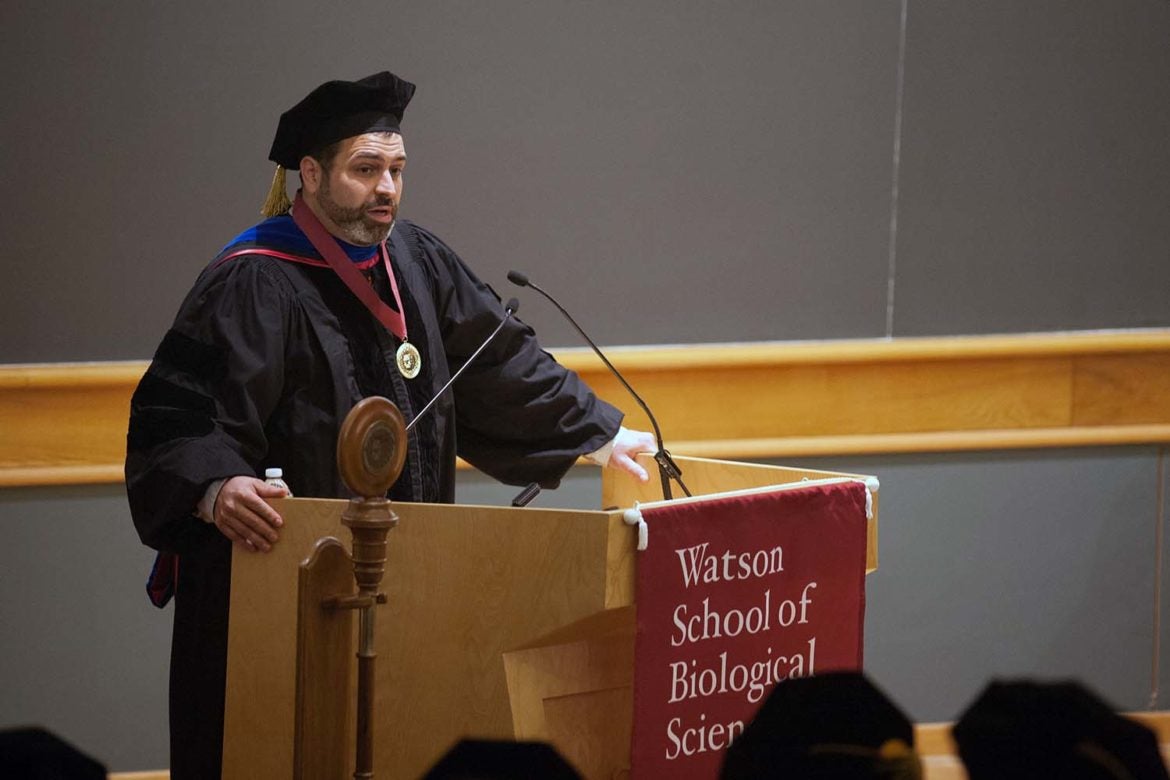 "These students are proud products of our unique program," said Dr. Gann. "We enable students to typically complete their Ph.D. in four to five years, while the national average is closer to seven. This is achieved not by lowering standards; the number and quality of the papers our students publish attest to that. Rather, it is the result of dedicated faculty ensuring these exceptional students pursue science in a highly focused way—an essential skill in modern research."
The Watson School is named for Dr. James D. Watson, now CSHL chancellor emeritus. Along with the late Dr. Francis Crick, Dr. Watson is co-discoverer of the double-helix structure of DNA. The two were awarded the Nobel Prize for their discovery in 1962, along with Maurice Wilkins.
This year's commencement also featured the school's conferral of honorary Doctor of Science degree upon Dr. Richard Burgess, the James D. Watson Emeritus Professor of Oncology at the McArdle Laboratory for Cancer research at the University of Wisconsin, Madison. Dr. Burgess taught the Protein Purification course at CSHL from 1992 – 2013 and in 2001 co-founded the biotech company ConjuGon, Inc. in Madison, WI. He earned his Ph.D. in Biochemistry and Molecular Biology at Harvard under the direction of Dr. Watson and has been honored as a scientist and scientific educator.
Written by: Public Affairs | publicaffairs@cshl.edu | 516-367-8455
About Cold Spring Harbor Laboratory
Founded in 1890, Cold Spring Harbor Laboratory has shaped contemporary biomedical research and education with programs in cancer, neuroscience, plant biology and quantitative biology. Home to eight Nobel Prize winners, the private, not-for-profit Laboratory employs 1,100 people including 600 scientists, students and technicians. The Meetings & Courses Program annually hosts more than 12,000 scientists. The Laboratory's education arm also includes an academic publishing house, a graduate school and the DNA Learning Center with programs for middle and high school students and teachers. For more information, visit www.cshl.edu
---
---