Gene therapy reduces obesity and reverses type 2 diabetes in mice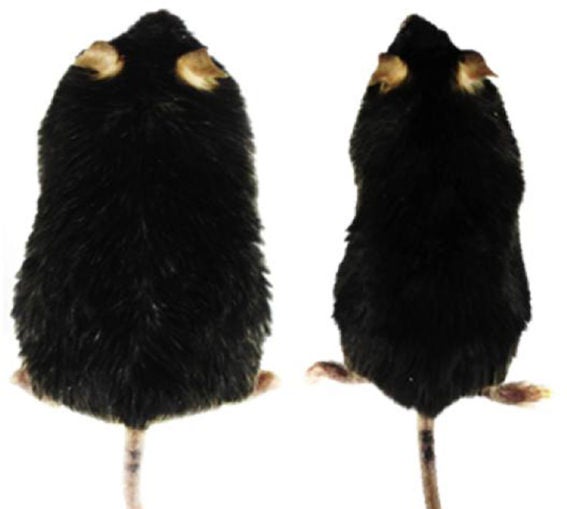 The obesity epidemic affects nearly half a billion people worldwide, many of them children. Obesity-related diseases including heart disease, stroke, type 2 diabetes, and cancer are a leading cause of preventable death. Obesity is caused by both genetic and environmental factors, confounding the development of effective anti-obesity drugs, which exhibit severe off-target effects. In a study published today in Genome Research, researchers developed a gene therapy that specifically reduces fat tissue and reverses obesity-related metabolic disease in obese mice.
To overcome the side effects of current anti-obesity drugs, researchers Jee Young Chung and colleagues developed a specific gene silencing therapy against a fatty acid metabolism gene, Fabp4. Researchers used a CRISPR interference system wherein catalytically dead Cas9 protein and single-guide RNA was targeted to white adipocytes with a tissue-specific fusion peptide. The complex is internalized with little toxicity to the cells and, upon internalization, decreased the expression of Fabp4 and reduced lipid storage in adipocytes. Demonstrating that this delivery method performed well in cells, Chung and colleagues tested their therapy on obese mice. Mice were fed a diet high in fat leading to obesity and insulin resistance. Fabp4 repression resulted in a 20% reduction of body weight and improved insulin resistance and inflammation after just six weeks of treatment. Additional systemic improvements were observed, including a reduction in fatty lipid deposition in the liver and reduced circulating triglycerides.
The current standard FDA-approved treatment showed just 5% of body weight loss after one year of treatment in humans. However, while this therapy displays promising results in mice, further studies are required before it can be used in clinical treatment against human obesity. Importantly, this work highlights the advances in precision gene-editing technology, which can be translated to other types of therapies.
Media/Press Contact(s)
The authors, Chung et al., are available for more information by contacting Hyun Woong Jeon at Hanyang University (hw7@hanyang.ac.kr); +82-2-2220-2033 [office]). Interested reporters may obtain copies of the manuscript via email from Dana Macciola, Administrative Assistant, Genome Research (macciol@cshl.edu); +1-516-422-4012).
About the Article
The manuscript will be published online ahead of print on Aug 29, 2019. The full citation is as follows: Jee Young Chung, Qurrat Ul Ain, Yoonsung Song, Seok-Beom Yong, and Yong-Hee Kim. 2019. Targeted delivery of CRISPR interference system against Fabp4 to white adipocyte ameliorates obesity, inflammation, hepatic steatosis, and insulin resistance Genome Res doi: 10.1101/gr.246900.118
About Genome Research
Launched in 1995, Genome Research is an international, continuously published, peer-reviewed journal that focuses on research that provides novel insights into the genome biology of all organisms, including advances in genomic medicine. Among the topics considered by the journal are genome structure and function, comparative genomics, molecular evolution, genome-scale quantitative and population genetics, proteomics, epigenomics, and systems biology. The journal also features exciting gene discoveries and reports of cutting-edge computational biology and high-throughput methodologies.
About Cold Spring Harbor Laboratory Press
From its beginnings in 1933 as an initiative to publish an annual Symposium on Quantitative Biology, Cold Spring Harbor Laboratory Press is now the largest of the five educational divisions of the Laboratory, with more than 200 books in print, eight journals, and a variety of online initiatives. Its publications assist working scientists, graduate and undergraduate students, and the general public through the mission of the Press to foster and financially support the Laboratory's commitment to the advance and spread of scientific knowledge.
---
---