Professor David Spector, a cancer biologist, is Director of Research at Cold Spring Harbor Laboratory. He and his lab team are explorers of the nucleus, the compartment in every cell that holds DNA, the genetic material. Dr. Spector has discovered new structures inside the nucleus, demonstrating that it is in fact home to much more than DNA. Recently, he published work that demonstrates unexpected flexibility and variability in how genes are activated in cells. On April 4, Spector will be at SUNY Purchase discussing the bestselling book, The Immortal Life of Henrietta Lacks by Rebecca Skloot. Decades ago, Henrietta Lacks, a cancer patient, unknowingly donated some of her tumor cells to science. They would become one of the basic tools of modern biomedical research. Dr. Spector will discuss the impact of her story on research, ethics, and informed consent.
What makes a great scientist tick?
Bright lights. Tall buildings. Busy New York streets. This is where it all started for one of Cold Spring Harbor Laboratory's (CSHL) most valuable players: Dr. David L. Spector, cancer researcher, head of the Laboratory's microscopy resource and the institution's Director of Research.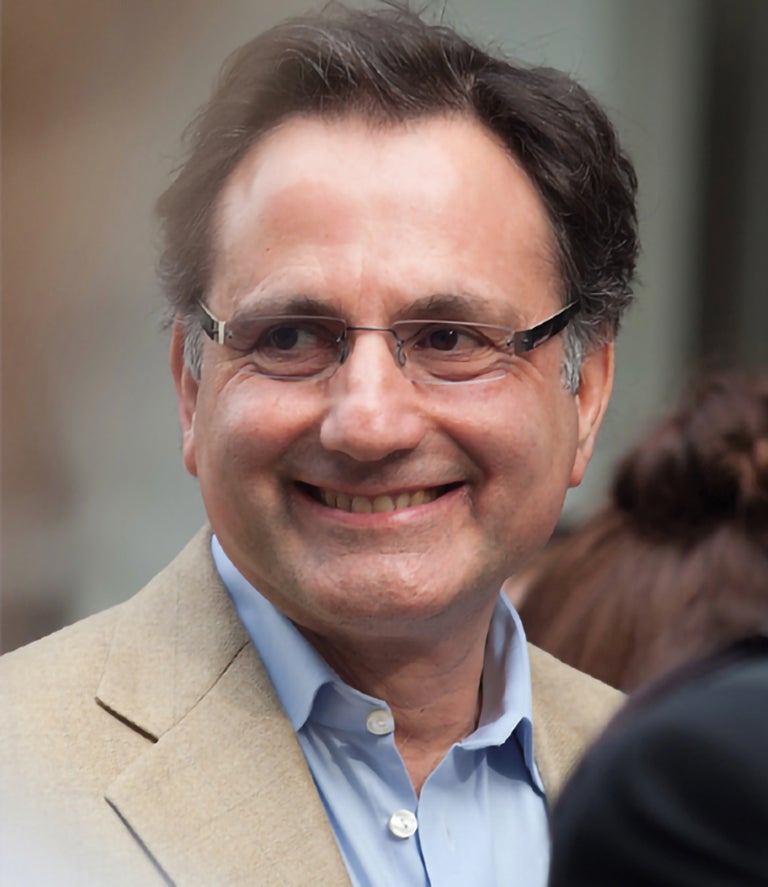 I'm Sklyer, a sophomore at Cold Spring Harbor High School and I had a chance to interview Dr. Spector and find out some things that I don't believe most people ever get to learn about scientists like him. Most people are interested in the great accomplishments of scientists, but I wanted to know more about where Dr. Spector came from, how he got to where he is, and what he enjoys outside of science. Here's what I found out.
I got an in-depth look at Dr. Spector's early years, dating all the way back to when he was a little city kid who loved to play stickball with his friends. They would play in the alleyway next to his apartment house, and Dr. Spector says he has "many good memories" of these days. Softball was another popular sport among his friends. When not playing sports, you might have found him walking around downtown Manhattan, especially around Rockefeller Center. He always loved to shop back then, and nowadays too. He even called himself "the ultimate shopper."
Even as a child, he was always interested in the sciences; especially biology. Dr. Spector's "breakthrough moment" that really kicked off his pursuit of the sciences was a science fair in elementary school!  Looking back, he said:  "The prize I won for coming in first was all of ten dollars, but in that science fair I won so much more than that: the keys to a successful life and career." Since that science fair victory, Dr. Spector has pursued research. In his senior year of college, it was one of his professors who really kick-started his interest in microscopy.
Dr. Spector gathered experience at three colleges: City College of New York, Lehman College, and Rutgers University. He says that City College and Rutgers were the places where he gained the most valuable assets for what he does now. City College was where he earned his bachelor's degree and major experience with microscopy. Microscopy plays a huge role in his own research. He earned his Ph.D. at Rutgers, and that required a broad knowledge of chromatin and chromosome structure. This knowledge has been key to his past and current research.
Highly motivated. Passionate. Very organized. Dr. Spector said these are the aspects of being a researcher that have contributed to his overall success. He stressed that these are the qualities researchers and scientists just starting off need to have in order to achieve great things. He also stressed one other quality as possibly even more important. "Always come back fighting whenever a setback or problem occurs," said Dr. Spector. "When a research grant that you apply for doesn't get funded you might feel upset, angry, or frustrated, but you just have to keep working hard and don't let it get to you."
1985. This is the year that Dr. Spector came to CSHL. Little did he know back then that he would become not only a Professor but also the Director of Research for the entire institution. His own research evolved, too. Before starting at CSHL, he had studied tiny organisms known as dinoflagellates. Some of these are known more simply as plankton, and others are part of coral reefs. They are known to cause paralytic shellfish poisoning and red tides. Dr. Spector worked on trying to understand their chromosomes and genetic makeup. Next, he moved to mammalian cells and began to study messenger RNAs (RNA that carries messages from genes that contain information about making proteins). At CSHL he added research on chromatin (a combination of DNA and proteins that is found in the nucleus of a cell) to his repertoire. For a while he worked with the small RNAs in the nucleus that are involved in processing messenger RNAs, and eventually that evolved into working with long non-coding RNAs.
Much time has passed since Dr. Spector first joined CSHL but his mindset remains the same. His motivation to accomplish big things has carried through all the way from the time he was a student trying to win the science fair competition. "The reason that you keep interested in science is that you just never know what to expect," he explained. In the future, he sees himself and his team of researchers working to stop a certain type of breast cancer. They are making great progress toward this goal. The professor explained to me that each one of the eleven team members in his lab has his or her own small project that's related to one big goal. "With each person working on a piece of the pie," he says, "we can make big strides toward beating breast cancer."
When he's not fighting cancer with research, Dr. Spector can still be found walking around Manhattan with his wife and best friend Mona and enjoying all that the big city has to offer. He's also interested in exploring the world and recently visited Hamilton Island in Australia on the Great Barrier Reef. He believes that there should be a balance between work time, family and fun time. I learned a bit about what makes this man tick—you can take the professor out of the city, but you can't take the city boy out of this professor.
If you can't attend Dr. Spector's lecture at SUNY Purchase, you might want to watch this similar lecture at CSHL:
Read a recent profile of Dr. Spector (pdf) in the Harbor Transcript.