Gala Event Honored David H. Koch, Richard Axel, M.D., and Michael Wigler, Ph.D.
New York, NY — On Thursday, November 8, 2007, $3.1 million was raised for Cold Spring Harbor Laboratory at its second Double Helix Medals Dinner. The event honored David H. Koch, for Corporate Leadership, and Richard Axel, M.D. and Michael Wigler, Ph.D., for Scientific Research. The black-tie gala event was held at New York City's Mandarin Oriental Hotel.
"As an institution, Cold Spring Harbor Laboratory has long been recognized for its excellence in biological and biomedical science research," said Dr. Bruce Stillman, Laboratory President. "It is therefore fitting we recognize individuals who have dedicated their lives to conducting or supporting genetics research for improving the health of people everywhere."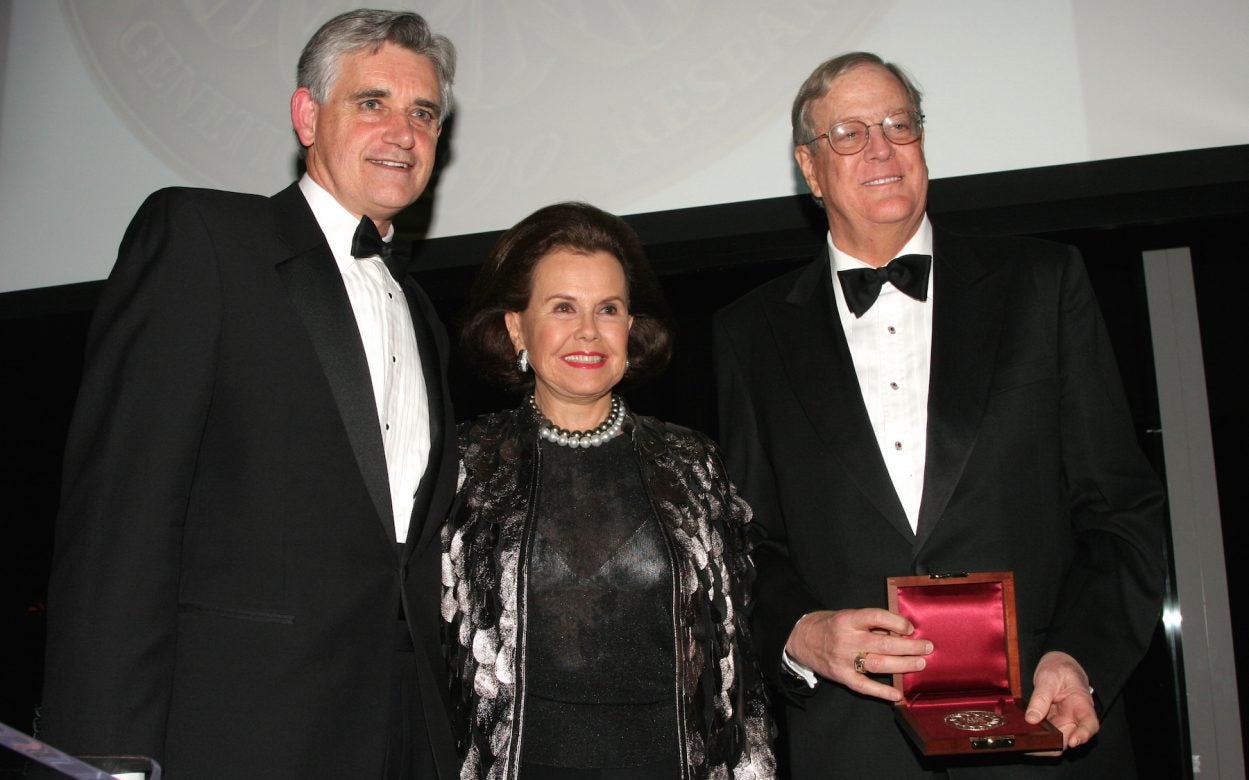 The Double Helix Medal, inaugurated in 2006, refers to the unique structure of DNA molecule, which carries all of life's information. It is central to biological research, and is at the heart of work performed at Cold Spring Harbor Laboratory.
David Koch is co-owner and executive vice president of Koch Industries, the largest privately held company in America. He has personally pledged and contributed more than $400 million dollars to programs that further cancer research, and other organizations. Mr. Koch sits on over twenty non-profit boards and has also been active in the public policy field.
Nobel laureate Richard Axel, Ph.D., a pioneer in the fields of molecular biology, genetics, and neurobiology serves as a University Professor and Investigator at the Howard Hughes Medical Institute, College of Physicians and Surgeons of Columbia University. Using novel approaches, his impact on molecular genetics and neuroscience research is far-reaching.
Dr. Michael Wigler's leadership in genetics, cancer, and cognitive disorders research has been the catalyst for developing the methods used for many discoveries in genetics, and thereby, the means for producing medicines used to treat heart disease, cancer and strokes. His genetic theories have provided a new way to approach and understand many other cognitive and physical abnormalities.
The funds raised will fortify and expand Cold Spring Harbor Laboratory's leadership role in making groundbreaking research discoveries, developing innovative technologies to study the fundamental aspects of human health, and continuing to teach the next generation of scientists.
Written by: Public Affairs | publicaffairs@cshl.edu | 516-367-8455
About Cold Spring Harbor Laboratory
Founded in 1890, Cold Spring Harbor Laboratory has shaped contemporary biomedical research and education with programs in cancer, neuroscience, plant biology and quantitative biology. Home to eight Nobel Prize winners, the private, not-for-profit Laboratory employs 1,100 people including 600 scientists, students and technicians. The Meetings & Courses Program annually hosts more than 12,000 scientists. The Laboratory's education arm also includes an academic publishing house, a graduate school and the DNA Learning Center with programs for middle and high school students and teachers. For more information, visit www.cshl.edu
---
---