Cold Spring Harbor Laboratory (CSHL) announced the completion of a new seawall on November 11. The new structure will preserve the environment and history of the Laboratory while also helping protect the Cold Spring Harbor, NY area from the effects of climate change. CSHL and its predecessors have maintained the seawall since 1890. The original stone wall was raised in 1850. But the structure had eroded over time as it held off increasingly powerful storms and rising sea levels.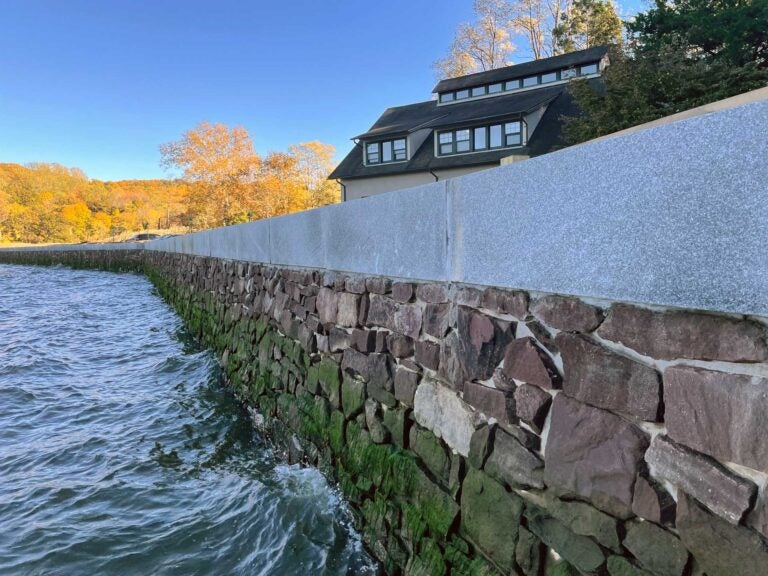 CSHL's new, modern seawall is more resilient to climate change. It is two feet taller and built using strong, pile-supported concrete. This material is also used for modern-day bridges, piers, and most underwater construction. As a final touch, the original seawall's stones were reused as a facade to preserve the structure's historic character.
"Since 1890, CSHL and its predecessors have been stewards of the Cold Spring Harbor area's rich history and beautiful environment," CSHL President and CEO Bruce Stillman says. "A restored seawall will serve to safeguard both, and ensures biological research and education continue to thrive on these shores."
Restoring the wall became necessary after severe damage from recent storms. Powerful hurricanes, like Sandy in 2012, weakened the original structure. Over time, this led to two breaches that threatened the entire seawall.
CSHL developed plans for the new seawall with the Huntington Station branch of GEI Consultants Inc. in 2019. Skanska, a Swedish engineering group, oversaw the project—which was built by Triumph Construction. The restoration, done in cooperation with state and local authorities, cost approximately $14 million.
Written by: Nick Wurm, Communications Specialist | wurm@cshl.edu | 516-367-5940