Storytelling is a human tradition spanning thousands of generations. Popular in many cultures, folk tales are used to share life lessons from journeys of triumph and failure. Following this tradition, Cold Spring Harbor Laboratory (CSHL) recently hosted Science Forward: Towards Inclusive Excellence in Academia. The goal of the March 20-21 symposium was to empower and inspire researchers from groups historically underrepresented in science.
Organized by the Associated Medical Schools of New York (AMSNY), the event included skills workshops, speaker presentations, and discussion panels. There were also many networking and community-building opportunities. Science Forward sought to shine a light on the low levels of diversity and representation in academic science and to identify possible paths to success in the profession.
CSHL Office of Diversity, Equity, & Inclusion Director Charla Lambert says, "Events like Science Forward are necessary because they demystify some of the unspoken expectations and hidden curriculum in academic science while building community and sparking new mentoring relationships." She adds, "These symposia remind participants that they have unique contributions to make precisely because of their intersecting identities, life experiences, perspectives, and approaches to scientific questions."
A conference by the people for the people
"There remains much to be done to bring more people from underrepresented backgrounds into basic science research," says Jonathan Teyan, president and CEO of AMSNY. "Science Forward is intended to build community, inspire, and impart tangible skills to postdoctoral fellows and early-career faculty to advance their careers in academia."
The event tackled topics of importance to all academic scientists. These included chalk talks (faculty job interview presentations), career timelines, negotiations, and lab management. Notably, the symposium had several key structural differences from typical scientific conferences. The meeting was smaller, making it easier for people to meet and connect. It spanned a broad range of fields. And the topics covered were chosen by the attendees themselves.
"Asking the intended audience what they needed and wanted—and using that to build the program—was a really great approach," says CSHL Director of Research Operations Sydney Gary. "It resulted in an event that combined research and career development, along with highlighting rising stars in the biomedical sciences and their stories." Gary is a member of the AMSNY Bioscience Advisory Council and was on the symposium's organizing subcommittee. She worked with CSHL Meetings & Courses Executive Director David Stewart and his staff to help facilitate the meeting.
Many participants agreed that the journey from student to professor was longer and harder than anticipated. There could be any number of reasons why. But one factor that kept popping up during the conference was "inside baseball." In science, as in many areas, it seems like the only people who really know the game are those who have been playing it for their whole careers.
The unwritten rules of academic advancement
Unlike medical school, which offers a rigorous and well-outlined career trajectory, the Ph.D. route is foggy at best. For students from historically excluded groups, the path to a professorship is often especially unclear.
CSHL Assistant Professor Lucas Cheadle is a member of the Chickasaw Nation of Indigenous peoples. He grew up in a rural part of southern Oklahoma. Cheadle says it was a very culturally enriching environment but one with limited educational resources. Computers weren't commonplace in the classroom. Nor were academic role models who shared his experiences. "These aspects of my background motivate me to participate in events like Science Foward," Cheadle says. "There are a lot of challenges, but those challenges can be overcome in many cases."
During a discussion panel at the conference, Cheadle reflected on the obstacles he needed to navigate to get where he is today. He says:
"There are a lot of doors in academia that you have to knock on and people you have to talk to. And if you don't know their language and don't know to knock in the first place, you might not make it to that next level."
The conference revealed some of the "secret knocks" by connecting students from historically excluded groups with professors and even deans. Lola Brown, from Weill Cornell Medicine, was also on the event's organizing committee. As associate dean of research at Cornell, she is involved in hiring new professors. Her experiences have allowed her to witness academia's barriers from both sides—as a student and as faculty. She says:
"When I was going up through my academic training, there were a lot of unspoken rules about how to be successful that I didn't know. I think if I had gotten that information, I would've felt more prepared and had more confidence in my ability to go for an assistant professorship. I want to be able to help those senior-level trainees and give them that information so they can be successful."
That same mindset influenced Brown's thinking as a Science Forward organizer. "We wanted this to be a transparent and authentic symposium that would help people prepare for their first faculty positions," she says.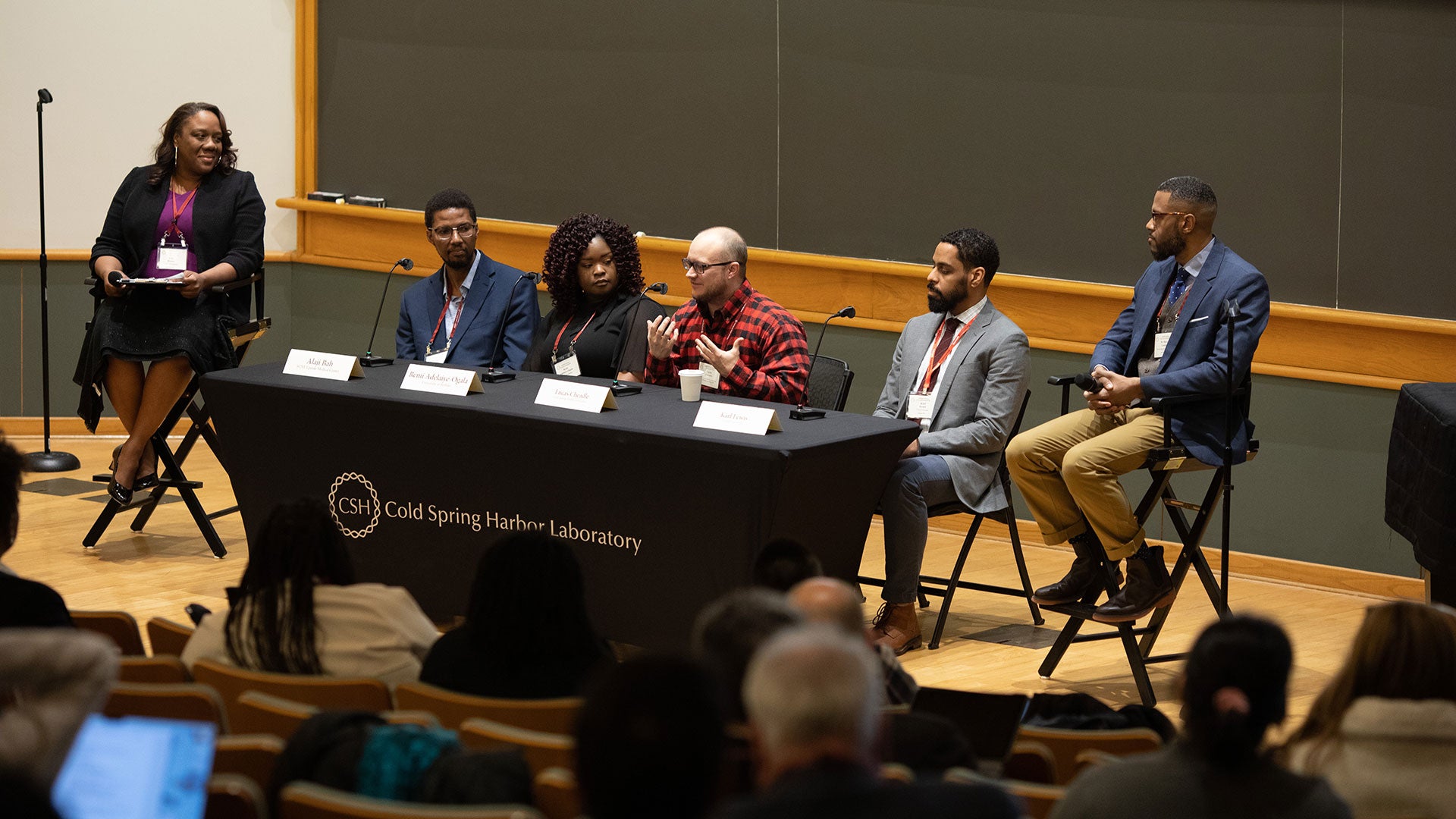 Plugging science's brain drain
According to an article in Science co-authored by CSHL DNA Learning Center Assistant Director Jason Williams, more than half of all students majoring in science, technology, engineering, and mathematics (STEM) will switch fields before graduating. Students from racial or ethnic minority groups are at a disproportionately high risk of leaving.
Collectively, these groups account for about 34% of the total U.S. population. However, according to the National Science Foundation, in biology fields these groups account for just:
17% of all U.S. graduate students
16% of Ph.D. recipients
6% of postdoctoral scholars
7% of tenure-track faculty
There seems to be worse underrepresentation as students get closer to the top of the field. "There could be additional hurdles and challenges that minority groups face," Brown says. "I think it's a misconception that students from [these] groups are in some way insufficient or don't have the skills they need. That's not correct. Intellect is equally spread but opportunity is not."
Science Forward provided opportunities that otherwise might not be available to students and scientists from underrepresented groups. Namely, it enabled them to learn from faculty members who know what it is to be underrepresented.
Traditions of giving back pay forward
Cheadle and CSHL's devotion to the next generation of scientists goes beyond Science Forward. Last summer, Cheadle hosted a University of Kansas undergraduate student from the Chickasaw Nation in his lab. There, she was able to learn from someone who shares many of her personal experiences. Cheadle says:
"I've always felt very passionately about making contributions to the tribe that I come from. This is something that my ancestors have done for a long time—service to the tribe. I'd really like to establish a pipeline with the Chickasaw Nation so that we can offer an opportunity for a talented student, who may not have other opportunities, to come to Cold Spring Harbor in the summer and learn what it's like to do science in a world-renowned institution."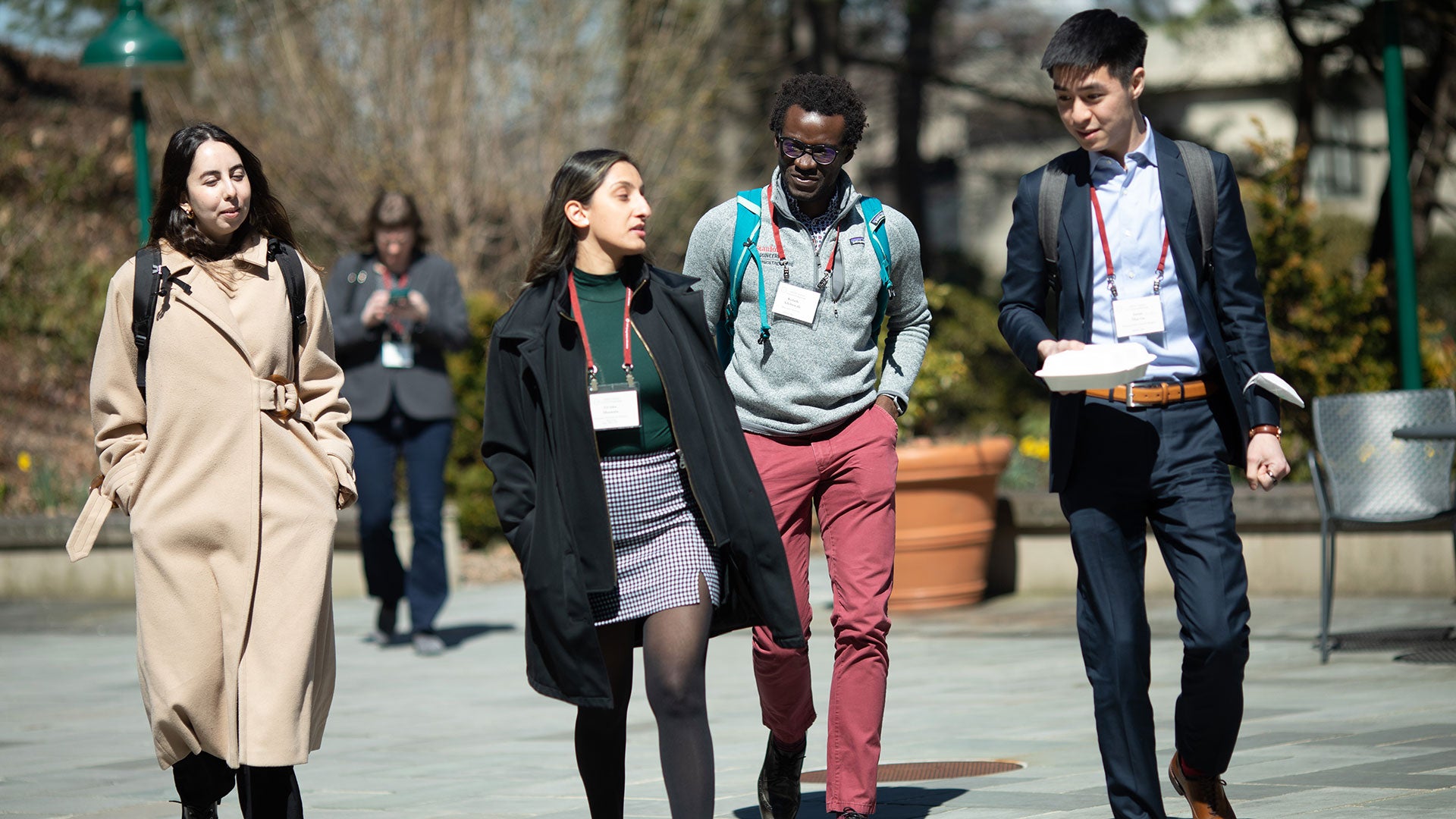 CSHL offers a similar experience to students through its Undergraduate Research Program. This summer program allows students from all backgrounds to learn the scientific process by conducting research in a CSHL lab with graduate students, postdocs, and professors. CSHL's DNA Learning Center also aims to expand access to science education, but even earlier in life. Through hands-on workshops and summer camps, the Center teaches elementary, middle, and high schoolers about science in a fun and interactive learning environment. And it provides them a glimpse at some of the career opportunities that may await them.
Though progress is being made, it will take many years for society to break down all the walls that historically marginalized groups face in science and other fields. In the meantime, Science Forward and similar events are definitely making a dent.
For CSHL and all the symposium's organizers, the hope is that attendees will go on to lead successful careers in academic science. By sharing their stories, they too will inspire future generations, until one day there is no such thing as under-representation in science or any field.
Written by: Luis Sandoval, Communications Specialist | sandova@cshl.edu | 516-367-6826