Cold Spring Harbor, NY — Cold Spring Harbor Laboratory (CSHL) is grateful to Chancellor Emeritus James D. Watson and his wife Liz, who recently announced a donation of $1 million to the Laboratory in support of biomedical research and education programs. Director of CSHL from 1968-2003, Dr. Watson to date has donated more than $5 million to the private, not-for-profit institution which this year celebrates its 125th anniversary.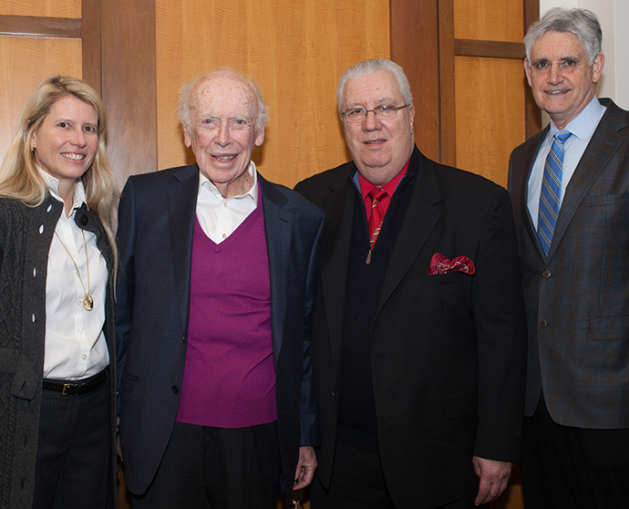 "Over the last 45 years, Jim and Liz Watson have made invaluable contributions to CSHL, ensuring the Lab's leadership in contemporary biology and genetics research and education and advancing Long Island's biomedical economy," said CSHL President Bruce Stillman, Ph.D. "We thank the Watsons for their vision and dedication to excellence."
The Watson's $1 million gift comes as a result of the successful December 2014 sale of Jim Watson's 1962 Nobel Prize, which he shared with Francis Crick and Maurice Wilkins for the co-discovery of the double helix structure of DNA.
Dr. Watson describes the Laboratory's historic importance and its remarkable growth in recent decades:
"Liz and I came to CSHL in 1968 to revitalize a very rundown biological institution that already had a great impact upon the development of all of modern biology. Its 1933 establishment of the annual Cold Spring Harbor Symposium, a weeklong June gathering, highlighted the coming into existence of the new discipline of molecular biology as exemplified by its 1953 presentation of the double-helical structure of DNA."
"But with no endowment and an ever-dwindling roster of scientists—by 1968 down to only two scientists and just over 40 employees—and an annual budget of just $600,000, the Lab was at risk of forever vanishing despite its almost 80 years of past distinguished science and education. By 1994 when I ceased to direct its science and became its first President, the annual budget of CSHL had grown to $45 million, with total employees numbering 609, including a scientific staff totaling 43, supported by an endowment of $35 million. We are proud to have been part of CSHL's tremendous steady growth of more than 45 years that today employs more than 1100 people on Long Island and generates more than $150 million in annual revenue backed by an endowment of now more than $400 million."
The Watson gift includes an endowment to support a special annual scientific meeting called "Double Helix Day," in memory of February 28, 1953—the day that Watson and his colleague Francis Crick discovered the double helix structure of DNA. CSHL Chairman Jamie Nicholls, New York Senator Carl Marcellino and his wife Dr. Patricia Marcellino joined CSHL faculty and friends at the inaugural celebration of this CSHL event on February 27, 2015.
With programs in cancer, neuroscience, plant genetics, genomics and quantitative biology, CSHL has an annual research budget of $100 million, more than 50% of which is supported by private philanthropy. Nearly $50 million of the research budget comes to Long Island from Federal grants that CSHL scientists secure through a competitive application process. The Laboratory comprises 54 primary investigators in laboratories supported by nearly 600 research staff including postdoctoral investigators, graduate students and technicians.
In addition to its robust research enterprise, CSHL offers a broad range of hands-on as well as online scientific training programs for professional scientists, graduate and undergraduate students and teenage children. The Cold Spring Harbor Laboratory Press publishes leading scientific journals and textbooks for biology students worldwide.
Written by: Communications Department | publicaffairs@cshl.edu | 516-367-8455