A pioneer in biology receives NE Association of Graduate Schools' Geoffrey Marshall Mentoring Award
Cold Spring Harbor, NY — Howard Hughes Medical Institute Investigator and Cold Spring Harbor Laboratory (CSHL) Professor Greg Hannon, Ph.D., was honored on April 15 with the 2011 Northeastern Association of Graduate School Geoffrey Marshall Mentoring Award. The award recognizes a teacher's outstanding support of graduate students from course completion through research and placement.
Dr. Hannon is a pioneer in CSHL's Watson School of Biological Sciences, which opened its doors in 1999. Since then, he has mentored a total of 12 postdoctoral fellows and 17 graduate students. The achievements of his trainees have been uniformly outstanding. Four students completed their Ph.D. degrees in less than four years and two were recipients of the prestigious Harold M. Weintraub Graduate Student Award. Many others have received awards under his watch, including the L'Oreal UNESCO For Women in Science Award, the National Science Foundation Graduate Fellowship, The Howard Hughes Medical Institute graduate Fellowship and an NHMRC Overseas Biomedical Award.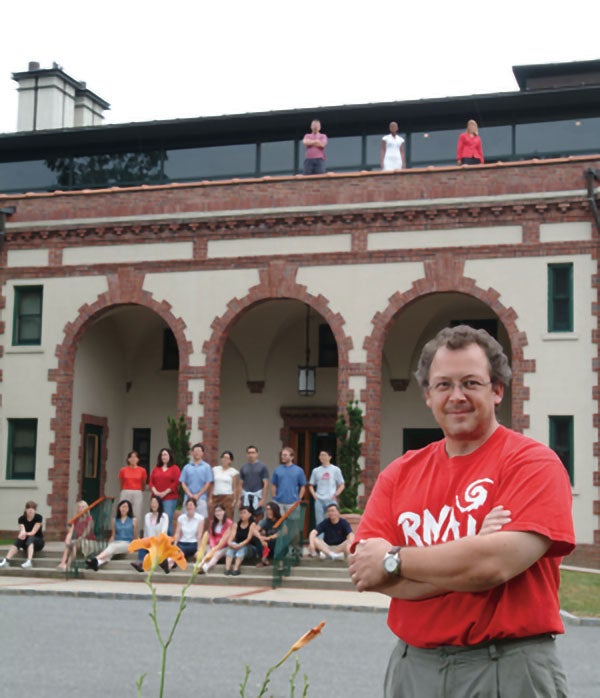 According to CSHL President Bruce Stillman, "Dr. Hannon is one of the most productive scientists at CSHL and indeed in the world, and this has not diminished his dedication to teaching and graduate education. I believe this is because he has a true passion for teaching students and helping them grow to become top scientists in their own right. There are many top scientists who are great at lecturing, but Dr. Hannon stands out as someone who encourages talented individuals to achieve what even they had not imagined."
Every mentee in Dr. Hannon's laboratory has had at least one publication in a high-impact journal and more than 60% of Hannon's 200-plus scientific publications have had graduate mentee co-authorship. Three of these publications have received recognition in the journal Science as the "Breakthrough of the Year." The mentorship Dr. Hannon provides has resulted in the placement of 10 of his graduate students in prestigious postdoctoral positions, with four already holding independent faculty positions, at Mt. Sinai School of Medicine, the University of Toronto, Fred Hutchinson Cancer Research Center, and the Whitehead Institute.
Dr. Hannon has made fundamental discoveries about the mechanisms for producing RNA interference (RNAi) in cells and has used this knowledge to make libraries of encoded RNA interference molecules that inhibit every gene in the human and mouse genomes, a most valuable research tool used by researchers throughout the world. He has developed new technologies for sequencing large genomes, one of which was used to sequence the Neanderthal genome. His lab discovered how short RNAs, the so-called piRNAs, can regulate how genetic information is passed from one generation to the next by cleansing unwanted genetic information from oocytes and sperm. These major discoveries have garnered Hannon major research recognition, including the Molecular Biology Award from the National Academy of Sciences.
Written by: Dagnia Zeidlickis, Vice President, Communications | publicaffairs@cshl.edu | 516-367-8455
About NAGS
The Northeastern Association of Graduate Schools (NAGS) is one of four regional affiliates of the Council of Graduate Schools (CGS). Founded in 1975, NAGS draws institutional membership from Connecticut, Delaware, Maine, Maryland, Massachusetts, New Hampshire, New Jersey, New York, Pennsylvania, Rhode Island, Vermont, Washington, D.C., and the Canadian provinces of New Brunswick, Newfoundland, Nova Scotia, Ontario, Prince Edward Island and Quebec.
About Cold Spring Harbor Laboratory
Founded in 1890, Cold Spring Harbor Laboratory has shaped contemporary biomedical research and education with programs in cancer, neuroscience, plant biology and quantitative biology. Home to eight Nobel Prize winners, the private, not-for-profit Laboratory employs 1,100 people including 600 scientists, students and technicians. The Meetings & Courses Program annually hosts more than 12,000 scientists. The Laboratory's education arm also includes an academic publishing house, a graduate school and the DNA Learning Center with programs for middle and high school students and teachers. For more information, visit www.cshl.edu
---
---