Cold Spring Harbor, NY — Nearly $3.7 million was raised to strengthen and expand Cold Spring Harbor Laboratory's (CSHL) research and education programs at the institution's 8th Double Helix Medals dinner held in New York City November 4th.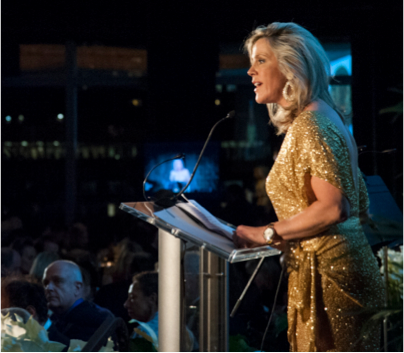 The Double Helix Medal recognizes individuals who have dedicated their lives to raising awareness of the importance of genetics research for improving the health of people everywhere. Whether by striving to exonerate the wrongly accused or in raising awareness for disease and treatment, this year's honorees have all demonstrated a commitment to using the fruits of cutting-edge biological research to improve the human condition.
"Robin Roberts, Barry Scheck and Peter Neufeld have been invaluable in raising public awareness of the power of genetic research" said CSHL President Bruce Stillman. "CSHL's ability to attract philanthropic support for innovative biomedical investigation leading to better diagnostics and treatments for disease continues to be a source of great strength and opportunity."
Barry C. Scheck and Peter J. Neufeld co-founded and co-direct the Innocence Project, an independent nonprofit organization closely affiliated with Cardozo Law School, which uses DNA evidence to exonerate the wrongly convicted. The Project also assists police, prosecutors, and defense attorneys in trying to bring about reform in many areas of the criminal justice system, including eyewitness identification procedures, interrogation methods, crime laboratory administration, and forensic science research. In its 21 years of existence, 311 individuals have been exonerated in the United States through post-conviction DNA testing.
Robin Roberts is co-anchor of ABC's Good Morning America. Under her leadership, the broadcast won three consecutive Emmy Awards for Outstanding Morning Program. Roberts was diagnosed with breast cancer in June 2007. Her courageous and public battle has been recognized with awards and honors from organizations around the country, including The Susan G. Komen Foundation, The Congressional Families Cancer Prevention Program, and Gilda's Club, a non-profit organization founded by the late Joel Siegel. Five years later, Roberts was faced with another health battle. In June 2012, she was diagnosed with MDS or myelodysplastic syndrome, a disease of the blood and bone marrow once known as pre-leukemia. Roberts underwent a bone marrow transplant in September of that year. Roberts' story triggered an outpouring of support from across the nation. She joined forces with Be the Match to inform the public about the need for more donors, and since her diagnosis over 56,000 people have joined the registry. Roberts made a triumphant return to the anchor desk on February 20, 2013, five months to the day since she underwent the transplant.
This year's Double Helix Medals Dinner was chaired by Karen and Bill Ackman, Jamie Nicholls and Francis Biondi, Mary and David Boies, Terry and Bob Lindsay, and Danielle and Paul Taubman.
All photos © Patrick McMullan.com
Double Helix Medals honoree videos
Written by: Public Affairs | publicaffairs@cshl.edu | 516-367-8455
About Cold Spring Harbor Laboratory
Founded in 1890, Cold Spring Harbor Laboratory has shaped contemporary biomedical research and education with programs in cancer, neuroscience, plant biology and quantitative biology. Home to eight Nobel Prize winners, the private, not-for-profit Laboratory employs 1,100 people including 600 scientists, students and technicians. The Meetings & Courses Program annually hosts more than 12,000 scientists. The Laboratory's education arm also includes an academic publishing house, a graduate school and the DNA Learning Center with programs for middle and high school students and teachers. For more information, visit www.cshl.edu
---
---