Double Helix Medals awarded to Arthur Levinson, Mary Lindsay and Michael J. Fox
Cold Spring Harbor, NY — $3.5 million was raised to strengthen and expand Cold Spring Harbor Laboratory's (CSHL) research and education programs at the institution's 7th Double Helix Medals dinner held in New York City November 28th.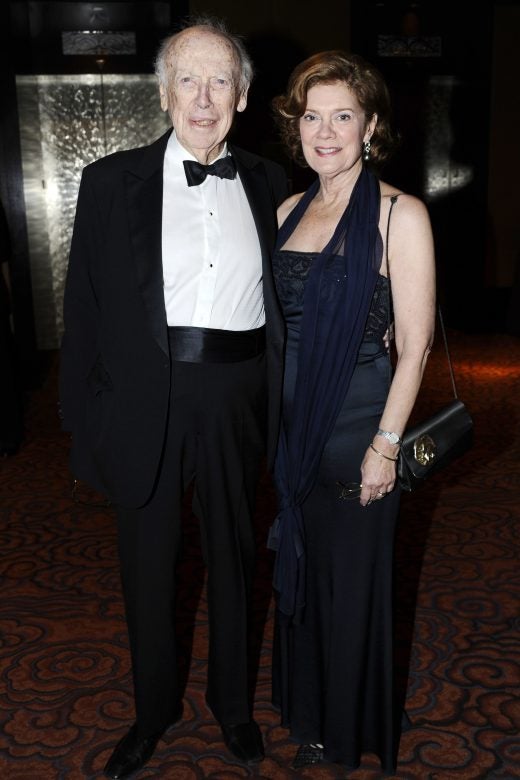 The Double Helix Medal recognizes esteemed individuals who have positively impacted human health by raising awareness and funds for biomedical research. Driven by passion, intellect and vision, each has boldly participated in the fight to find cures for the diseases that plague us.
"Arthur Levinson, Mary Lindsay, and Michael J. Fox have each contributed to biomedical research and the advancement of better medicines," said CSHL President Bruce Stillman, who stressed that CSHL's ability to attract philanthropic support continues to be a source of great strength for the Laboratory.
Arthur D. Levinson, Ph.D., is Chairman and former CEO of Genentech, as well as Chairman of the Board of Apple Inc. After working as a postdoctoral investigator at the University of California, San Francisco for Michael Bishop and Harold Varmus, who later won the Nobel Prize for their research on cancer genes, Levinson joined Genentech as a research scientist shortly after the company was formed. There he helped grow Genentech into a foundational force in the nascent biotechnology industry as the firm employed recombinant DNA technology to develop a new generation of therapeutics for infectious disease, diabetes, heart disease and cancer, benefitting millions of patients worldwide.
Mary D. Lindsay has been a friend and an advocate of CSHL for well over 50 years. A nurturer by nature, she obtained her R.N. in 1945 and worked as a nurse in New York and Connecticut until moving with her husband George to Laurel Hollow in the 1950s. Through her involvement with the CSHL Association, she became concerned for the families of young scientists who came to the Laboratory from across the country and around the world. Lindsay was instrumental in a lengthy but successful quest to establish CSHL's Child Care Center. An inspiration to all who have had the opportunity to work with her, she remains an extraordinarily hard-working advocate for health, women's rights and social equality.
Actor, author, and producer Michael J. Fox was diagnosed with young-onset Parkinson's disease at the age of 30 in 1991, and has since become a powerful advocate for those diagnosed with the illness. He partly withdrew from acting in 2000 to concentrate on raising money and awareness for Parkinson's disease; his primary focus today is The Michael J. Fox Foundation for Parkinson's Research. The Foundation's goal is to accelerate the best ideas in Parkinson's disease research toward clinical testing and practical relevance for patients. With a strong emphasis on translational and clinical research, the Foundation constantly refines understanding of the illness and the therapeutic needs of Parkinson's patients.
Double Helix Medals honoree videos
All photos © Patrick McMullan.com
Written by: Communications Department | publicaffairs@cshl.edu | 516-367-8455
---
---