Meetings in genetics, biomedicine, will bring Cold Spring Harbor Laboratory's democratic scientific communications model to Asia
Cold Spring Harbor, NY and Suzhou, China — A major new hub of activity for scientists at the leading edge of research in the life sciences will be launched in Suzhou, China, this coming Tuesday, April 6th, with the opening session of the 1st James Watson Cancer Symposium.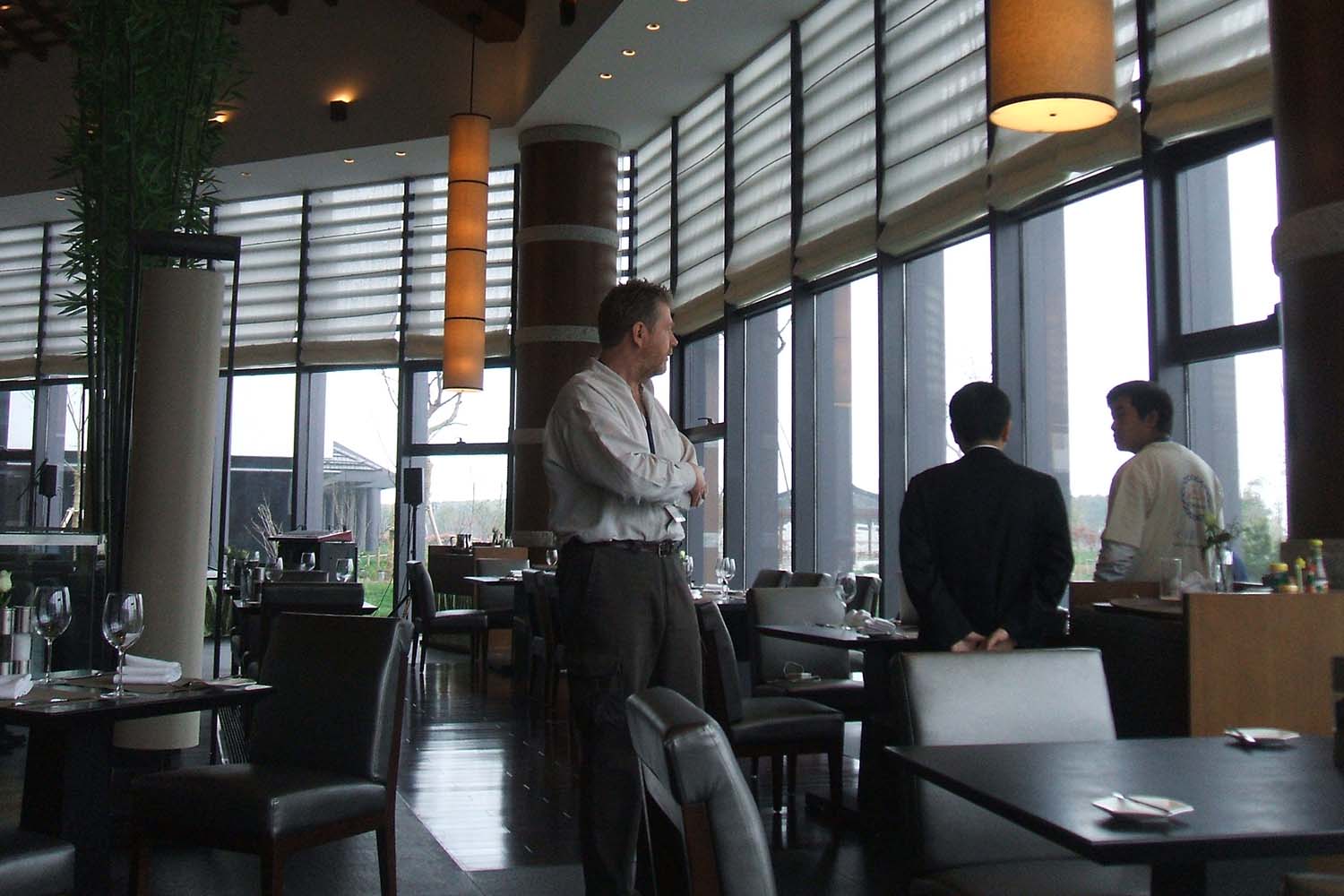 "Our objective is to make the Suzhou Dushu Lake Conference Center the premier hub for scientists throughout Asia who are exploring the frontiers of molecular biology, biomedicine and biotechnology," says Cold Spring Harbor Laboratory's Dr. David Stewart.
Stewart, who is president of CSH Asia, the wholly owned CSHL subsidiary that has developed and independently controls the content of the life sciences meetings program at the newly built Suzhou Dushu Lake Conference Center, is also Executive Director of the CSHL Meetings & Courses program that annually brings some 8,000 life scientists of all levels to CSHL's campus.
The CSH Asia program was launched via an agreement with Suzhou Industrial Park, or SIP, which is a joint venture of the Chinese and Singapore governments. SIP owns the new facility; CSH Asia developed and owns the scientific meeting's program.
CSHL's President, Dr. Bruce Stillman, said he hopes the CSH Asia program will have a tangible impact on the way science is communicated within Asia, where, he observed, researching the life sciences is growing at a faster rate than anywhere else in the world.
A search of the Pub Med database shows this clearly. Over the last 10 years, the number of English-language peer-reviewed papers published annually by scientists in China has more than doubled, while in Taiwan, Korea, India and Australia growth has been between 60% and 95%. This compares with growth of less than 20 percent in the U.S.
Dr. Stewart spoke about the potential impact of the program. "What's most interesting about the Cold Spring Harbor way of conducting meetings and courses is the scientific intensity and the spirit of questioning that pays little heed to rank or status," he said. "CSHL-style meetings offer scientists an opportunity to present their own work and get it critiqued, through immediate feedback from colleagues. This is incredibly valuable. Our meetings are also famously democratic—people with decades of experience in their field can be challenged by grad students and postdocs. Our effort to involve young scientists, in particular, provides a powerful model, different from but complementary to the traditional, top-down model of scientific communication."
Pan-Asian Hub for Scientific Exchange
Thousands of scientists, from all over the world—mainly from the nations of Asia, but also Europe and the Americas—are expected to gather annually at this "pan-Asian hub" to present data and challenge one another's' latest theories, in fields ranging from genetics and molecular biology to clinical approaches to cancer and neurological and psychiatric illnesses.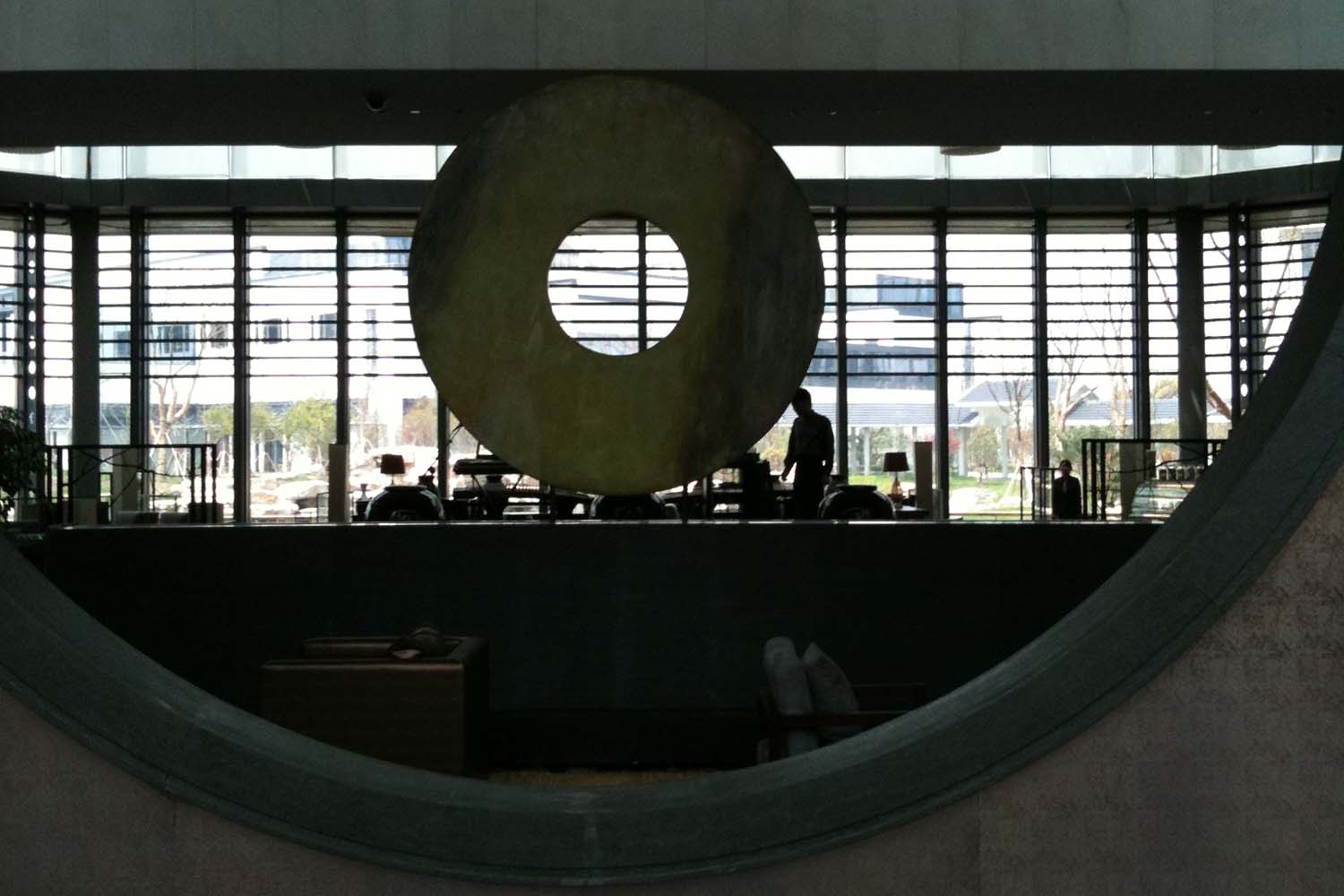 The meetings and courses program at Suzhou Dushu Lake Conference Center is modeled after what many consider the most successful meetings-based hub for the advancement of knowledge in the life sciences—the 75-year-old Meeting & courses Program at Cold Spring Harbor Laboratory, on the north shore of Long Island, about 35 miles east of New York City. Dushu Lake—a similarly picturesque site, located within Suzhou Industrial Park, a new high-tech city of 300,000—is at the periphery of the 2,500-year-old Chinese city of Suzhou, famous for its well-preserved old town and classical gardens. Suzhou is only 60 miles west of a "megacity" even larger than New York—the economic powerhouse of Shanghai, population 20 million.
Importantly, the new conference center is less than an hour by high-speed rail from Shanghai, and, served by two regional airports, is only a two to three-hour plane ride from Japan, South Korea, Taiwan, and Hong Kong; Singapore and Sydney, Australia are, respectively, five and 10 hours distant by air.
1st James Watson Cancer Symposium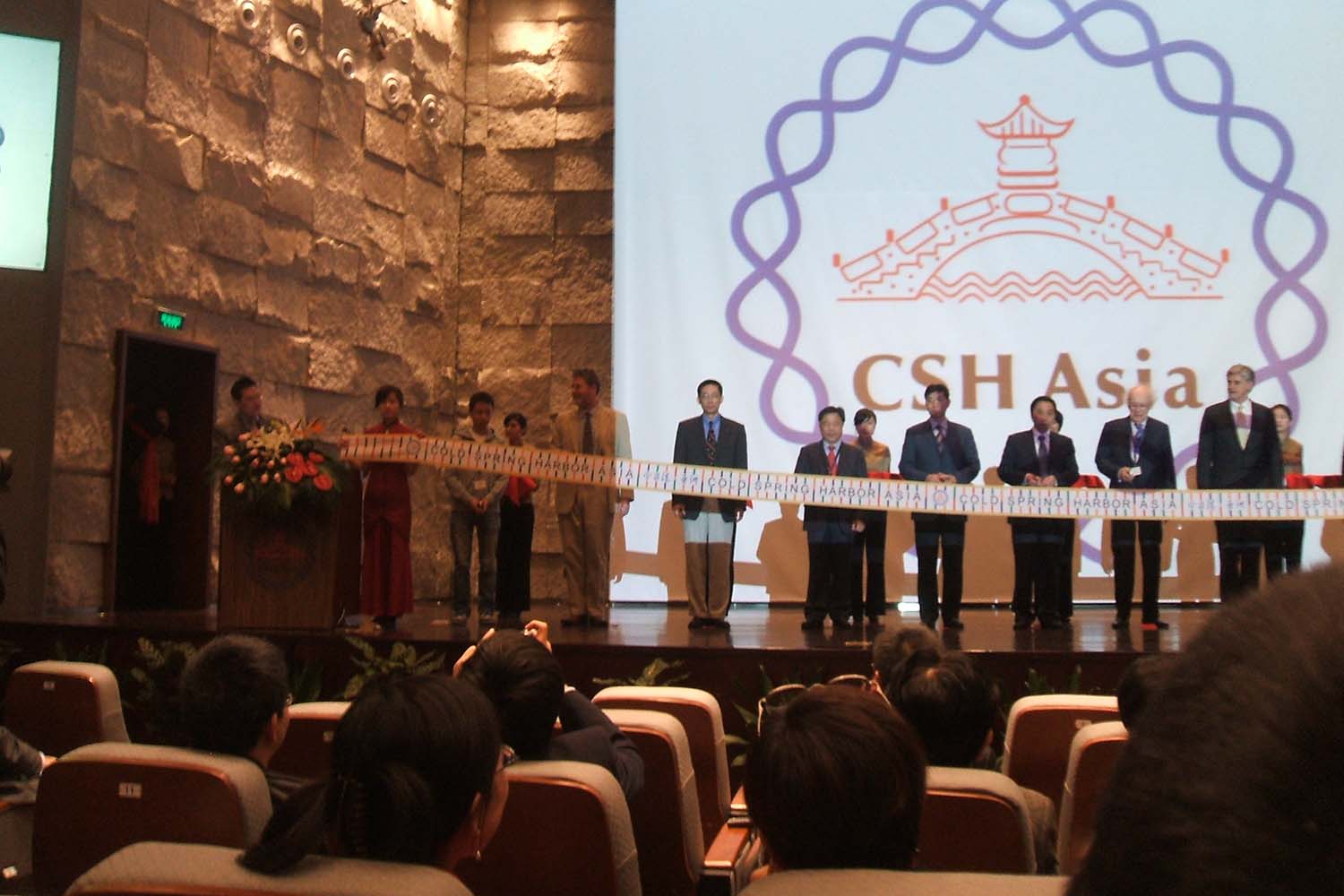 The inaugural event that begins Monday, the six-day James Watson Cancer Symposium, was organized by leading scientists representing important current areas of research. They include: Dr. Xiaodong Wang, a Howard Hughes Medical Institute Investigator affiliated with UT Southwestern Medical Center and the National Institute of Biological Sciences, Beijing; Dr. Scott W. Lowe, of HHMI and CSHL; Dr. Yusuke Nakamura, of the University of Tokyo; Dr. Tak Mak, of the University of Toronto; and Dr. Karen Vousden of the Beatson Institute for Cancer Research in the U.K.:
"The international composition of the team that organized our first Watson Symposium is indicative of what CSH Asia is all about," says Maoyen Chi, Ph.D., a one-time computational biologist at CSHL who has returned to his native city of Suzhou to take on the job of CEO of CSH Asia. "This is not a U.S.-Chinese bilateral partnership," Chi stresses. "We call ourselves CSH Asia, and what that signals is our aim of making a home for scientists throughout Asia which happens to be situated in Suzhou." It is "every bit as important to us," says Chi, that scientists from Japan, Korea, Taiwan, Hong Kong, Singapore, and Australia regularly attend meetings at the Dushu Lake center "as scientists from the Chinese mainland."
On the eve of the inaugural symposium that bears his name, Dr. Watson, the co-discoverer of the DNA double helix, commented: "I like the idea of having a high-quality hub for biology in Suzhou. I think it's important that we get to know the best scientists in China and throughout Asia. We want to have exchanges with them, including a role in training their postdocs. I think we can play a part in bringing young people in Asia to the frontiers of science."
A second six-day symposium at the Dushu Lake Conference Center will be held immediately following the conclusion of the Watson cancer symposium. It is named the 1st Francis Crick Neuroscience Symposium, after late Dr. Francis Crick, Dr. Watson's colleague and co-discoverer of the double helix. The two were awarded the Nobel Prize in Physiology or Medicine in 1962.
For more information about CSH Asia, visit:
http://meetings.cshl.edu/CSHAsia/index.html
Written by: Public Affairs | publicaffairs@cshl.edu | 516-367-8455
About Cold Spring Harbor Laboratory
Founded in 1890, Cold Spring Harbor Laboratory has shaped contemporary biomedical research and education with programs in cancer, neuroscience, plant biology and quantitative biology. Home to eight Nobel Prize winners, the private, not-for-profit Laboratory employs 1,100 people including 600 scientists, students and technicians. The Meetings & Courses Program annually hosts more than 12,000 scientists. The Laboratory's education arm also includes an academic publishing house, a graduate school and the DNA Learning Center with programs for middle and high school students and teachers. For more information, visit www.cshl.edu
---
---