Panel discussion: HUMAN NATURE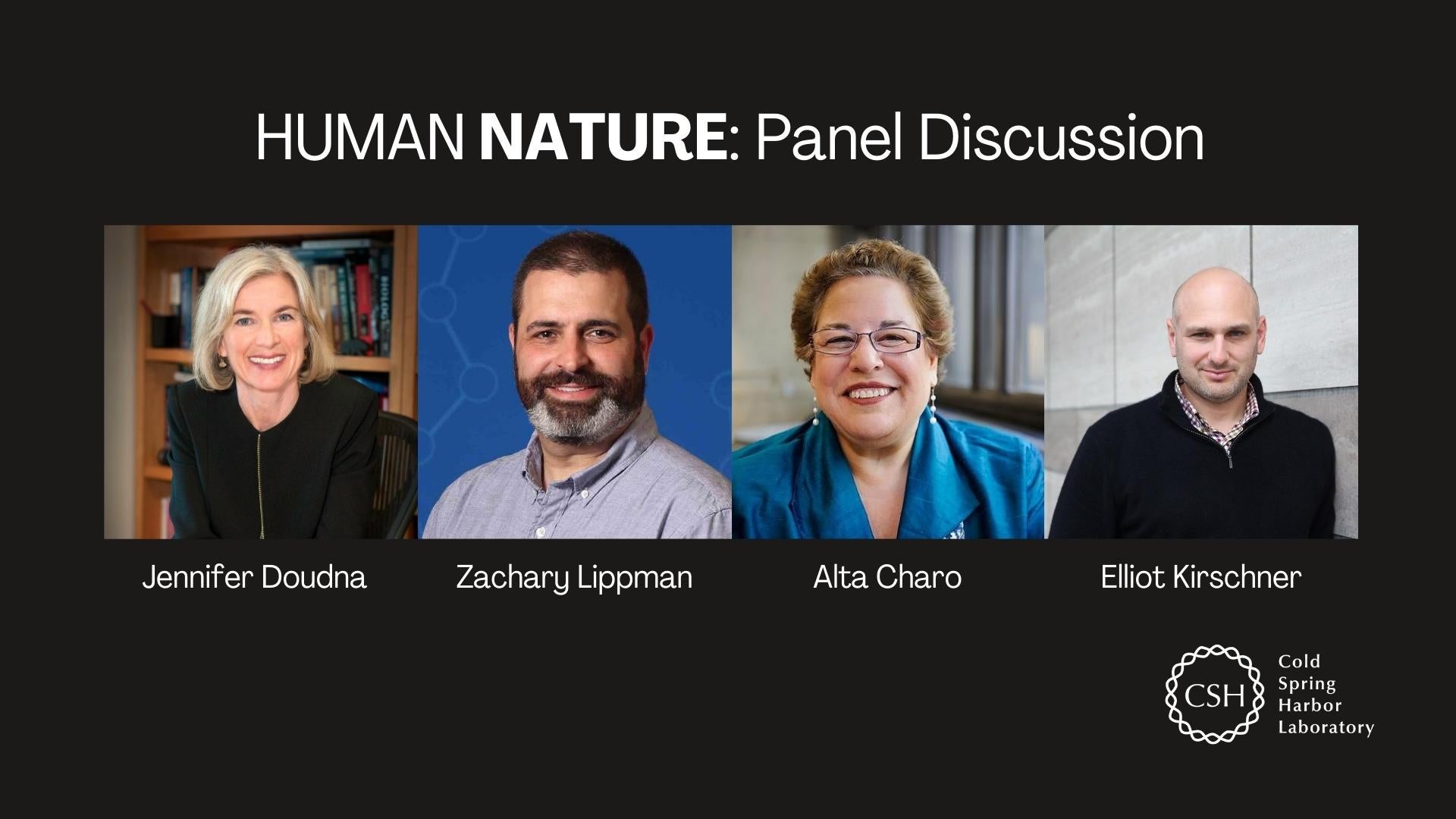 When
Date: Monday, August 17, 2020
Time: 6:00 pm - 7:00 pm EST
+ iCal export   + Add to Google Calendar
Description
Cold Spring Harbor Laboratory invites you to join an online live panel Q&A discussion about the documentary film, HUMAN NATURE, on Monday, August 17th at 6:00pm ET.
PANELISTS
Jennifer Doudna, Ph.D. - Biochemist and leading genomics researcher
Alta Charo - Bioethicist
Zachary Lippman, Ph.D. - CSHL plant biologist
Elliot Kirschner - Executive producer and moderator
The panel will discuss HUMAN NATURE - the story of CRISPR genome engineering as the biggest tech revolution of the 21st Century with far-reaching implications for science, ethics, and all of humanity.
Jennifer Doudna is the Li Ka Shing Chancellor's Chair and a Professor in the Departments of Chemistry and of Molecular and Cell Biology at the University of California, Berkeley, as well as an Investigator of the Howard Hughes Medical Institute. Her co-discovery of CRISPR-Cas9 genetic engineering technology, with collaborator, French scientist Emmanuelle Charpentier, has changed human and agricultural genomics research forever. This genome-editing technology enables scientists to change or remove genes quickly, with a precision only dreamed of just a few years ago. Labs worldwide have re-directed the course of their research programs to incorporate this new tool, creating a CRISPR revolution with huge implications across biology and medicine. In addition to her scientific achievements and eminence, Doudna is also a leader in public discussion of the ethical and other implications of genome editing for human biology and societies, and advocates for thoughtful approaches to the development of policies around the use of CRISPR-Cas9. She has received many prizes for her discoveries, including the Japan Prize (2016), the Kavli Prize (2018), the LUI Che Woo Welfare Betterment Prize (2019) and the Wolf Prize in Medicine (2020). In 2015, Doudna was named by Time Magazine as one of the 100 most influential people in the world.
Alta Charo is the Warren P. Knowles Professor of Law & Bioethics at the University of Wisconsin, formerly a member of President Clinton's National Bioethics Advisory Commission and a senior policy advisor at the FDA during the Obama Administration. She co-chaired the US National Academies of Science, Engineering and Medicine committee on genome editing science and ethics, and is now a member of the World Health Organization expert advisory committee on global genome editing governance.
Elliot Kirschner is Executive Producer of Human Nature and the Wonder Collaborative, a New York Times best-selling author, and Emmy-award winning news and documentary producer. He got his start at CBS News, producing for such programs as 60 Minutes, Sunday Morning and the Evening News. In 2007, Kirschner joined legendary news icon Dan Rather to help manage a cable news and documentary program where he commissioned and oversaw numerous science reports. He joined iBiology in 2015 and is currently leading the group's efforts to create content for the general public. His 2017 book What Unites Us: Reflections on Patriotism, written with Dan Rather, was a bestseller.
Zachary Lippman is a CSHL Professor and HHMI Investigator. His research focuses on the process of flowering and flower production, which drive reproductive success in nature and crop yield in agriculture. Lippman's research program integrates genetics, development, genomics, and genome editing to study how plant stem cells become flowers, taking advantage of natural and induced variation in inflorescence production and architecture in tomato and related nightshade species to explore how differences in the processes of stem cell maturation explain the diversity in vegetative and reproductive shoot systems in evolution and crop improvement. Elucidating the genes and mechanisms underlying this diversity have led to broader exploration on the roles of structural variation, gene regulation, and epistasis in development, domestication, and breeding. Based on these discoveries, Lippman is developing and applying innovative concepts and tools for crop improvement.
Venue/location
Website
Visit: https://cshl-human-nature.eventbrite.com