W
hen Alexandra Newton first opened an Instagram account for the International Union of Biochemistry and Molecular Biology, she typed "biochemistry" on the search bar to see what others were posting. That's when she entered the world of Brianna Bibel, a third-year graduate student at the
Watson School of Biological Sciences
who's better known across social platforms as the Bumbling Biochemist.
"There was nothing bumbling about this biochemist," said Newton, president-elect of IUBMB who immediately became a fan. "Her amazing posts on diverse topics in biochemistry were detailed, always correct, and very funny."
Newton was so impressed with Bibel—even more so after meeting her by chance at an ASBMB conference—that she created the role of the IUBMB student ambassador as a way for her to help engage the next generation of biochemists. The group is also sending Bibel, a structural biologist, to the prestigious RNA Society 2020 in Vancouver next May to present a poster and, of course, share her experiences with her many followers.
"This is one of the most effective ways to engage the next generation of biochemists and molecular biologists," said Newton, a professor of pharmacology at the University of California San Diego.
Bibel, who contributes a series every Friday to the IUBMB site, called "Bri-fing from the Bench by The Bumbling Biochemist," has already proven she's the best person for the job.
The carousel of photos on her Instagram page, followed by more than 12,000 fans, scrolls like the panels of a comic book, streaming her day-to-day life and chronicling her adventures in biochemistry. The Bumbling Biochemist, like any superhero worth her salt, dons a cape, appropriately fashioned out of a lab coat. "She's really just me," said Bibel, who also reaches more than 2,000 followers on Twitter.
Surprisingly, Bibel describes herself as an introvert and has always been more comfortable with writing instead of talking. That's where communicating science through 'The Bumbling Biochemist' took form.
"Her mission is to help spread the love of biochemistry and make it more accessible to people," said Bibel, who earned her B.S. in biology at St. Mary's College of California before coming to Cold Spring Harbor Laboratory in 2016. "For me, putting on the cape and the persona helps me feel more comfortable. It's kind of freeing, and it also makes things fun for people."
Attracting such a large following has made Bibel a celebrity in her own right. Her fanbase spans from high school students to some of the world's top scientists.
"Her infectious passion and love of biochemistry shines through in all her posts, and we could not be more thrilled to have her represent us," Newton said.
Bibel is currently finishing her Ph.D. in Professor Leemor Joshua-Tor's lab. Joshua-Tor has also encouraged Bibel to explore other opportunities to further her science communication endeavors in conjunction with her research.
"I've been blown away by her beautiful descriptions about her work, about even the most basic concepts, and her wonderful illustrations and animations," Joshua-Tor said. "It is so nice to have someone so enthusiastic about science and biochemistry in the lab. She thinks deeply about things."
Bibel's Ph.D. research focuses on the protein Argonaute, which is involved in cell-level processes like RNA interference and microRNA-mediated gene regulation. Her deep curiosity often leads her to explore other aspects of research, like what's going on at the molecular level. "If there's something that I don't know why we add, or why it's happening, it becomes a piece missing in that story in my mind," she said.
Solving these mini mysteries drives the content of her social media posts, where she can share the knowledge she feels so fortunate to have learned at CSHL and other places. "For me, it's about giving people the option, and letting them have a look inside of what's going on," she said. "I don't want to force science on anyone, I just want people to be able to appreciate it like I do, if that's what they want."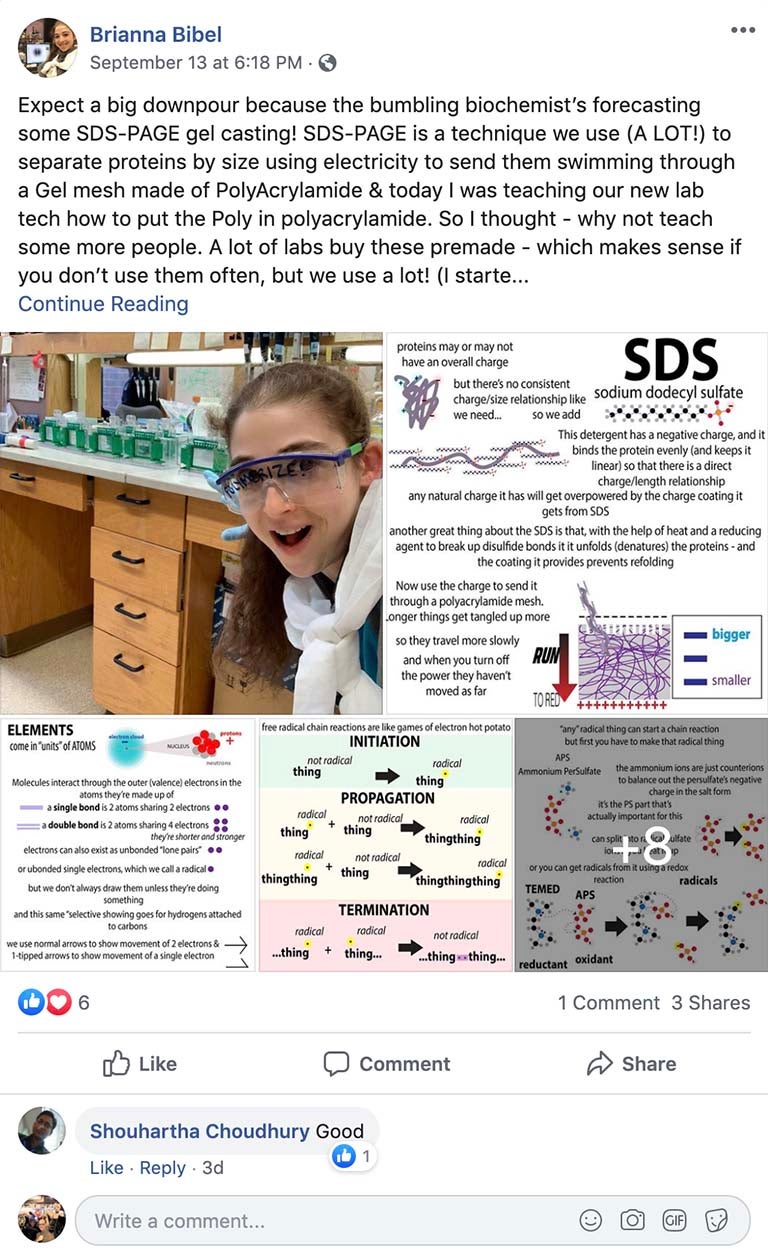 As the social media chair of the Lab's chapter of Women in Science and Engineering (WiSE), a group of scientists that support each other, Bibel has expanded her growing science communications skill-set.
"Over the past 3 years she has maintained a high caliber of content across social media platforms posting relevant articles, promoting opportunities for career advancement specifically for women, and engaging with our followers in a way that has significantly elevated WiSE's online presence," said Alexandra Nowlan, president of WiSE. "We could not think of a more deserving candidate [for the ambassadorship] and we are grateful for her continued service to the CSHL WiSE mission."
Although Bibel is creating ripples in the science communications space, statistics still point to larger communication gap between academia and the general public. An editorial in Nature Cell Biology reported that 68 percent of Americans get their news from social media, yet only 13 percent of scientists claimed they were active on Twitter, a key outlet of news.
A Pew Research Center survey published in August also found that only 54% of respondents considered scientists to be good communicators. Another recent Pew survey suggested that having higher levels of familiarity with the scientist made the research findings more trustworthy.
In breaking the mold of the traditional academia-facing scientist, Bibel might be catering to a new age of science consumers and championing for a new type of researcher.
"One of my least favorite things about science is competition; you have to keep stuff so tightly held so that people don't scoop you," Bibel said. "For me, you never know who's going to have that missing piece of the puzzle."