Cold Spring Harbor, NY — Cold Spring Harbor Laboratory (CSHL) scientist Nicholas Tonks, Ph.D., F.R.S. recently met with two siblings who founded the Joni Gladowsky Breast Cancer Foundation in memory of their mother, who succumbed to the disease in 2002. Dr. Tonks updated Jason Gladowsky and Alison Gladowsky-Deblinger on plans for a clinical trial and accepted a check from the Foundation's recent fundraising efforts.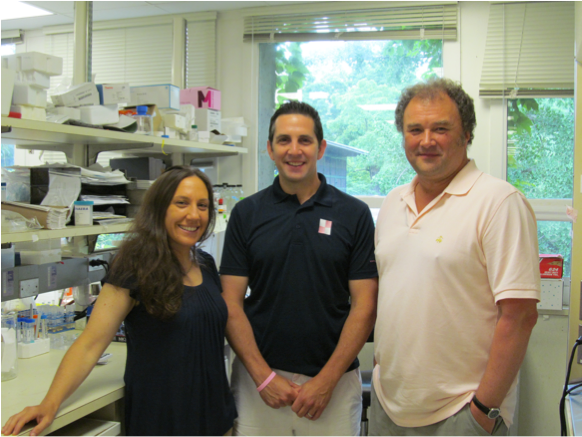 The Long Island-based Foundation supports Tonks' research on PTP1B—a member of the protein tyrosine phosphatase family of enzymes that he has studied at CSHL for more than two decades. Tonks has obtained exciting evidence that a small molecule inhibitor of PTP1b prevents metastasis in mouse models of Her2+ breast cancer. On their visit to CSHL, Tonks updated the siblings on plans for a Phase 1 clinical trial of the PTP1B inhibitor in patients with breast cancer at North Shore-LIJ Cancer.
Jason Gladowsky and Alison Gladowsky-Deblinger presented Nick Tonks with a $15,000 check representing proceeds the Foundation's 2nd annual Winter Classic held at Syosset-Woodbury Community Park in March, which featured junior and senior outdoor hockey games, and family open skates. Funding raised at the Gladowsky Foundation's upcoming 9th annual Play for the Cure Golf Outing, which will be held on July 15 at the Cold Spring Harbor Country Club in Huntington, will also benefit Dr. Tonks' breast cancer research. "I am thankful for the support of the Gladowsky Foundation, which is absolutely essential in light of the current limitations of federal funding for research," said Tonks.
"We started the Foundation to keep their mother's memory alive, and to create something positive out of our loss," explained Jason Gladowsky. "And, Dr. Tonks' upcoming clinical trial is certainly a very positive development." Ms. Gladowsky-Deblinger agreed, noting, "Many of the people who participate in or sponsor or our events knew our mom." All involved in the Gladowsky Foundation are especially pleased that their funding is supporting Long Island-based cancer research at CSHL and North Shore-LIJ.
Written by: Public Affairs | publicaffairs@cshl.edu | 516-367-8455
About Cold Spring Harbor Laboratory
Founded in 1890, Cold Spring Harbor Laboratory has shaped contemporary biomedical research and education with programs in cancer, neuroscience, plant biology and quantitative biology. Home to eight Nobel Prize winners, the private, not-for-profit Laboratory employs 1,100 people including 600 scientists, students and technicians. The Meetings & Courses Program annually hosts more than 12,000 scientists. The Laboratory's education arm also includes an academic publishing house, a graduate school and the DNA Learning Center with programs for middle and high school students and teachers. For more information, visit www.cshl.edu
---
---