Cold Spring Harbor, NY — Cold Spring Harbor Laboratory (CSHL) has received a generous donation from Kinematica, Inc., of an autoclave valued at $17,000. The autoclave—an instrument used to sterilize research equipment—will be utilized extensively in cancer research at the Pre-clinical Experimental Therapeutics Facility that is currently being constructed at CSHL's Genome Center in Woodbury, Long Island.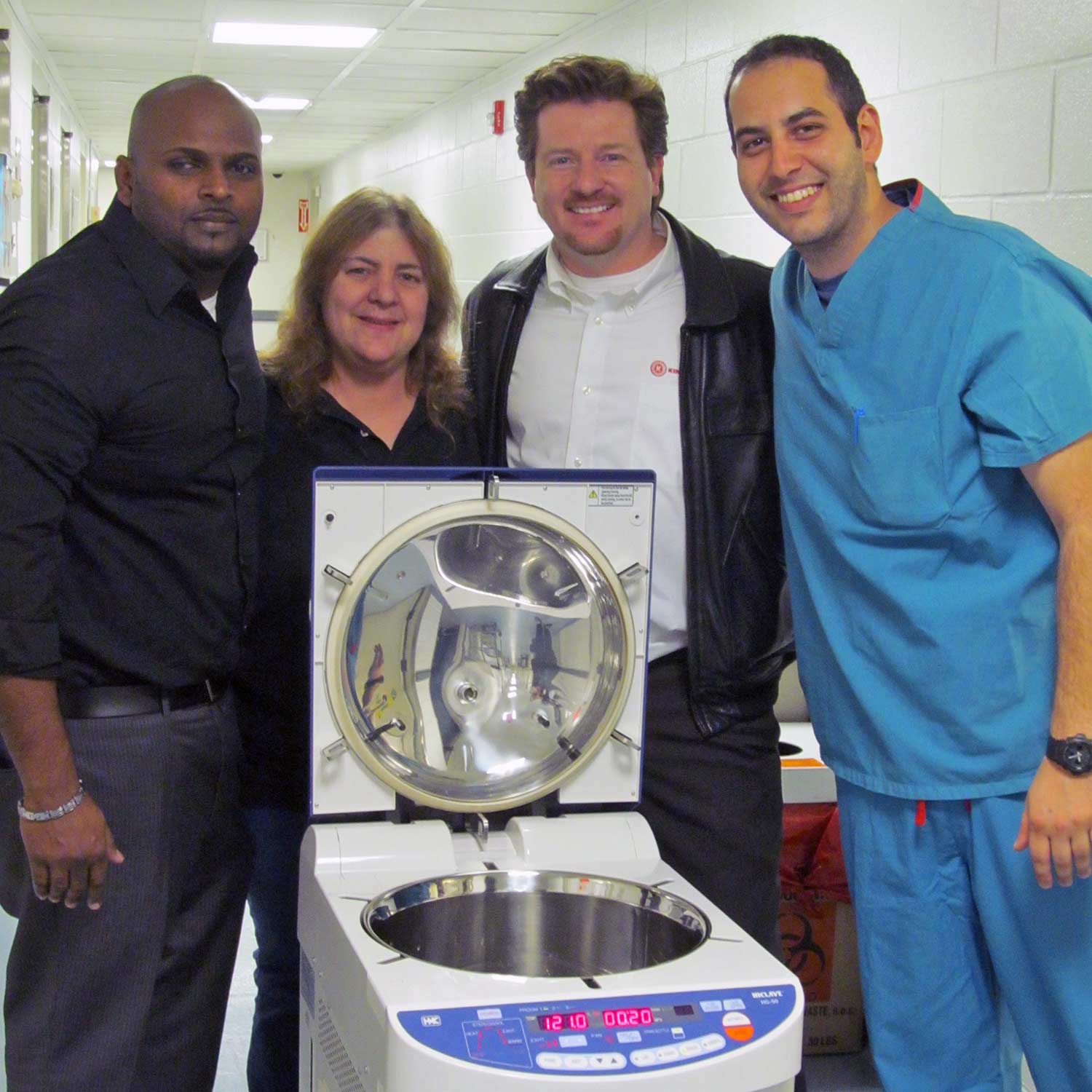 Andreas Niens, Kinematica's CEO, and Joshua Persaud, its Key Account Manager, delivered the high-performance equipment to Lisa Bianco, a director at the Genome Center facility. Kinematica manufactures and distributes scientific equipment worldwide and has its United States headquarters in Bohemia, Long Island.
The donation was made possible through the generous support of Mr. Joachim Lauktien, President and CEO of HMC-Europe in Germany.
This is the second equipment donation CSHL has received from Kinematica. In 2011, Dr. Mikala Egeblad received a homogenizer from Kinematica, which is being used in breast cancer research in her laboratory.
Niens, who is also a pilot, was first introduced to CSHL through Gail Mancuso, VP and General Manager of Mid Island Air Service, Inc. in Ronkonkoma, and Board Member of Long Island 2 Day Walk, which supports breast cancer research at CSHL.
On their visit to CSHL, Niens and Persaud met with Dr. David Spector, CSHL's Director of Research, who updated them on the Laboratory's Cancer Therapeutics Initiative, which is aimed at developing new therapies and diagnostics for difficult-to-treat cancers. Spector said that recent discoveries at CSHL hold great promise of leading to life-sustaining cancer therapies but that "federal funding cutbacks are threatening research progress at the Lab." Spector thanked the executives, saying "your donation will really help to move our efforts forward."
Mr. Niens, whose mother was recently diagnosed with cancer, said, "We made this year's donation to honor my mother's fight against cancer. This makes the fight to find a cure even more personal than it already has been and it is an honor to work with a great organization such as yours."
Written by: Public Affairs | publicaffairs@cshl.edu | 516-367-8455
About Cold Spring Harbor Laboratory
Founded in 1890, Cold Spring Harbor Laboratory has shaped contemporary biomedical research and education with programs in cancer, neuroscience, plant biology and quantitative biology. Home to eight Nobel Prize winners, the private, not-for-profit Laboratory employs 1,100 people including 600 scientists, students and technicians. The Meetings & Courses Program annually hosts more than 12,000 scientists. The Laboratory's education arm also includes an academic publishing house, a graduate school and the DNA Learning Center with programs for middle and high school students and teachers. For more information, visit www.cshl.edu
---
---