Double Helix Medals awarded to Temple Grandin, Harold E. Varmus and Kareem Abdul-Jabbar
Cold Spring Harbor, NY — $3.3 million was raised to strengthen and expand Cold Spring Harbor Laboratory's (CSHL) research and education programs at the institution's sixth Double Helix Medals dinner.
The Double Helix Medal recognizes esteemed individuals who have positively impacted human health by raising awareness and funds for biomedical research. Driven by passion, intellect and vision, each has boldly participated in the fight to find cures for the diseases that plague us.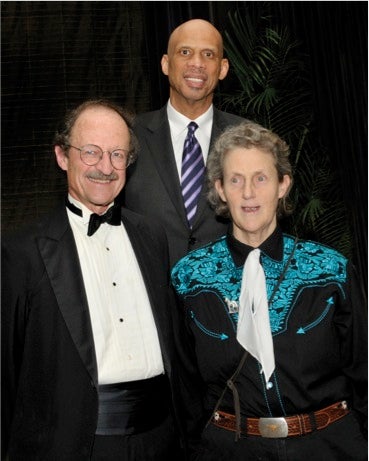 "Temple Grandin, Harold Varmus, and Kareem Abdul-Jabbar have each made extraordinary contributions that have transformed the way doctors, patients and society at large approach all types of cancer as well as neurological conditions like autism" said CSHL President Bruce Stillman. He added that recognition of their achievements is especially timely for CSHL, as laboratory researchers marked major achievements in autism and leukemia research this year.
Dr. Temple Grandin, an inspiring advocate for autism research and the subject of the Emmy Award-winning HBO movie Temple Grandin, was one of Time magazine's 100 most influential people of 2010. Diagnosed with autism when she was three, Dr. Grandin has used her unique abilities to think visually and recall small details to pursue a career in animal science, and has revolutionized the livestock industry.
Nobel Prize-winning cancer scientist Dr. Harold E. Varmus is Director of the National Cancer Institute, former President of Memorial Sloan-Kettering Cancer Center and former Director of the National Institutes of Health. Dr. Varmus grew up on Long Island's south shore, and he has also been a leader in global health and served as co-chair of President Obama's Council of Advisors on Science and Technology.
Basketball icon Kareem Abdul-Jabbar was diagnosed with chronic myeloid leukemia in 2008. With a family history of cancer, he has become a leading spokesman and fundraiser to promote cancer research and works tirelessly to raise awareness for all forms of leukemia.
Honoree videos
Written by: Public Affairs | publicaffairs@cshl.edu | 516-367-8455
About Cold Spring Harbor Laboratory
Founded in 1890, Cold Spring Harbor Laboratory has shaped contemporary biomedical research and education with programs in cancer, neuroscience, plant biology and quantitative biology. Home to eight Nobel Prize winners, the private, not-for-profit Laboratory employs 1,100 people including 600 scientists, students and technicians. The Meetings & Courses Program annually hosts more than 12,000 scientists. The Laboratory's education arm also includes an academic publishing house, a graduate school and the DNA Learning Center with programs for middle and high school students and teachers. For more information, visit www.cshl.edu
---
---