Hands-on lab experiences provided by Cold Spring Harbor Laboratory's DNA Learning Center
Cold Spring Harbor, NY — Representatives from Bank of America and Cold Spring Harbor Laboratory (CSHL) visited a talented group of science students from Uniondale High School to mark a $25,000 grant from the Bank of America. The grant is part of an ongoing effort to ensure that underserved schools and students on Long Island have equal access to state-of-the art education about genetics.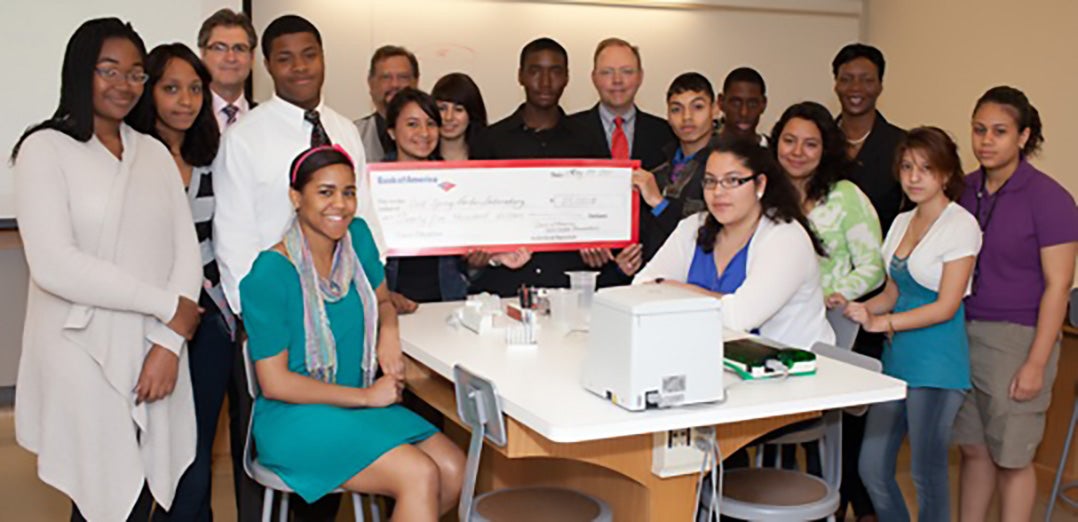 "This program with Bank of America and CSHL has had a huge impact," said Uniondale High School Research Program teacher, Dr. Paul Lichtman. "It has given our students opportunities that under normal circumstances they simply wouldn't have had."
"Through our DNA Learning Center programs, Cold Spring Harbor Laboratory is committed to enriching the science programs offered by our local schools," said CSHL President Bruce Stillman, Ph.D. "We are pleased to provide Uniondale's kids with educational experiences that will get them interested in genetics and will help them make informed decisions about their health care and the well-being of society."
Through the grant from Bank of America, 145 students from Uniondale High School participated in eight half-day laboratory experiences at the DNA Learning Center (DNALC) West in Lake Success, NY. The DNALC West is a teaching facility of the DNA Learning Center of Cold Spring Harbor Laboratory.
The students, grades 9 through 12, participated in one of two labs: genetically engineering bacteria with a gene for bioluminescence, and using restriction enzymes and gel electrophoresis to observe how scientists manipulate DNA for gene splicing. Both labs incorporate key concepts that are part of the New York State Regents Living Environment course.
Written by: Public Affairs | publicaffairs@cshl.edu | 516-367-8455
About Bank of America Corporate Philanthropy
Building on a long-standing tradition of investing in the communities it serves, Bank of America is delivering on a 10-year goal to donate $2 billion to nonprofit organizations engaged in improving the health and vitality of their neighborhoods. Here on Long Island, Bank of America has given millions to help address pressing community needs. In addition, Bank of America employees have volunteered thousands of hours to organizations making a difference at the local level.
About Cold Spring Harbor Laboratory
Founded in 1890, Cold Spring Harbor Laboratory has shaped contemporary biomedical research and education with programs in cancer, neuroscience, plant biology and quantitative biology. Home to eight Nobel Prize winners, the private, not-for-profit Laboratory employs 1,100 people including 600 scientists, students and technicians. The Meetings & Courses Program annually hosts more than 12,000 scientists. The Laboratory's education arm also includes an academic publishing house, a graduate school and the DNA Learning Center with programs for middle and high school students and teachers. For more information, visit www.cshl.edu
---
---