Grant to provide Cutting-Edge DNA-Sequencing Equipment
Cold Spring Harbor, NY — The Don Monti Memorial Research Foundation recently awarded a $500,000 grant to support Cold Spring Harbor Laboratory (CSHL) professor Scott Lowe's Leukemia Research. The funds will be used to purchase a Genome Analyzer System, for use in the Tita Monti Cancer Research Laboratory.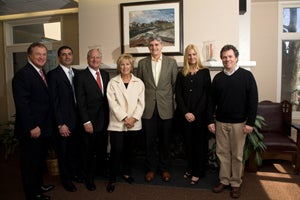 Cancer is the result of changes, or mutations, to the ordered list of the four basic building blocks—denoted C, G, T, and A—in the DNA in a person's cells. These mutations disrupt the molecular mechanisms that control cellular events, including those that normally limit cell growth. The Genome Analyzer System will allow Scott Lowe and this team to probe the genome for cancer-causing mutations faster than ever before possible.
Over the course of a few days, the machine reports sequences for tens of millions of snippets, more than a gigabyte of data in all. "You have to have supercomputers just to analyze it," Lowe comments. Software tools let researchers match the short pieces to particular locations in the genome, and to detect mutations in the building blocks within them.
The genetic changes identified can point the way to cellular processes that cancer cells use to grow and spread. Based on these clues, scientists in the Lowe lab look for drugs that can disrupt the processes that are unique to cancer. The researchers test whether a drug will work in cancer by giving them to special mice that their lab has developed, known as mouse models, that exhibit symptoms of human cancers, including human acute myelogenous leukemia (AML). This relatively quick test shows if a new drug candidate helps these mice, and thus may be worth exploring for treating people. The genome analyzer can also detect other changes, such as extra or missing copies of larger sections of the sequence, or "epigenetic" modifications of the DNA that change its behavior without changing its sequence. Like individual mutations, both of these types of modifications seem to be associated with cancer. "The applications are enormous," said Lowe.
CSHL has been in the forefront of leveraging new sequencing tools. "We're really at the cutting edge of developing these new, innovative technologies", asserts Lowe. The new, dedicated machine will let Lowe and his team conduct research much more quickly. Without the support from the Monti Foundation, Lowe says, "there was no way" the team could have acquired this powerful tool.
Written by: Public Affairs | publicaffairs@cshl.edu | 516-367-8455
About Don Monti Memorial Research Foundation
In 1972, Joseph and Tita Monti established the Don Monti Memorial Research Foundation in memory of their 16 year-old son who died of leukemia in June of that year.  Since its inception, it has become the premier organization dedicated to research, education, fellowship and patient care in the fields of oncology and hematology in the Long Island/Tri-State area.
About Cold Spring Harbor Laboratory
Founded in 1890, Cold Spring Harbor Laboratory has shaped contemporary biomedical research and education with programs in cancer, neuroscience, plant biology and quantitative biology. Home to eight Nobel Prize winners, the private, not-for-profit Laboratory employs 1,100 people including 600 scientists, students and technicians. The Meetings & Courses Program annually hosts more than 12,000 scientists. The Laboratory's education arm also includes an academic publishing house, a graduate school and the DNA Learning Center with programs for middle and high school students and teachers. For more information, visit www.cshl.edu
---
---