Saturday DNA! Virtual Lab: DIY Electrophoresis Chamber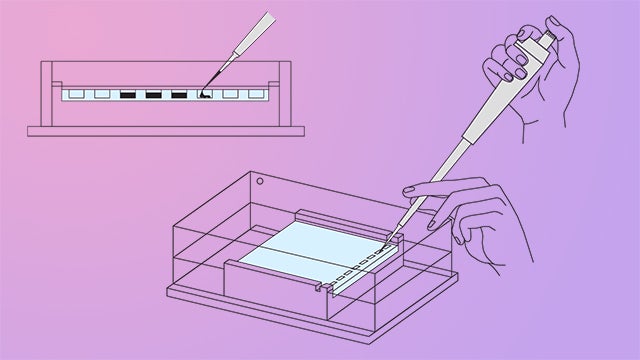 Seats for each session limited to 35 Zoom participant connections. Register to reserve your spot. | Cost $20, $30 with kit
When
Date: Wednesday, February 3, 2021
Time: 4:00 pm - 5:00 pm
+ iCal export   + Add to Google Calendar
Description
Appropriate for ages 12–16
$20 per participant, $30 with shipped kit
Activity description:
Gel electrophoresis is a common laboratory technique used to separate charged molecules like DNA according to size. Developed in the 1930s, it is now an essential tool for molecular biologists, forensic scientists, doctors, and conservation biologists! Join us to learn about the basic principles and applications of this procedure, then build your own gel electrophoresis device out of household materials and use it at home! In this activity, you will:
see the basic equipment required for gel electrophoresis and learn how it works;
discuss some common uses of this technique in the lab; and
build a DIY gel electrophoresis device and use it to separate food coloring.
Material kits will be available for pick up at the DNALC in Cold Spring Harbor February 1-5, between 10:00 am and 4:00 pm.
If you would like to have a kit shipped to your home, there will be an additional charge of $10.
In addition to the materials in the DNALC kit, you will also need to supply:
Three 9 volt batteries
Water
Masking tape
Scissors
Venue/location
Website
Visit: https://dnalc.cshl.edu/programs/saturdaydna.html
Seats for each session limited to 35 Zoom participant connections. Register to reserve your spot. | Cost $20, $30 with kit