Concert: Shelest piano duo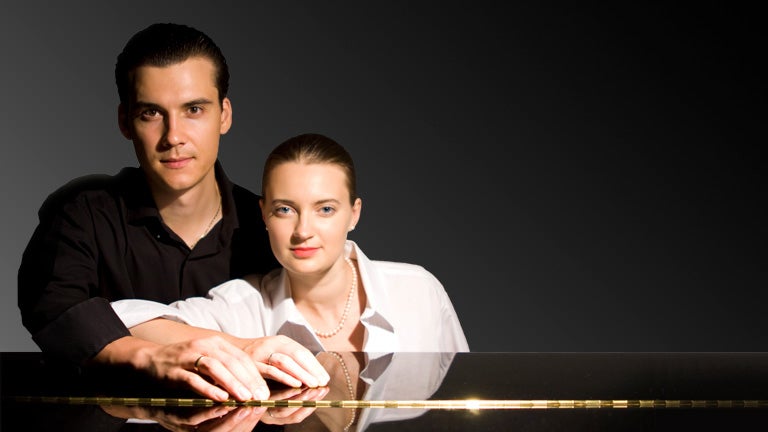 Concert tickets are $20.
When
Date: Friday, October 6, 2023
Time: 6:00 pm - 7:00 pm EST
+ iCal export   + Add to Google Calendar
Description
Praised for their "stirring performances of rare repertory" (Fanfare), the husband and wife team of Anna and Dmitri Shelest traces its roots to Ukraine's prestigious Kharkiv Special Music School. At their Carnegie Hall debut in February, 2018, the duo's CD release of "Ukrainian Rhapsody" brought renewed international attention to the music of their homeland. Subsequently, that recording has been featured as the Album of the Week on radio stations throughout the United States, including WCRB (Boston) and KUSC (Los Angeles). Having been classmates since middle school, the artists began performing together after their marriage in the United States. Their inventive programs brought them to a broad array of venues from concert stages to state functions, and, in the words of then-Secretary-General of the United Nations Ban Ki-moon, "realized diplomacy through music."
Anna and Dmitri Shelest and their two sons make their home in New York City.
The concert begins at 6:00 p.m. sharp and concludes at 7 p.m. Doors open at 5:45 p.m. No intermission. There will be an hour long reception to follow.
Purchasing a ticket allows you concert and reception entry, no assigned seating in auditorium, guests can sit where they'd like.
Venue/location
One Bungtown Road
Cold Spring Harbor
,
New York
11724
United States
516-367-8800
Website
Visit: https://www.eventbrite.com/e/cshl-concert-series-shelest-piano-duo-tickets-694158666257
Concert tickets are $20.