In this installment of the Lab dish blog we welcome Sabrina Bergsten, a junior at Cold Spring Harbor High School. She's a member of Girls Who Code at CSHL, a club organized and taught by Watson School of Biological Sciences student Maria Nattestad. Maria and her students in the Girls Who Code club, including Sabrina, organized the Hour of Code event at CSHL to bring more women into careers in science and technology.
I
n the US, there are 1.7 million people employed in computing-related occupations. Men hold nearly 75% of those jobs.
Girls Who Code
(GWC) is a non-profit organization determined to fix this imbalance. Now, Cold Spring Harbor Laboratory has joined with GWC in their mission to empower girls with the tools they need to pursue a future in technology.
Each year GWC hosts summer immersion programs across the country in offices of some of the top tech companies in the US, including ebay, AT&T, and IAC. With groups in 15 cities across the country, thousands of high school girls will spend their summers learning not only how to code, but also crucial business-world skills.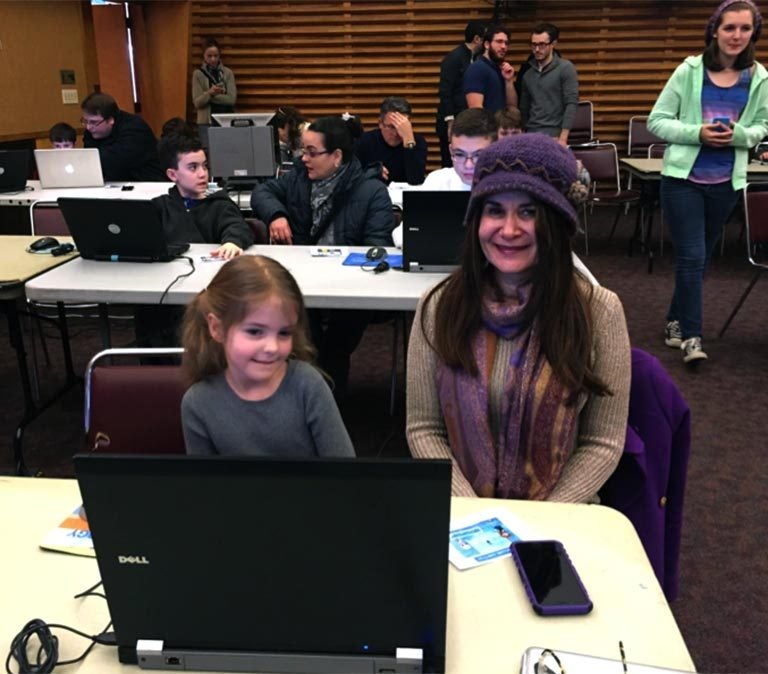 As a GWC alumnae myself, I can sincerely say that this is a life-changing program. What makes it so great is that it doesn't just stop at computer science. GWC teaches girls how to be confident in the workplace and how to stand up for themselves. Girls get experience with public speaking, thinking on their toes, and making important business decisions. By the end of the program, I was pitching an app to the co-head of technology at Goldman Sachs.
GWC is a powerful movement, making sure that more women find careers in technology. This past fall, CSHL's DNA Learning Center began hosting a GWC after-school club. Girls interested in technology from schools all over Long Island meet once a week, work on computer science projects, and learn about what a future in technology might entail.
The club not only benefits the girls but also uses technology to give back to the community. On December 13th, our Girls Who Code club hosted an "Hour of Code" event at CSHL. We brought together different members of the community, from ages 4 to 104, for just an hour to learn how to code. Members of the GWC club went around the room as teaching assistants to help out all 90 people who spent the hour learning computer science. With events like this, the girls in GWC—with the help of CSHL—are well on their way to inspiring women of all ages, especially young women, helping the community by closing the gender gap in technology.