Cold Spring Harbor Laboratory (CSHL) welcomes Nigeria's new DNA Learning Center (DNALC) at Godfrey Okoye University (GOU) to its network of 20 DNALC sites and franchises around the world. DNALCs educate teachers and students about DNA technologies important for understanding our shared human inheritance, monitoring biodiversity, and improving crops. GOU's new DNALC is the first in Africa.
They have everything we have at the DNA Learning Center."

David Micklos, DNA Learning Center founder and Executive Director
The GOU has four teachers who received training from the Learning Center in New York, with an additional two likely to join in the next few months. The effort is supported by CSHL President and CEO Bruce Stillman, DNA Learning Center founder and Executive Director David Micklos, and Department Chair of Natural Sciences at Bowie State University and Nigerian Learning Center Chairman George Ude.
The program opened in January to undergraduate students at GOU. Ude hopes to start classes for students 12 to 18 years of age in October. They will educate as many as 500 students in its two-lab building by the first quarter of next year.
The Center will "herald a new dawn for Africa," Micklos said during a 2018 commencement speech at GOU. "The DNALC Nigeria is poised to be a model molecular biology instruction center that will cater to the need for a curriculum based hands-on laboratory experience within the nation and around the continent of Africa."
Students will learn the same lessons as students receive at the Cold Spring Harbor facility, including DNA Science, Genome Biology, DNA Barcoding, DNA Metabarcoding, and World of Enzymes.
The Learning Center will "bring back the research culture for young African scientists," said Michael Okoro, the assistant director of Research & Training at the DNALC Nigeria and the deputy director of the Center. Okoro is hoping students participate in science competitions in Nigeria and throughout Africa.
Okoro was in the first graduating class at GOU. After graduating, he traveled to New York where he participated in programs at the Dolan DNALC at Cold Spring Harbor Laboratory.
While he was at Cold Spring Harbor, Okoro worked with Professor David Jackson, where he learned about developing plants from the lab to the farm.
"That was a really awesome time," Okoro said. "That's the kind of experience we want to give the students in Nigeria."
Students and teachers will catalog undocumented plants that might have medicinal value and uncharacterized species, including fungi, mollusks, and other marine life. Situated in the southeast part of the country six miles north of Enugu, the GOU campus has two lakes, from which scientists already have started classifying fish. In addition, the DNALC Nigeria plans to develop projects with teachers and students that might lead to more productive crops.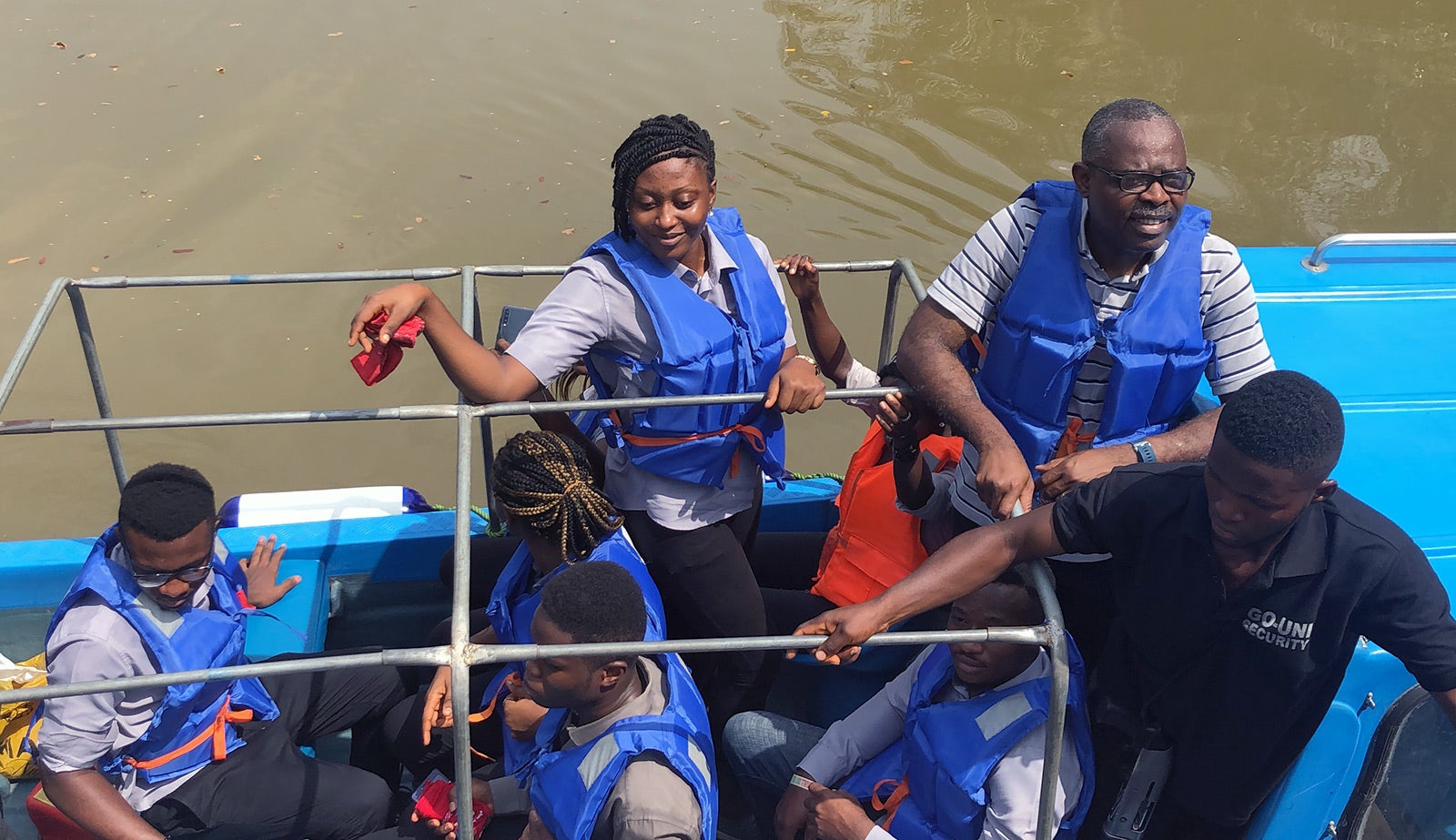 Okoro, who recently published a scientific paper with Ude, is grateful for the support of Micklos and Stillman.
The DNALC waived the usual $300,000 franchise fee because the Nigerian initiative doesn't "have the money," Micklos said. "This is a tiny, little Catholic university" that serves as an educational "oasis" in the country. GOU also received about $50,000 worth of equipment and desks from the New York headquarters. "They have everything we have at the DNA Learning Center," Micklos said.
A teacher at the DNALC Nigeria, Chosen Obih, who visited Cold Spring Harbor Laboratory and participated in a virtual metagenomics workshop in July, said he didn't know much about molecular biology when he was a high school student.
Now Obih is thrilled to teach hands-on learning. "I look back at all those days we didn't know what a pipette was," he said. "These days, I get to work with a pipette every day. It's a dream come true. I hope to get others to dream as well that it's possible to do real science in Nigeria."
Written by: Daniel Dunaief, Science Writer | publicaffairs@cshl.edu | 516-367-8455